Peter Strickland's TIFF Midnight Madness selection In Fabric sees the UK filmmaker reimagine the iconic department store of his youth, where a cursed dress affects the lives of everyone who wears it. Screen visits the set.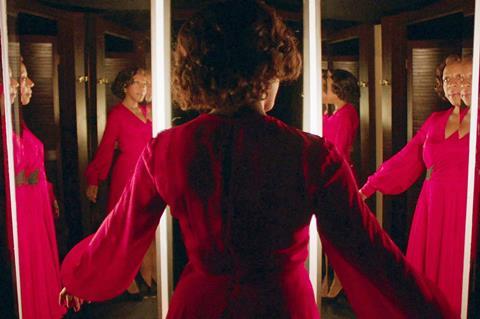 It is a grey day in November 2017 and, in the dark basement of an abandoned shopping mall in Croydon, south London various mannequins lie scattered across the floor, requiring careful navigation. It is an unglamorous introduction to Peter Strickland's fourth fiction feature In Fabric, before the appearance of several women with Bride Of Frankenstein-style coiffures, wearing black couture gowns that evoke a gothic witches' coven as well as Victorian glamour. It is like entering an alternative reality — and the unique mind of Strickland.
The writer/director's three previous films — revenge drama Katalin Varga (2009), the giallo-inspired Berberian Sound Studio (2012) and sapphic S&M story The Duke Of Burgundy (2014) — were notable for subverting genre conventions and inhabiting their own distinct worlds, and In Fabric looks to continue in that vein.
Strickland — that rare dapper director who wears a tie on set — explains In Fabric combines the mundane (a January sale at a suburban department store) with heightened reality and the supernatural. It is the tale of a cursed dress that causes mayhem as it is passed from one person to the next — beginning on screen when a creepy shop clerk sells the red chiffon garment to a single mother to wear on a blind date.
Strickland is not playing to the usual clichés of the supernatural. "It's a ghost story but it's not the classical idea of a ghost — I was inspired by the MR James BBC adaptations," he notes, referencing the groundbreaking and realistic chilling tales that James wrote for a series of collections published in the early 20th century, later adapted by the BBC. "It's not set in a haunted house or on a misty beach. It's taking mundane things and putting them in bizarre circumstances."
"It's like a British kitchen-sink drama being attacked by a European horror film," says producer Andy Starke of Rook Films.
Inspired by corduroy
It was a fateful visit to a charity shop that first sparked the idea for the film, Strickland recalls. "I remember buying a second-hand pair of navy blue corduroy trousers from a charity shop only to later discover a faded come-stain on the inside, which naturally made me imagine all kinds of scenarios regarding the gentleman who owned them prior to me," he says.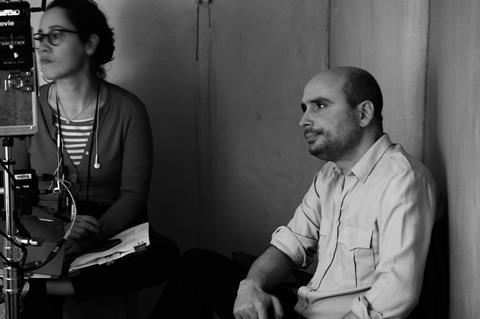 Only Strickland could have jumped from stained corduroy trousers to the visually striking world of In Fabric, which takes some cues from 1970s designs but the director insists could be set in the 1990s. Marianne Jean-Baptiste stars while the supporting cast — assembled by casting director Shaheen Baig — includes Fatma Mohamed (who has appeared in all of Strickland's features), Hayley Squires, Leo Bill, Gwendoline Christie, Jaygann Ayeh, Richard Bremmer and Sidse Babett Knudsen, who starred in The Duke Of Burgundy. Steve Oram and Julian Barratt provide comic relief as smarmy bank managers.
For Starke, it is an intriguing notion to have actors typically associated with the realistic dramas of Ken Loach and Mike Leigh enter Strickland's weird world. It was Berberian Sound Studio star Toby Jones who suggested that Strickland scout Jean-Baptiste, who was Oscar-nominated for her role in Leigh's Secrets & Lies before becoming better known in US TV series such as Without A Trace.
"I haven't seen all of Mike Leigh's films so I had to go out and buy Secrets & Lies, but Marianne blew me away in that," Strickland recalls. "I adore her in our film, especially when she's angry. There's a playfully subtle comic side to the way she delivers many of her lines and, of course, her face is incredibly good at conveying a yearning for love."
And, of course, the dress itself is a major character. "I felt I was moving more and more towards objects in my films, whether it was oscillators or lingerie and it didn't feel like such a big leap to eventually feature a dress as a main character," he adds, noting some of his favourite directors such as Sergei Bondarchuk and Luis Buñuel were also obsessed with objects. "That a piece of fabric can provoke feelings of empowerment, desire, disgust, control, sadness or inadequacy in different people is remarkable."
Strickland's attention to detail is brought to life in a glossy 300-page catalogue being passed around on set. The fictitious directory for his fictitious store Dentley & Soper appears in the film only for a few brief moments but Strickland has taken the time to assemble stylised photos and write gorgeous catalogue copy on many pages that will never be seen on screen, relishing the wordplay. The cursed dress is described as the "Ambassadorial function dress", with a "dagger neckline" in "artery red" — perfect for "candlelight glances, canapé conversations".
Strickland worked his share of retail jobs over the years — at newsagents WHSmith, wine shop Threshers, supermarket Waitrose, high-end department store Harvey Nichols and more — but has obsessive memories of visiting the now-closed Jacksons department store while growing up in Reading, Berkshire.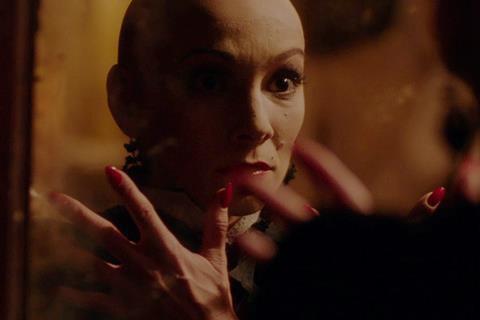 "I remember once noticing a shy woman entering the changing room in her somewhat drab daily wear and coming out completely transformed in an evening gown," he recalls. "Her posture and facial expression also changed and that transformative aspect of clothing, in terms of how one feels rather than looks, left an impression on me. Places like Jacksons were magical and mysterious. Once you entered the premises, which were guarded by mannequins, you were in another world."
In Fabric was developed in association with Ian Benson at Blue Bear Film and Television and is produced by Andy Starke for Rook Films. Backers include the BFI Film Fund, BBC Films and Head Gear Films. Bankside Films handles sales and has already sold it to the UK (Curzon, which will launch In Fabric theatrically in 2019), the Middle East (Front Row), South Korea (Scene&Sound), Switzerland (Praesens), Indonesia/Malaysia/Vietnam (Sahamongkol) and the Czech and Slovak republics (Association of Czech Film Club).
Creating an alternate world
In Fabric is Strickland's biggest budget to date (but, says Starke, still "not that big!") and shot for just 26 days, an ambitious shoot for what the filmmaker managed to achieve on screen — not just the department store scenes, but also nightclub and bank settings, fires and car crashes. As Starke, who also produced The Duke Of Burgundy, observes, "It was a huge challenge to create an alternative universe on a small budget.
"So much of Peter's work is about the whole film — pictures and sound and score," he adds. "So it's key that all departments know how he works and understand that process. It makes it tough sometimes but also gives the heads of department the freedom to create incredible designs."
Key crew on In Fabric includes cinematographer Ari Wegner (Lady Macbeth), editor Matyas Fekete, costume designer Jo Thompson (Beast), sound designer Martin Pavey, sound recordist Rob Entwistle, production designer Paki Smith, hair/make-up designer Emma Scott and composers Cavern of Anti-Matter.
"Time was the main issue, which we all knew in advance," says Strickland. "In Fabric had all kinds of obstacles I hadn't dealt with before. Most of the more elaborate set-pieces were planned and were straightforward enough, thanks to Andy Starke and the line producer, Kasia Malipan, putting a great team together and facilitating what was needed."
For Strickland, the film marks a surprise return to his own history. "I wanted to get as far away from [my home town of] Reading as possible for my first film, but now having lived abroad for many years I can look at it with different eyes and find the beauty and exoticism that often eludes us when it comes to our home towns. If someone told me 10 years ago that I'd be making a film about the January sales in Reading, I would think my leg was being pulled."