We pick out some of the most interesting projects to appear at the Berlinale this year.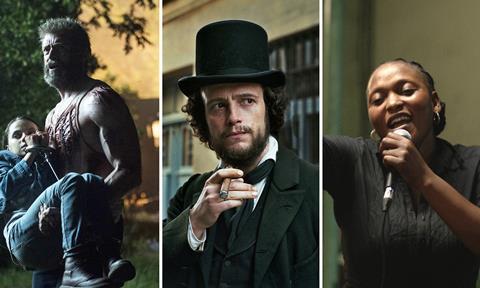 On the eve of the 67th Berlin International Film Festival (Feb 9-19), Screen has selected a few of the stand-out titles from the competition, out of competition, panorama and special gala categories.
Subscribe to Screen Daily to read our full, in-depth Berlinale preview.
Competition
A Fantastic Woman
Dir: Sebastian Lelio
Lelio's last film, Gloria, was one of the breakout hits of the Berlinale in 2013, winning Paulina Garcia the Silver Bear for best actress. His new feature stars Daniela Vega as a waitress and nightclub singer who is left reeling following the death of her boyfriend. Co-written by Lelio and Gonzalo Maza, who also co-wrote Gloria, A Fantastic Woman is produced by Fabula, the Chilean powerhouse run by Juan de Dios Larrain and Pablo Larrain, who also produced Gloria. It is co-produced by Germany's Komplizen Film and executive produced by Jeff Skoll and Jonathan King for Participant.
Contact: Funny Balloons - contact@funny-balloons.com
The Other Side Of Hope
Dir: Aki Kaurismaki
Kaurismaki reunites with regular leading man Sakari Kuosmanen, with whom he collaborated on The Man Without A Past, Drifting Clouds and Leningrad Cowboys Go America. The Other Side Of Hope is understood to be the second in a port city trilogy, following Le Havre in 2011. The film, which was supported by the Finnish Film Foundation, tells of a travelling salesman who encounters a Syrian refugee, played by Sherwan Haji, who is seeking asylum in Helsinki. The feature opens in Finland on February 3, just before its Berlinale premiere.
Contact: The Match Factory - info@matchfactory.de
Félicité
Dir: Alain Gomis
Senegalese director Gomis has been inspired by his love of Congolese folk music for his fourth feature, Félicité. Set against the bustling streets of the Congolese capital of Kinshasa, it follows a singer as she tries to raise money to fund an operation for her son. Big-screen debutante Véro Tshanda Beya Mputu stars. It is the second time Gomis has played in Competition at Berlin, following his 2012 work Tey. The festival's World Cinema Fund backed the film with France's CNC.
Contact: Jour 2 Fete - sales@jour2fete.com
Have A Nice Day
Dir: Liu Jian
The first Chinese animated feature ever to screen in Competition at Berlin is a neo-noir road movie about a driver who robs his boss to pay for his fiancée's plastic surgery. Liu is a contemporary artist and animator whose first animated feature, Piercing 1, premiered at Annecy in 2010 and won multiple best film awards, including an Asia Pacific Screen Award. Producer Yang Cheng has a second film in Berlin this year: Yang Heng's Ghost In The Mountains, which is screening in Panorama.
Contact: Memento Films International - sales@memento-films.com
The Dinner
Dir: Oren Moverman
Moverman has attracted a terrific cast led by Laura Linney, Rebecca Hall, Chloe Sevigny, Richard Gere and Steve Coogan to this retelling of Herman Koch's bestselling Dutch-language novel of the same name. Transplanting the action from Amsterdam to the US, The Dinner is the story of the moral and political fall-out from one night in a restaurant and the lengths to which some parents will go to protect their children. Moverman was last in Berlin with The Messenger - which also had a moral quandary at its heart - for which he won the Silver Bear in 2009 for best screenplay with Alessandro Camon.
Contact: Protagonist Pictures - bridget@protagonistpictures.com
The Party
Dir: Sally Potter
Emily Mortimer, Kristin Scott Thomas, Cillian Murphy and Timothy Spall star in Potter's dark comedy set in real time at a London drinks party hosted by a woman to celebrate her husband's promotion. Potter and Christopher Sheppard's Adventure Pictures produced the film with Kurban Kassam. It is financed by Robert Halmi Jr and Jim Reeve's Great Point Media. ICM Partners handles US rights.
Contact: Great Point Media - info@greatpointmedia.com
Out of Competition
Final Portrait
Dir: Stanley Tucci
Launched at last year's European Film Market, Final Portrait tells the true story of Swiss artist Alberto Giacometti. Starring Armie Hammer, Clémence Poésy and Geoffrey Rush, the film is an adaptation of US critic James Lord's biography and is produced by the UK's Potboiler Films and Arsam International with Deepak Nayar's London-based Riverstone Pictures. The latter fully financed the project, which is Tucci's fifth feature as director.
Contact: HanWay Films - st@hanwayfilms.com
Logan
Dir: James Mangold
After going back to the beginning with Hugh Jackman's The Wolverine, Mangold jumps forward to the near-future with this latest chronicle of the life of the popular lupine mutant. The X-Men spin-off sees Jackman caring for an ailing Professor X (Patrick Stewart), but danger lurks with the arrival of a young mutant. Playing out like a pitch-black and very violent western, Logan marks the ninth and (supposed) last time Jackman will play Wolverine.
Contact: 20th Century Fox
The Midwife
Dir: Martin Provost
French film-maker Provost has a reputation for telling strong female stories. His work has attracted leading actresses including Yolande Moreau (Séraphine) and Emmanuelle Devos (Violette). The Midwife stars Catherine Frot as a medic facing burnout in the face of cutbacks and efficiency drives who is encouraged to reappraise her life when her father's ex-mistress, played by Catherine Deneuve, turns up unexpectedly after a 30-year absence.
Contact: Memento Films International - sales@memento-films.com
PANORAMA
Hostages
Dir: Rezo Gigineishvil
Hostages was one of the 36 projects selected for the Berlin Co-Production Market this time last year and was presented at Sarajevo's Works In Progress strand last August. The fourth film by Gigineishvili is based on the true story of a group of rebellious young people who attempt to hijack a plane in Soviet Georgia. It is produced by 20 Steps productions, INK TV and Nebo Film.
Contact: WestEnd Films - info@westendfilms.com
Tiger Girl
Dir: Jakob Lass
The new film by the director of award-winning Love Steaks in 2013 is a semi-improvised drama about two women who meet at a private security firm and forge an extraordinary friendship. Ella Rumpf and Maria Dragus star in Tiger Girl, which is produced by Ines Schiller and Golo Schultz of Fogma with Constantin Film Production and Rundfunk Berlin Brandenberg.
Contact: Picture Tree International pti@picturetree-international.com
PANORAMA DOCS
Chavela
Dirs: Catherine Gund, Daresha Kyi
The documentary is based around never-before-seen footage of Mexican singer Chavela Vargas, shot by co-director Gund in the early 1990s. Gund and co-director Kyi, both based in New York, take the myths and stories told in Chavela's songs to paint a vivid picture of an unconventional, inspiring artist.
Contact: Latido - latido@latidofilms.com
Casting JonBenet
Dir: Kitty Green
One of the hot titles at Sundance last month - Netflix bought worldwide rights - Casting JonBenet explores the still unsolved murder case of six-year-old beauty queen JonBenet Ramsey. Green looks at how the crime and its aftermath have shaped the attitudes and behaviour of successive generations of parents and children by 'auditioning' members of the Colorado community where JonBenet grew up for parts in a non-existent film about her murder. Green's first film was the award-winning Ukraine Is Not A Brothel.
Confact: Netflix
Untitled
Dirs: Michael Glawogger, Monika Willi
Almost three years after the sudden death of director Glawogger while filming on location in Africa, his editor Willi has managed to finish the film. She has used the footage amassed over four months and 19 days of shooting in the Balkans, Italy and Africa. According to Glawogger, his approach for this project was to be "drifting with no direction except one's own curiosity and intuition". His last film to screen at Berlinale was his contribution on the Russian National Library for the 3D omnibus film Cathedrals Of Culture in 2014. Harry Potter actress Fiona Shaw narrates.
Contact: Autlook Filmsales, salma@autlookfilms.com
SPECIAL GALAS
Devil's Freedom
Dir: Everardo Gonzalez
Gonzalez's hard-hitting documentary is about the very real human toll of Mexico's drug wars in cities where death comes easily, frequently and terribly. Devil's Freedom won the Impulso Morelia prize for Mexican films in pre- and post-production at Morelia Film Festival in 2016. The prize guaranteed Mexican distribution through Cinepolis and post services at Carlos Reygadas' Splendor Omnia studio.
Contact: Films Boutique - info@filmsboutique.com
The Trial: The State Of Russia Vs Oleg Sentsov
Dir: Askold Kurov
Produced by Tallin-based Marx Films, The Trial: The State Of Russia Vs Oleg Sentsov follows the plight of Ukrainian filmmaker Oleg Sentsov. He is currently imprisoned by Russia's FSB in Crimea on political charges, having been given a sentence of 20 years.
Contact: Rise And Shine World Sales - info@riseandshine-berlin.de
The Young Karl Marx
Dir: Raoul Peck
August Diehl, Stefan Konarske and Vicky Krieps star as Karl Marx, Friedrich Engels and Jenny Marx in Peck's drama about how Engels came to help Marx forge a new vision of the world and transform the labour movement for the modern era. Haitian-born Peck is Oscar-nominated for his documentary I Am Not Your Negro about race relations in 21st-century America, which is screening in Panorama. The Young Karl Marx is a co-production between France's Agat Films & Cie and Velvet Films, with Germany's Rohfilm and Belgium's Artemis Productions.
Contact: Films Distribution - info@filmsdistribution.com