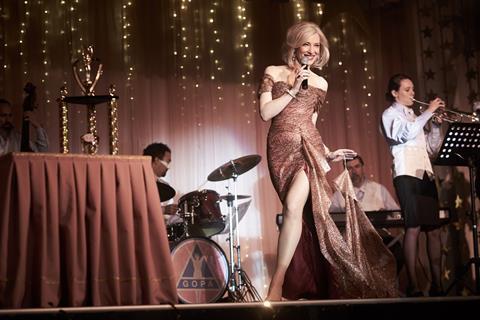 Austrian director Marvin Kren's German-language crime thriller Freud, set against the heady atmosphere of 1880s Vienna, opens Berlinale Series (February 24-26). Kren and his cast, led by Austrian actor Robert Finster, will hit the Zoo Palast's red carpet for the opening night of the sixth edition of the independent strand.
Other talent expected to attend the showcase includes Cate Blanchett with her Australian immigration drama Stateless, which she co-created with Tony Ayres and Elise McCredie, and US multi-hyphenate Jason Segal, who will accompany his drama Dispatches From Elsewhere. Segal wrote and stars in the show, described by producer AMC as an anthology "about a group of ordinary people who stumble onto a puzzle hiding just behind the veil of everyday life". The ensemble cast also features André Benjamin, Sally Field and Richard E Grant.
Further attendees will include Australian actor Aaron Pedersen with ABC's investigation drama Mystery Road 2, in which he plays a detective working in the Australian outback.
Produced by Netflix, Austrian public broadcaster ORF, Bavaria Fiction and Satel Film with the support of Vienna's Filmfonds Wien and Media, Freud is the only costume drama among the selected eight series. Berlinale Series chief Julia Fidel emphasises, however, that it breaks the mould for the genre. "It's a living, breathing, sweating and bleeding kind of costume drama that pushes barriers," she says. Freud is one of two Netflix series being showcased — the other being The Eddy, Oscar-winning director Damien Chazelle's Paris-set collaboration with Jack Thorne, which is the sidebar's closing title.
Festival treatment
Fidel suggests the festival setting of Berlinale Series is a draw for top shows, over other events such as Series Mania in northern France in March and Canneseries in April. "When you come to Berlinale Series, you get the full festival treatment — a starry red carpet and a big festival audience that really loves seeing the series before they come out," she says. Fidel was appointed head of Berlinale Series in September having previously worked in the festival's Panorama and Generation sections as well as in production and as a press agent. She has wasted no time in putting a bold stamp on her first selection.
"I wanted to make sure we are showing a very versatile picture of what is happening in the TV world," she says. "I didn't want to stick to the genres we're used to seeing. We tried to get the message out that we wanted to go beyond crime series and costume dramas.
"In television, you have so much more diversity than in film," she continues. "It's a blessing and a chance to push the needle. I am extremely excited the programme addresses female sexuality, is very queer and has a lot of representation of non-white actors."
To reinforce her point, Fidel cites relationship drama Trigonometry, co-written by Duncan Macmillan and Effie Woods, directed by Athina Rachel Tsangari (Chevalier) and starring Ariane Labed and Thalissa Teixeira, and Danish web series Sex, about a group of youngsters exploring their sexuality and identity.
Alongside these festival screenings, the European Film Market is also running market screenings and an industry panel programme. These also take place at the Zoo Palast and there is a dedicated Berlinale Series lounge close to the theatre, where industry and talent can meet.
The panel programme kicks off with a keynote by Segal and will also touch on hot topics such as 'The streaming revolution', writing for teenagers and the rise of intimacy co-ordinators. More than 30 new shows will screen in the market including Sundance documentary Hillary, which is sold by Dogwoof, Studiocanal's French-language drama The Collapse set against the backdrop of a crumbling industrial society, and BBC2's 19th-century adventure tale The Luminaries, which is handled by Fremantle.
Nicky Davies Williams, CEO of DCD Rights, which handles sales on The Hunting, says screening at the EFM can be good for both sales and creating awareness.
"The EFM tends to be an acquisition market and particularly draws the German industry. While it leans towards northern Europe, there are projects from the 'South'. There are not that many North Americans but growing numbers of Australians are attending."
"We held a screening of our Australian drama Romper Stomper at the EFM and the Q&A was a helpful way to explain the series and pique buyers' interest," she adds, referring to the political thriller exploring Australia's Alt-Right which market screened in 2018
Jens Richter, CEO of Fremantle's international division is equally positive about both the Berlinale Series and the EFM, having first attended the festival with Deutschland 83 in 2015.
"Fremantle started with Deutschland 83, which turned into a huge global success. We also premiered Picnic At Hanging Rock at Berlinale," he says.
"We love the Berlinale. It's a great launch platform for high-quality premium drama," says Jens Richter, CEO of Fremantle's international division. "There are a lot of buyers, both from the broadcasters and the streamers. They are mainly European but there are some from the US too. There's plenty of activity at the Berlinale."