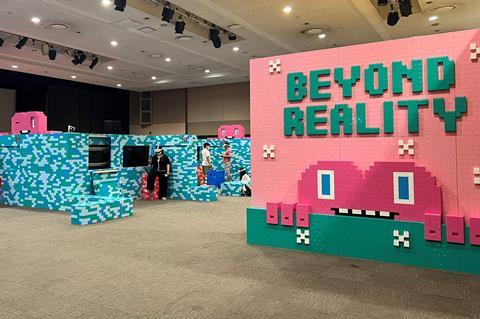 As a film festival that has always been interested in progressive methods of storytelling, the Bucheon International Fantastic Film Festival (Bifan) is opening its seventh edition of Beyond Reality, a showcase of XR works from around the world.
"This year's showcase reflects the changes after the coronavirus pandemic," says Bifan's XR curator Jay Kim, who has travelled the globe to programme this year's selection.
"Because of the virus, everything happened online, virtually. Now that we are in a post-pandemic or endemic situation, the passion and interest in offline has exploded so exhibitions like this and performances are doing very well these days.
"On the other hand, during the pandemic, the sense for new media and virtual [reality] have become embodied in people. For instance, walking inside a virtual space or actively having interactions and having several people experience it simultaneously and not as before, when it had to be an individual experience - now it can be a group, social experience and the content is moving that way."
Beyond Reality features 42 titles this year with an additional five amateur titles created in the Unity Challenge workshop that Bifan partners on with the cross-platform engine Unity.
Augmented experiences
The not-to-be-missed piece of the programme is Augmented Shadow: Chasing Stars In Shadow, directed by visual artist and engineer Moon Joon Yong.
Set up in an spacious tent outside the Korea Manhwa Museum, the piece uses Augmented Reality (AR) tech but seems like Virtual Reality (VR) in the sense that the viewer can be fully surrounded by the images and have an interactive experience inside the piece.
A viewer will take a real lantern into the space, joining in the movement of the animation, free to explore what's going on inside. When one of the shadow characters waves at them, the user is meant to point their lantern at them. The character will then "grab" a ball of light coming from the lantern and plant it in the ground or hang it on a wall to open new images that grow and flow around the installation to music.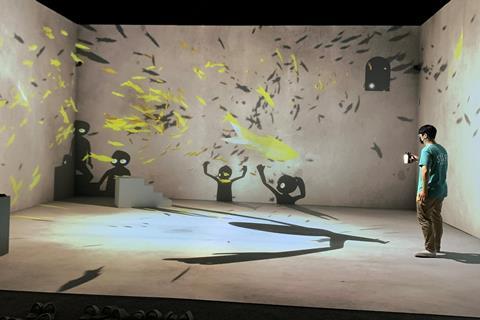 "You are taking light and communicating with the shadows, and in the process creating a story," says Kim of Augmented Shadow. "At the end of it, we've had people tearing up as they wave at or try to follow the departing shadows.
"Before, pieces were closer to media art and didn't have stories. But this artist has added storytelling in his piece and the balance of that with technology is very well done. Audiences don't have to use headsets so they can experience it in much more comfort, too."
Although Kim mostly brings home celebrated XR works from festivals overseas for local audiences to enjoy, this is one of the Korean pieces he believes will take off internationally. "There aren't that many of this kind of work in the world so it's a Bifan discovery and overseas interest is already high," he says.
Other Korean works of note include 5.25 Squared Meters, directed by Kim Kyungmook (Stateless Things). The title refers to the size of the prison cell in which Kim spent time as a conscientious objector when he refused mandatory military service. Another is Kwon Hayoun's VR project Kubo Walks The City, in which viewers get to explore an animated version of the streets of 1920s Japanese-occupied Seoul as the novelist Kubo – a character in a modern Korean short story – narrates his thoughts.
Beyond Science
The festival has this year secured a grant from the Korean Foundation for the Advancement of Science and Creativity (KOFAC) to showcase science-related works including those dealing with nature and the environment as well as science fiction.
The nine titles in the Beyond Science section include Korean director Tae Yeun Kim's Helpless, which invites viewers into a virtual reality space to experience how plants respond to pain, and Myriad. Where We Connect | VR Experience, a work from Germany that follows animals as they migrate across vast distances. Directed by Dirk Hoffmann, Lena Thiele and Sebastian Baurmann, the project was previously selected for the 2021 Venice VR Expanded section.
Last year, with people unable to travel due to Covid-19 quarantine measures, the Beyond Reality programme made use of the nearly empty Incheon International Airport for its exhibits. This year, with vaccination rates up and people more willing to move around locally as well as internationally, the programme is taking place at venues around the festival centre - at the Korea Manhwa Museum and at Hyundai Department Store's Jung-dong branch.