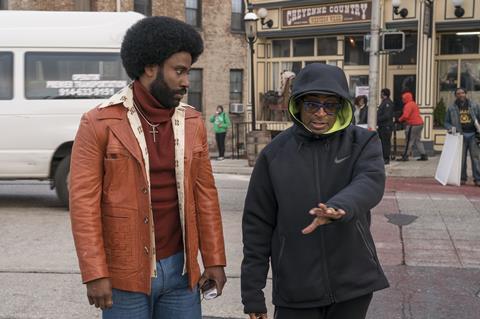 In July 2015, neophyte screenwriters David Rabinowitz and Charlie Wachtel came across an online article about Ron Stallworth, a retired Colorado Springs police officer who had written a memoir in which he detailed how he — a black man — had infiltrated the Ku Klux Klan. Recognising the book's cinematic potential, the pair fired off a hopeful email to its publisher inquiring about the film rights, even though they assumed Hollywood would have already hoovered them up. To their surprise, the rights to BlacKkKlansman were still available and, over the next few months, they and Stallworth spoke several times until eventually he granted them permission to adapt his book.
But Stallworth wanted assurances the script stood a chance of being made, which meant finding producers with a proven track record. And so, in late 2015, the writers met with Raymond Mansfield and Sean McKittrick at QC Entertainment, a pair whose combined credits include Donnie Darko, Get Out and The Oath.
The producing partners loved the pitch. "It's so rare you get a Hollywood high concept in a true-life story," says Mansfield, while McKittrick notes: "We're always looking for films we haven't seen before, and the fact that this was a true story made it all the stranger. We want to make films that have something to say — socially relevant projects where the social relevance is buried beneath entertainment — so BlacKkKlansman ticked all the boxes."
Following months of negotiation, QC optioned Stallworth's memoir and life rights and commissioned Rabinowitz and Wachtel to write a script. At the time, Mansfield and McKittrick were in pre-production on Get Out with writer/director Jordan Peele and they showed him an early draft, hoping he might be interested in producing with an eye to directing. Get Out premiered at Sundance in 2017, quickly achieving cultural phenomenon status and winning Peele the Oscar for best original screenplay. Ultimately, Peele passed on BlacKkKlansman, deciding to direct Us as his follow-up, an original script he had written in the same genre as Get Out. Again produced by McKittrick, Us world premieres at SXSW on March 8.
Pitching Spike Lee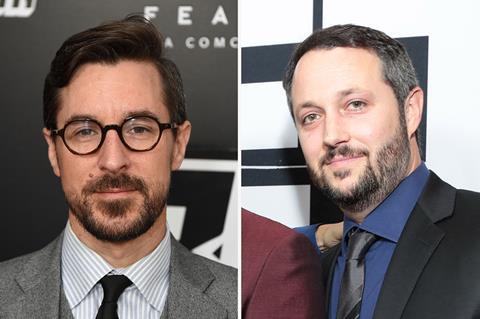 Peele remained attached as a producer of BlacKkKlansman and he made the suggestion of Spike Lee to direct. Mansfield and McKittrick approached Lee via his agent, while Peele contacted him personally. Within days, Lee had said yes. "If you hear Spike talk about it," recalls Mansfield, "it's the greatest pitch he's ever heard — 'Jordan Peele called me up and said, 'Black man infiltrates KKK.' I said, 'Is it real?' 'It is.' 'I'm in.''"
"And now we are on a moving train," says McKittrick, "because Spike is an incessant worker and we had a window for him to shoot this film." Lee's availability was limited because of his commitments as writer, director and executive producer on Netflix's 10-episode series adaptation of his 1986 debut feature She's Gotta Have It. "As part of the conversation to formally get Spike engaged, QC Entertainment committed to fully finance the movie in equity if there wasn't a distribution partner that could step up in the amount of time we needed to hit that window," explains Mansfield. "Had we not been able to do that, we probably wouldn't have been able to get him."
Meanwhile, QC had invited Blumhouse Productions, with which it had partnered on Get Out, to join the project. Since both Peele and Blumhouse have first-look deals with Universal Pictures, QC gave the studio first dibs on BlacKkKlansman on the understanding the clock was ticking. "Very quickly, we heard back that this feels like a movie for Focus [Features]," says Mansfield. "Focus jumped all over it and we were in pre-production within weeks." With Focus on board, two of Universal's financing partners, Legendary and Perfect World Pictures, also joined.
With Lee now attached, he and writing partner Kevin Willmott began to rework the screenplay, deepening the historical context and emphasising the story's contemporary parallels. "Kevin and Spike gave it a much more powerful perspective," says Mansfield. "To show the evolution of 'then' to 'now' in a subtle way. Things like 'America First' had been used since the turn of the 1900s."
"By the Klan," adds McKittrick. "The Trump and Far Right rally cry is the same rally cry the Klan used back in the day. You don't have to take an intellectual leap to connect these two things. It's as clear as day. [Spike] brought the perspective the film needed. And he brought the link, the thematic and direct link, from the past to the present."
On August 12, 2017, while Lee was in pre-production, 32-year-old Heather Heyer was killed in Charlottesville,
Virginia, when James Alex Fields Jr drove his car into a crowd who were protesting against a white supremacist rally. Following that event, Lee added several lines to the script, signalling his intent to use footage of the incident, along with US president Donald Trump's infamous reaction ("I think there's blame on both sides"), and reaching out to Heyer's mother for her blessing.
Filming took place in late 2017 in Brooklyn and Ossining, New York — the latter doubling for downtown Colorado Springs — with some second-unit work in Colorado. "We started prep in August, shot October, November, December, and sped up post-production to get the movie ready in time for Cannes, which was something that was very important to Spike and something the studio really supported," says Mansfield. "Everything about this project moved fast. I think it's because everyone knew there was something special. Dealing with the studio was very quick, prep was quick, production was quick, as was post-production. Everything was faster than we're accustomed to and that is a virtue of Spike. He's a 24-hour worker and when you're the leader, setting that tone, everyone's trying to keep up."
"It wouldn't have worked if Spike wasn't in complete control," adds Mc­Kittrick. "He's the type of filmmaker who knows exactly what he wants and that makes him very efficient."
Cannes ovation
BlacKkKlansman premiered in Competition at Cannes Film Festival in May 2018 to a rapturous reception. "It was the best Cannes experience of my life," says McKittrick, who was a producer on Richard Kelly's Southland Tales, which received a very different reaction back in 2006. "The [BlacKkKlansman] screening was a standing ovation. Every dialogue link to our current ridiculousness in the Oval Office received a round of applause."
The film won the jury grand prize. "To be in France and have this message amplified across Europe really helped to raise the film's profile worldwide," notes Mansfield. "It also emboldened the distributor to get more aggressive with the release," adds McKittrick.
Focus opened BlacKkKlansman in 1,512 theatres in the US in August 2018 to strong reviews and a respectable box-office gross of $48.5m. In the UK, Universal reached $8.4m (£6.5m) in receipts, and the film sits at $89.4m globally to date. While the filmmakers have not received any official reaction from the Ku Klux Klan, according to Mansfield, David Duke — the former Grand Wizard, played in the film by Topher Grace — has been in touch with Stallworth.
"David called him a few times," says Mansfield. "The first one was a few weeks before the release where he was expressing concern about his portrayal. He also told Ron that he's a fan of Spike Lee, which, of course, made us laugh."
Lee was nominated for best director at the Golden Globes — one of four nods for the film — and again for the Baftas — one of five including best film, director and adapted screenplay (the filmmaker's first nominations from the British academy). It won the Bafta for adapted screenplay. On January 22, the film garnered six Oscar nods, including best picture and best director for Lee.
McKittrick is keen for the film to have a lasting impact. "I hope it opens the eyes of people who will get out there and vote and realise racism is not a thing of the past," he says. "We're with Spike on this — we want this film to wake people the fuck up, and to talk about this very real problem, which is happening in society every single day, all the way to the Oval Office."