Spike Lee talks to Screen about his explosive BlacKkKlansman, and why racism and the fight against lies are a global issue rather than just a US problem.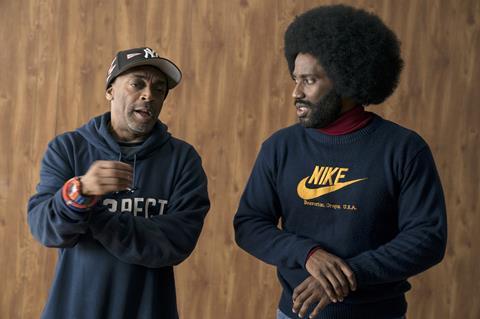 When Spike Lee arrived at the press conference to discuss his acclaimed film BlacKkKlansman, which had just premiered in Competition at Cannes Film Festival, he was not intending to talk about Donald Trump. Some six months on and Lee can only describe what happened that day as a feeling that came over him. "I was sitting there and just began thinking about Agent Orange - I won't say his name," he says now. "I was just thinking about this guy in the White House. And then I began thinking about Heather Heyer," a peaceful protestor who was killed after being run over by a neo-Nazi's car in Charlottesville, Virginia, on August 12, 2017. It was a death that shocked the US as well as Lee, who used footage from the event as part of BlacKkKlansman's powerful epilogue.
"That was off the cuff; it wasn't written," Lee says of his impromptu Cannes speech, where he forcefully condemned Trump for not speaking out against hate speech and the Charlottesville tragedy. ("That motherfucker did not denounce the motherfucking Klan, the alt-right and those Nazi motherfuckers," Lee told the assembled journalists. "It was a defining moment, and he could have said to the world, not just the United States, that we were better than that.")
"That was just pure emotion and how I felt at that moment — and how I feel about this country, the United States of America, the so-called cradle of democracy, and it's a farce," says Lee now.
No regrets
The filmmaker's impassioned words quickly went viral. Lee has not gone back to watch the footage, but he has read what he said, and he does not regret a thing. "There's nothing that I said that I want to change," Lee insists. "I know I used the word 'motherfucker' but that's what I was feeling. And it was pure honesty of my feelings about the direction this country is going right now."
He laughs. "There are many times in my life where I've said stuff I wish I hadn't said — my wife reminds me — but not that press conference."
To be a fan of Spike Lee is to love him, and his movies, for their volatile urgency and blunt honesty. BlacKkKlansman ripples with rage about all the ways that racism seeps into US life, poisoning everything it touches. The movie tells the true story of Ron Stallworth (John David Washington), a black cop in Colorado in the 1970s who daringly infiltrated the Ku Klux Klan with the help of his white partner, Flip Zimmerman (Adam Driver).
And with the rise of neo-Nazism in the US, BlacKkKlansman could not be more timely — despairingly so.
Lee had never heard of Stallworth until being contacted by Jordan Peele, who won the best original screenplay Oscar earlier this year for Get Out. "He called me out of thin air," Lee recalls.
Peele's pitch to Lee could not have been simpler: "Black man infiltrates KKK." Peele sent him Stallworth's memoir and a script that had been written based around it, wanting Lee to revise the screenplay and direct the film. Lee was in the midst of other projects — his television adaptation of She's Gotta Have It premiered on Netflix last November — but he knew he had to make BlacKkKlansman, and not just because of what the film said about the US — for Lee, BlacKkKlansman touches on something corrosive happening across the globe.
"You have Brexit. France, this guy [deputy prime minister Matteo] Salvini in Italy… I mean, there's a rise of neo-Nazis in Germany again," Lee says. "Brazil, too. I hope that audiences, when they see the film or they've seen it, understand it's not just something that's special to America because this thing is worldwide."
Since its Cannes debut, BlacKkKlansman has gone on to become one of Lee's biggest commercial hits, an outcome that both pleases the 61-year-old director and leaves him a little wary. "I don't understand, like, 'Spike Lee's Back!' [articles]," he says. "Like, where the fuck did I go? I'm in my fourth decade making films. And at the same time, what a lot of people are doing is going back to revisit the films that they missed, dismissed, whatever. They're going back to films like Bamboozled, Summer Of Sam, Clockers and 25th Hour."
But being a veteran filmmaker has also given him the perspective to understand that, for whatever reason, certain movies of his simply do not catch on when they are released — they need to wait patiently for audiences and critics to fully appreciate them.
"So many things have to go right for a film," Lee says. "Some films, boom, it's the right moment, the stars align. That's the case with BlacKkKlansman."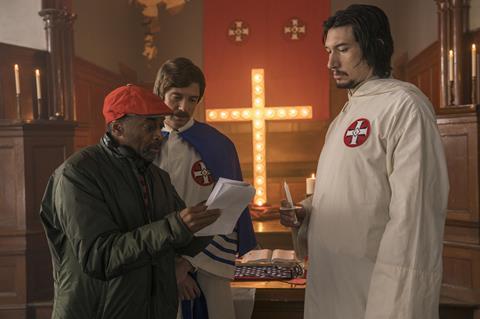 Not that Lee necessarily anticipated that BlacKkKlansman would be a financial success. He was too busy making it, shooting last autumn with an eye toward releasing in the US on the first anniversary of the Charlottesville killing.
"What people are getting, maybe on a subliminal level, is a sense of urgency in the making of this film," he suggests. "It was made with an urgency to deal with this crazy world. But I cannot imagine the stuff that's happened since."
Lee then proceeds to list everything from the US's cruel policy of separating immigrant children from their parents to the circus-like atmosphere at the Supreme Court confirmation hearings for Brett Kavanaugh, who rebutted accusations of sexual assault. Lee sighs: "It never stops." Asked if this turbulent moment in US history makes him more enraged or depressed, Lee responds, "Unfortunately, I have the bandwidth to be angry and sad at the same time."
False narratives
But, of course, for black Americans, living in the US has never been easy — it is only that recent events have exacerbated the country's racial tension. "Politicians, especially with this age of technology, are able to spin a false narrative and people believe it," Lee says. "Exhibit A — Colin Kaepernick."
Kaepernick is the African-American NFL star who became a pariah when he refused to stand for the national anthem, instead getting down on one knee to protest police brutality and racial discrimination. Kaepernick provoked a national debate — and a flurry of anger from those who felt he was disrespecting the military through his actions.
"Kaepernick and the other brothers in the league who took a knee," Lee says, "to bring light on the way African-Americans are treated in this country. There's no way in the world they might think that this was disrespecting the flag — that this was disrespecting brave Americans in the military forces. Who is it that said, 'You keep telling a lie enough, we believe it?' That's what happened."
When Lee latches onto a topic that matters to him, his body language changes. He becomes more present, and the words pour out of him more explosively. It happened that day at Cannes, and it happens as he thinks about conservative politicians who tried to spin Kaepernick's protest as un-American.
"They lie and lie and lie again," he says, evidently frustrated. "I don't know what it is, but we hear a lie enough, we start believing it as truth. I just hope we get smarter. No matter how you try to switch it around, these people are lying out of both sides of their mouths.
"What we saw in Charlottesville was an act of American terrorism. That car that killed Heather Heyer was used as a murder weapon. [Heyer's mother] Susan Bro no longer has a daughter because of homegrown American terrorism. The narrative today is 'Terrorism is by some lunatic Muslims — and all these school shootings [by white perpetrators], that's not terrorism.' So it's really a battle between the truth and the lie. That's what's happening now."
For more than 30 years, Lee has sounded these alarm bells for audiences, serving as a constant moral watchdog for a US that too often falls short of its promise. In a way, there is something poignant about the fact BlacKkKlansman stars Washington, the son of Denzel Washington, a frequent Lee collaborator (the director has known John David Washington since he was a boy — he cast the actor in Malcolm X when he was six years old). Lee's battle has now spanned a couple of generations, and that battle continues.
"I knew at an early age that I cannot give power to any group to validate my work," Lee says. "So if [only] two people would have gone to see BlacKkKlansman, as far as I'm concerned, it's still on the right side of history."
A lot more than two people have seen BlacKkKlansman. And, because it is a Spike Lee film, there is a good possibility that plenty of other viewers will eventually see it — or realise they failed to understand what was so volcanic about the film the first time.
"Ten years from now," Lee predicts, "they'll be writing about how they missed it — 'We should have listened to him back then.'"
Focus Features released BlacKkKlansman in the US in August and it has grossed nearly $50m to date. The film has garnered nearly the same amount again on its international release via Universal Pictures.