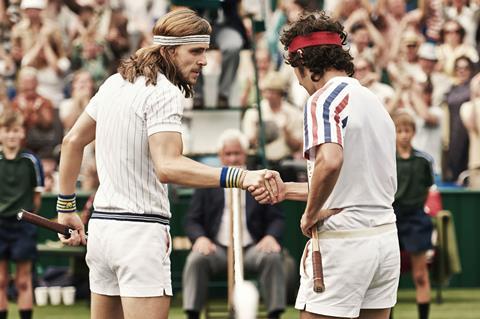 Back in the 1920s, Swedish studio Svensk Filmindustri was known for making silent films that were global hits, such as The Phantom Carriage (1921), Haxan (1922) and The Saga Of Gosta Berling (1924).
Now, in 2017, the company — under new moniker SF Studios — is again aspiring to make global hits, moving into more English-language projects without abandoning its Scandinavian roots. CEO Michael Porseryd explains: "We feel we have a lot of interesting IP coming out of the Nordics and all the talents, both behind and in front of the camera, that are working internationally."
This revamped strategy started in part with Borg/McEnroe, an $8m film, partly in the English language and made not just for the local audience. The picture opened Toronto this year and has been sold to more than 150 countries by SF Studios' world sales arm SF International. SF Studios' SVP of international production Fredrik Wikstrom Nicastro describes Borg/McEnroe as "both a Scandinavian blockbuster and an international film that can stand on its own two legs".
While Borg/McEnroe was financed in the traditional Scandinavian way, drawing on funding from the national film institutes of Sweden, Denmark and Finland, as well as the Nordisk Film & TV Fond, some of the upcoming projects are more likely to be financed without government funding. "These English-language films will be audience-oriented and will not rely on film institute support to be made," says Nicastro. "In that sense we will compete with production companies like Working Title or EuropaCorp." A co-financing pact with Anton Corp was unveiled in January.
The two big English-language titles being prepared to shoot in 2018 are Horizon Line, an original thriller written by 10 Cloverfield Lane scribes Josh Campbell and Matt Stuecken, with a director soon to be announced and slated to shoot in Ireland and the Caribbean; and I Am Victor, a thriller about a lawyer accused of a series of brutal murders, adapted by Neal Purvis and Robert Wade from an as-yet-published Jo Nesbo novel. I Am Victor will be directed by Iceland's Baltasar Kormakur and shoot in London.
Nordic attitude
While not every project will need to have a Nordic connection, naturally most will. "That is our USP and makes us unique," Nicastro says. The company's Swedish-language hit and 2017 Oscar nominee A Man Called Ove is now being set up as an English-language remake with Tom Hanks' Playtone. The plan is to shoot in 2019 with Hanks in the role of the famously grumpy Ove. "We have partnered with Hanks and Playtone after turning down offers from studios who just wanted to buy the rights," Nicastro explains. "We are taking a much more active role in the remake."
These new strategies reflect changes in recent years, including the company's rebranding in May 2016 from Svensk Filmindustri to SF Studios. After the departure of controversial CEO Jonas Fors in June 2016, Endemol Nordics and Metronome veteran Porseryd was appointed CEO in late 2016. The company, which is part of Nordic media giant Bonnier, works across production and distribution in Scandinavia. In addition to its Stockholm headquarters, there are offices in Oslo, Copenhagen and Helsinki. SF Studios has recently launched a UK satellite office, led by Kate Myers, which will find and develop English-language projects. "We make lots of local decisions," says Porseryd. "We need to be local to be close to the audiences and local partners."
Porseryd also confirms that smaller local-language films — still with a commercial angle — will not be abandoned. "In the Nordic territories, we plan to make more films," he says. "We're not giving up the local production." Local productions on the slate include the third film in the Bamse family film franchise; an adaptation of Ove author Fredrik Backman's comedy drama Britt-Marie Was Here; Daniel Espinosa's historical drama The Emigrants; and Espen Sandberg's explorer adventure story Amundsen.
SF Studios also works in TV production, already producing local hits such as Seaside Hotel in Denmark and Alex, The Lawyer and The Hunters in Sweden. After the push into English-language features, English-language TV series will follow. "The talent is moving between TV and film — it feels natural," says Porseryd.
The company's cinema business was "spun off many years ago" but SF Studios does still deal directly with customers on its two digital platforms, SF Anytime and SF Kids Play. In 2019, SF Studios will celebrate its centenary and Porseryd says the timing could not be better: "It's going to be nice for us when this international slate is happening that we will also celebrate the 100-year anniversary. It used to be a worldwide film production company and now we want to get back to that."