Melanie Goodfellow looks at the impact of several new initiatives that aim to get a better deal for Palestinian filmmakers scattered around the world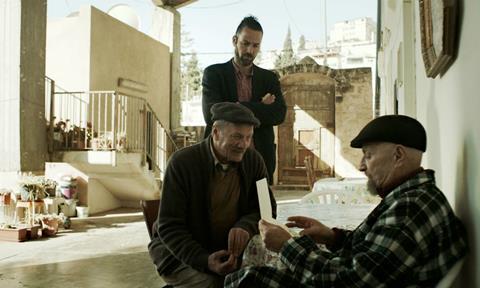 Palestinian filmmakers are out in force at Dubai International Film Festival (DIFF) this year led by Annemarie Jacir who touches down in the Muhr Arab Feature competition with the Nazareth-set father and son comedy-drama Wajib.
DIFF habitué Mahdi Fleifel returns to the Muhr Short programme with A Drowning Man, about a young Palestinian migrant, alone and adrift in Athens. The shorts competition also features Rakan Mayasi's Bonboné, about a Palestinian couple's attempts to conceive a son while the husband is held in a high-security Israeli prison. Additionally, Yassmina Karajah's Rupture follows four Arab teenagers as they look for a swimming pool in their new Canadian hometown.
Bethlehem-born, Haifa-based Jacir has been coming to DIFF since the early days of her career, when her Like Twenty Impossibles screened in the Arabian Shorts section in 2003. She went on to win the best screenplay prize for debut feature Salt Of the Sea in 2008, which was Palestine's entry to the best foreign-language Oscar category that year.
In her third feature Wajib, Jacir turns her attention to the Palestinian population living in Arab towns and villages within Israel's 1948 border. Although culturally Palestinian, they are administratively classed as Israeli. The film portrays a father and his estranged son forced together by an old Nazareth wedding tradition under which the father and brothers of the bride personally deliver wedding invitations to friends and family. Veteran actor Mohammed Bakri co-stars opposite real-life son Saleh Bakri.
"I was interested to find this custom alive in Nazareth," says Jacir, who observed the tradition first-hand when her husband and father-in-law delivered invitations for her sister-in-law's wedding. "It is a city that is undergoing such an identity crisis and living so many contradictions. It's as if the population holds on to this tradition all the more tightly."
Chasing the money
Wajib is Palestine's entry to the foreign-language Oscar category this year but was as hard to develop and finance as all Jacir's previous features. Osama Bawardi, her long-time producing partner at Philistine Films, pulled together a patchwork of investments, involving eight co-producers, post-production support from DIFF's Enjaaz and the Doha Film Institute, and a small grant from the Palestinian Ministry of Culture. One of the co-production companies is Cristina Gallego and Ciro Guerra's Ciudad Lunar, the company behind Oscar-nominated picture Embrace Of The Serpent.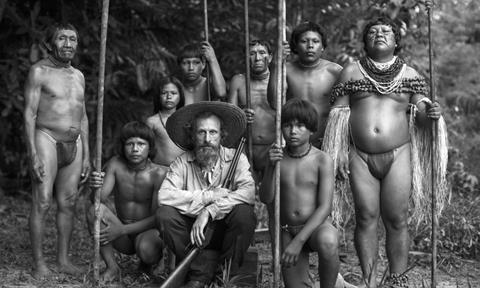 "Wajib is the first ever Colombian-Palestinian co-production," says Jacir. "It was Osama who suggested we went to the Colombian Film Commission. I was like, 'This has nothing to do with South America, what are you talking about?' He said, 'Let's try.'
"We applied and were accepted," she continues. "They had two requirements, Colombian crew and a cast member. Our gaffers were Colombian. We called them our ninjas; they were great workers. And for the cast member, the great thing about Palestinians is that they've gone all around the world. A lot of them went to Colombia, and then came back. So, we were able to find a Palestinian with Colombian citizenship in Nazareth."
The intricate and creative financing of Wajib is fairly typical of how Palestinian productions come together. "We don't have an industry but we have film-makers, writers and people doing really interesting things with whatever resources we have but it's hard," said Jacir.
A handful of mainly West Bank filmmakers are attempting to change this situation with grassroot initiatives emulating the film development and promotion bodies that exist in better-resourced territories. This October saw the launch of the first Palestine Film Meetings industry event within the framework of the Days of Cinema film festival in Ramallah. It featured a project market and a programme of talks on topics such as 'Film-making without infrastructure'. Both the festival and industry platform are initiatives of Ramallah-based Filmlab Palestine, created in 2014 by filmmaker Hanna Atallah to foster a Palestinian cinema culture and industry.
Director Muayad Alayan, best known internationally for his 2015 feature Love, Theft And Other Entanglements, is also involved and headed up the debut industry programme. "We need a whole cycle — from children being exposed to cinema, to schools that teach filmmaking, to support from the government, private sector or NGOs [non-governmental organisations] to create a base for cinema to grow in a sustained way," says Alayan. "Because the political situation is so complicated, we can't really pressure the government to create a film fund or impose a levy on media outlets to generate some investment for film."
Perils of partnership
Co-producing is often the only route to get a feature off the ground but Alayan suggests current co-production models are as much a hindrance as a help to the overall development of a national film industry.
"They have helped us make some amazing films but they have all slowed down the development of the cinema sector in the country," he says. Alayan's bugbear is the requirement for Palestinians filmmakers to make crucial concessions when it comes to hiring key crew members to fit the terms of a co-production deal as they have so little money to bring to the table. "This means Palestinian films are rarely shot by a Palestinian DoP. It means we're not training local heads of departments," he said. "We need to find new ways of producing and structuring these deals."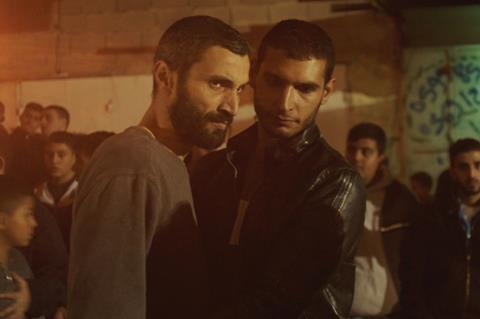 Another key issue for the creation of a national film industry is the geographical sprawl of its filmmakers. Many, such as DIFF participants Fleifel, Mayasi and Karajah, are based outside of the West Bank and Gaza, as part of a diaspora that has swelled to some 6 million people since the creation of Israel in 1948.
"I have never been to Palestine," reveals Bonboné director Mayasi. "I know about it through photos, books, films and poems. I consider myself a Palestinian filmmaker because I belong to the Palestinian cause, those who were thrown out of their houses, not so long ago, by force."
In response to the scattered nature of the film-making community, Ramallah-based film-makers Mohanad Yaqubi and Bassam Jarbawi and Paris-based Raed Andoni launched a grassroots initiative called Future Logic in 2015, aimed at promoting new projects from Palestinian film-makers wherever they are based. Under its first round it helped to support seven projects including Lina Al-Abed's Ibrahim, Basma Alsharif's Ouroboros, Fleifel's A Man Returned, Alaa Ashkar's You Reap What You Sow and Jarbawi's Screwdriver (Mafak). The support aimed to give the films greater visibility at key events including Cannes and the International Documentary Filmfestival Amsterdam.
"We're pulling together a second selection because we're seeing amazing results with the first round," says Yaqubi, whose own credits include documentary Off Frame AKA Revolution Until Victory. "Two of the projects have already been released, Ouroboros and You Reap What You Sow. Three will be released in 2018 and Bassam's first film Screwdriver (Mafak), has gone into production in Ramallah."
FIVE TO WATCH latest Palestinian projects
Ibrahim
Dir Lina Al-Abed
A documentary investigating the disappearance of the director's father, Ibrahim, a member of the Palestinian militant group the Revolutionary Council. He set off on a mission in 1987 and never returned.
Status: Post-production
The Reports On Sarah And Saleem
Dir Muayad Alayan
Drama about the love affair between a Palestinian man and an Israeli woman who find themselves in political danger when they are spotted together.
Status: Post-production
Screwdriver (Mafak)
Dir Bassam Jarbawi
Former baseball star Ziad attempts to reform his old team after spending 15 years in an Israeli jail.
Status: Post-production
The Vagabond
Dir Mohanad Yaqubi
A musical documentary exploring the work of the songwriter and oud player Wasif Jawhariyyeh (1897-1972) as contemporary Palestinian artists record an album that is inspired by his work.
Status: In development
De Facto
Dir Rakan Mayasi
Against the backdrops of Gaza, Lebanon, Turkey and Greece, three characters face hardships and challenges as they cross the Mediterranean as illegal immigrants in search of a better life.
Status: In development