Canadian sales agents are looking to EFM as a barometer, and hoping for a return to physical markets later this year.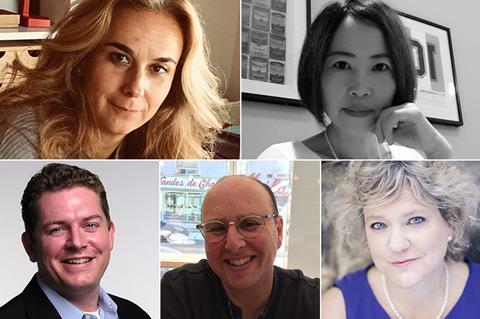 After a year of virtual markets and Zoom meetings, Canadian sales agents are looking forward to getting down to business — in-person, jet-setting, late-night-bidding-war business, that is. "Everyone in the industry, buyer or seller, is starving for face-to-face interaction," says Michaelangelo Masangkay, general manager of Toronto-based distributor and international seller Raven Banner Entertainment. "That's so much of what the business is."
Just how soon the international sales business can get physical again, and how much it will have changed when it does return to something like pre-pandemic normal, is not yet clear. But the European Film Market (EFM), which could be the last major market forced to go fully virtual, might provide some pointers. EFM, suggests Masangkay, "will be a barometer for how the rest of the year is going to play out".
Canadian sellers felt the effects of the pandemic last summer when lockdowns began to restrict the flow of films from Europe. "The pandemic did put some strain on the financing of live-action films that we were either tracking or committed to," says Xiaojuan Zhou, president of Montreal-based sales agent Attraction Distribution. "We've got a number of European films that the producers have decided to postpone entirely until 2022."
Canadian projects — such as Attraction's CG-animated Felix And The Treasure Of Morgäa, which has its world premiere at EFM and is part of Telefilm Canada's Perspective Canada showcase — were less disrupted however. "So far we have not seen a huge delay," reports Zhou. "TV and film production in Quebec has not really slowed down since the end of last summer."
Animated projects in particular were able to stay largely on track. "Animation has found a way to work," says Tania Pinto Da Cunha, vice president of Pink Parrot Media, whose EFM slate includes in-production Canadian animation Butterfly Tale. "The animation studios have slowed down a little bit but they haven't found the same problems that live action has found."
Responding to the reduced flow of films from Europe, Canadian sellers have tried to be more aggressive in licensing their catalogue titles to VoD platforms. And in some cases they have adopted new strategies to access and market projects. "We dived in to try and find completed films as the pandemic was about to shut everyone down," says Raven Banner's Masangkay. "We looked at anything that was completed and needed some gap financing or finishing funds."
The company, a genre specialist whose Berlin slate includes in-house Canadian chiller Motherly, also changed its marketing approach, looking to boost the value of its films to digital buyers through exposure at online festivals. "Digital is now so much more important, and digital word of mouth via social media and press has driven sales for a lot of our titles," Masangkay notes.
Catering to buyers' changing needs and fortunes has been a challenge for sellers since the start of the pandemic. "When cinemas came to a halt, they stopped paying distributors, and therefore distributors didn't have much to acquire films and pay minimum guarantees," says Anick Poirier, co-president of WaZabi Films, whose EFM slate includes Perspective Canada entries Beans, an Indigenous Canadian drama screening in the Generation Kplus section, and Souterrain, from writer/director Sophie Dupuis.
Now, says Poirier's co-president Lorne Price, buyers who once focused primarily on festival films for the theatrical market are buying in bigger volume with an eye to digital platforms and TV outlets. "Buyers are returning more on library titles, stuff we launched maybe a year ago," notes Price. "The sales cycle is much longer."
Being able to offer completed films is "a huge advantage", according to Attraction's Zhou, as distributors prepare for cinemas to reopen. With studios still holding off on major releases, "some distributors see a window for independent films", says Zhou, "and they are going to make sure they are ready at any moment."
Overcoming uncertainty
Pre-selling, on the other hand, is still tricky, making life difficult for Canadian producer-distributors such as Breakthrough Entertainment, whose Berlin titles include Canadian horror thriller Hall. "Trying to get financing to get movies greenlit has been a challenge," says Breakthrough's vice president of distribution Craig McGillivray. "People are a little unsure as to how films are going to be rolled out going forward."
Prices are down from pre-pandemic levels, although most sellers say they have adjusted their expectations and found ways to manage. "We are working a lot harder for the same dollar," is how WaZabi's Price puts it.
Much of that work, of course, has been done online, and Canadian sellers have mixed feelings about their experiences with virtual film markets. "We're all happy that they've happened, because it keeps us focused and optimistic and in touch with everybody," says Pink Parrot's Pinto Da Cunha, who works from the Madrid office of her Montreal-based company. "But it's definitely not the same. There's a lot missing when you do things online."
Missing elements, sellers say, include the ability to foster personal relationships with clients and the buzz that can sometimes be generated among buyers who are seeing films together, in the same time zone and free from the distractions of everyday life. Also on the downside, says Breakthrough's McGillivray, "the opportunity for new business is diminished dramatically in a virtual market, because you just don't run into people in the same way".
Among the benefits, says WaZabi's Poirier, is the fact virtual markets "are cheaper. We're sending money to producers much faster because there are fewer expenses. That's a big plus."
When markets begin to return to normal, either as fully physical events or in hybrid physical/online form (as this year's EFM would have been until plans changed last December), there could be a resurgence in attendance. "Maybe they will even attract people who haven't been to a market for the past few years," suggests Attraction's Zhou. "Maybe not even for business — just to show they're still alive."
In the longer term, though, the pandemic seems likely to have left its mark. "We've proved that you can conduct this business much more cheaply so I think some companies will learn from this and maybe restrict the number of people they're sending," argues Poirier. "Or they won't go to all the markets. Now we deal with four, five or six key markets a year. That may end up being reduced to two a year."
Canadian sellers are still holding off on travel plans for upcoming markets and festivals, citing concerns such as quarantine requirements and travel health insurance. Most say they will probably stay home for the rearranged Cannes Film Festival and market in July, though Pinto Da Cunha is an exception: "Even if we know it's not going to be a market as it has been, we'll probably make the effort and go," she says.
September's Toronto International Film Festival might give Canadian sellers of theatrical films a chance to catch buyers without having to deal with international travel restrictions. And October's Mipcom might be worth the trip for sellers targeting European VoD outlets. "We'll do everything we can to get there," says McGillivray of the Cannes event.
November's American Film Market (AFM) in Los Angeles could be the event that draws the first substantial contingent of on-the-ground Canadian sellers, and the one that marks a return to the near-normal for the international sales business. "I think it's going to be AFM," says Raven Banner's Masangkay. "Cannes is wishful thinking."
Until their business does return to normal, Canadian sales agents will continue the work of adapting and rebuilding that began when the pandemic first hit just over a year ago. And they may look for financial help from the frequently industry friendly Canadian government.
Some sales operations that are part of Canadian production groups have already benefited from the nearly $119m (c$150m) in Covid-19 emergency relief funding provided by the government, mostly to film and TV producers, through Telefilm Canada and the Canada Media Fund. Others credit the promotional efforts made by Telefilm at markets in support of Canadian films.
One experienced seller, though, suggests that Canada's government should — and perhaps will — do more to help international sales companies specifically. "They have been very slow to react," asserts Poirier, who, before launching WaZabi with Price nearly two years ago, was the longtime head of sales at Séville International. "Some international programmes have suffered because all the money was redirected locally.
"There's work to be done on that point but at least there's goodwill," she concludes. "There's goodwill and there are definitely conversations."