Screen investigates which films from around the world could launch on the Croisette, including on opening night.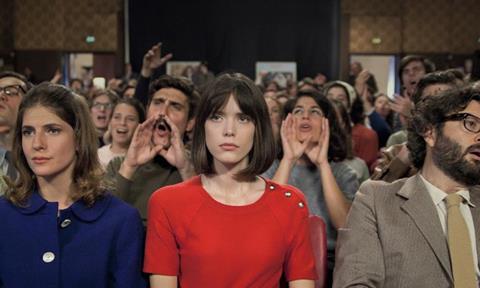 With just over a month to go before the line-up for this year's Cannes Film Festival is unveiled in Paris, Croisette predictions and wish lists are hitting the web thick and fast.
Screen's network of correspondents and contributors around the world have been putting out feelers to get a sense of what might or might not make it to the Palais du Cinéma or one of the parallel sections.
Just like the Oscars, this year's festival is likely to unfold amid a politically-charged atmosphere. Beyond Trump and the rise of populism across the globe, France will be digesting the result of its own presidential election on May 7. Against this background, the festival will be feting its 70th edition.
Below, Screen reveals which titles might - and might not - be in the running for a place at the world's most prestigious film festival (scroll to end for opening film possibilities).
Read more:
Berlin Film Festival 2017: Screen's top 11 movies
France
Cannes convention dictates that French titles in Official Selection are not confirmed until all candidates from the territory are screened. This often means no-one in France knows for certain whether they are in or out until the eve of the announcement.
That said, two time Austrian Palme d'Or winner Michael Haneke's French-language drama Happy End, is already rumoured to have secured a Competition slot.
Cannes chief Thierry Frémaux and his team will have a tough time whittling down this year's potential French entries which include Abdellatif Kechiche's coming of age tale Mektoub Is Mektoub, Bruno Dumont's quirky Joan Of Arc musical Jeannette, Michel Hazanavicius's Jean-Luc Godard tribute Redoubtable (pictured, top), Xavier Beauvois's World War Two land girls drama The Guardians, Arnaud Desplechin's Ismael's Ghosts (pictured), Christian Carion's kidnap drama My Son starring Guillaume Canet, Jacques Doillon's Rodin, Albert Dupontel's post-First World War drama See You Up There, André Téchiné's Golden Years, Anne Fontaine's Marvin, Guillaume Gallienne's Maryline, and Laurent Cantet's L'Atélier, set against the backdrop of a screenwriting workshop in the south of France.
Also in the mix are Erick Zonca's comeback picture Fleuve Noir, starring Vincent Cassel as a detective investigating a missing child case, Noemie Lvovsky Tomorrow and Thereafter, about a 10-year-girl living with an unstable single mother, and Eric Barbier's Promise At Dawn, starring Pierre Niney as colourful French writer Romain Gary opposite Charlotte Gainsbourg as his mother.
Oscar-nominated French-Turkish director Deniz Gamze Erguven's English-language debut Kings, set against the Los Angeies riots and starring Halle Berry and Daniel Craig, could be ready in time, although it would be a fast turnaround from its announcement last Cannes.
Some are also wondering whether Luc Besson's big budget sci-fi extravaganza Valerian And The City Of A Thousand Planets could also play as a special screening, or maybe even find its way in as the opening film. But would Besson risk rolling it out in front of the global critics corp two months ahead of its July launch?
Fresh blood could be injected with Xavier Legrand's divorce drama Custody, Marine Francen's The Sower, Fabrice Gobert's K.O. and Clara and Laura Laperrousaz's Sunbeat.
French Films not expected to be ready in time include François Ozon's Amant Double, which is slated for an autumn release, Xavier Giannoli's The Apparition, which is still shooting, as well as Jean-Luc Godard's Image Et Parole, Leos Carax's Annette and Roman Polanski's thriller Based On A True Story.
UK and Ireland
Following Ken Loach's Palme d'Or win for I, Daniel Blake last year, 2017 could also be a strong year for the UK.
Christopher Nolan's World War Two epic Dunkirk is high on a lot of wish lists but would Warner Bros. be prepared to premiere the film so far ahead of its July theatrical launch?
Other hotly tipped UK productions include Garth Davis's Mary Magdalene, starring Rooney Mara as the devoted follower of Jesus Christ; Clio Barnard's visceral sibling drama Dark River, Andrew Hulme's crime horror-thriller The Devil Outside (pictured) and Yorgos Lanthimos's Euripides-inspired psychological thriller The Killing Of A Sacred Deer.
Cannes debutants could include US-set coming of age drama Lean On Pete from Andrew Haigh; Rungano Nyoni's Africa-set I Am Not A Witch, a hit at the Les Arcs co-pro market last December; and Michael Pearce's psychological thriller Beast.
Lynne Ramsay's thriller You Were Never Really Here, starring Joaquin Phoenix as a damaged war veteran, is an outside bet to be ready in time for a Cannes splash.
On Chesil Beach and Haifaa Al-Mansour's Mary Shelley both offer Cannes potential but could also get autumn festival berths. Thomas Clay's 17th century-set thriller Fanny Lye Deliver'd is another potential for the Riviera.
Germany
Palme d'Or winner Wim Wenders could return to Competition for the first time since 2008 with deep sea diving, kidnap thriller Submergence, starring James McAvoy and Alicia Vikander, and perhaps Fatih Akin's In The Fade will make an appearance on the Croisette.
Spain
Spanish films vying for a Cannes premiere include Pablo Berger's Abracadabra, the long-awaited follow-up to his 2012 silent fantasy drama Snow White; Agustín Díaz Yanes's historical drama Oro; Isabel Coixet's English-language drama The Bookshop (pictured); Fernando Franco's Morir about a couple whose relationship is tested by the outbreak of strange illness in their town, and Agustí Villaronga's Uncertain Glory.
Italy
Official Selection has eluded Paolo Virzì over the years but hopes are now pinned on his English-language debut The Leisure Seeker starring Donald Sutherland and Helen Mirren. Other Italian candidates include Gianni Amelio's family drama La Tenerezza, set against post-World War Two Naples. He was last at the festival with jury prize winner The Stolen Children in 1992.
Sergio Castellitto's melodrama Lucky (pictured), starring Golden Globe-winning actress Jasmine Trinca, and Paolo and Vittorio Taviani's Italian resistance tale Rainbow have also been tipped but there are doubts over whether the latter will be completed in time.
Auteur offerings include Salvatore Mereu's Sardinia-set giallo Assandira and Edoardo Winspeare's Eva Dorme (working title). US-based Andrea Pallaoro's The Whale, starring Charlotte Rampling as a woman undergoing an identity crisis, is also a possibility. Fulvio Risuleo, who won the discovery award in Critics' Week for his short Chickenpox (Varicella) in 2015, could return with his first feature, Look Up (Guarda In Alto), set entirely on the rooftops of Rome.
Nordics
Top Nordic prospects include supernatural thriller Thelma from Norwegian director Joachim Trier (pictured) and Swedish director Ruben Ostlund's The Square, exploring social responsibility against the backdrop of the art world, as well as compatriot directorial duo Axel Petersen and Man Mansson's The Real Estate about a woman struggling to run a floundering small-time property empire.
Icelandic frontrunners include Ása Helga Hjörleifsdóttir's The Swan, about a wayward girl caught up in a drama beyond her grasp, and Hafsteinn Gunnar Sigurdsson's dark family tragi-comedy Under The Tree, which is produced by the team behind Rams.
Danish director Per Fly's English-language thriller Backstabbing For Beginners could also head to Cannes but with its United Nations-setting and international cast it could be more suited to a TIFF debut.
Previously tipped Nordic titles unlikely to ready in time for Milad Alami's cross-cultural drama The Charmer and sporting drama Borg/McEnroe. Icelandic-Danish co-pro Winter Brothers by Hlynur Pálmason has been tipped as another contender.
Benelux
Cannes hopefuls from the Netherlands include Nanouk Leopold's Cobain (pictured), about a young boy trying to get his self-destructive mother to clean-up her act, and Boudewijn Koole's Norway-set mother-daughter drama Disappearance.
Belgian hopes are pinned on Bullhead director Michaël R. Roskam's French-language racing world drama Racer And The Jailbird starring Adèle Exarchopoulos opposite Matthias Schoenaerts.
Bruno Forzani and Hélène Cattet's Let The Corpses Tan about a group of professional thieves, whose plan to hide-out in a Mediterranean idyll does not go to plan is also generating buzz and would work in any of the selections.
Fingers are also crossed for Les Carnivores, the directorial debut of actor Jérémie Renier with his brother Yannick; Olivier Meys's Bitter Flowers about a Chinese woman comes to Europe in search of a better life; Amélie Van Elmbt's fatherhood tragi-comedy Drôle de Père, produced by the Dardennes, and Guérin Van de Vorts's La Part Sauvage starring Vincent Rottiers.
Greece
Greece's on-going financial crisis has hit its film industry hard in recent years but a handful of titles may be completed in time, notably Babis Makridis's Pity (pictured), about a man obsessed with being pitied, and Angelos Frantzis's Virus about a Greek couple who move to Siberia to escape the economic crisis.
Switzerland
Switzerland could be represented by Geneva-based Anup Singh's desert-set tale of twisted love and revenge The Song Of Scorpions starring French-Iranian actress Golshifteh Farahani as a shaman medicine woman who is able to heal the lethal sting of a scorpion with song. The Swiss-French co-production was shot in the Indian state of Rajasthan.
North America
US pictures in the frame include Todd Haynes' time-shift drama Wonderstruck; LA-set noir Under The Silver Lake by David Robert Mitchell, last in Cannes in 2014 Critics' Week title It Follows; Josh and Benny Safdie's Robert Pattinson-starring crime caper Good Time; Sofia Coppola's gothic girls school drama set against the backdrop of the American Civil War The Beguiled (pictured); Marius Markevicius's Ashes In The Snow, about a young girl sent to one of Stalin's Gulags, and John Cameron Mitchell's UK-set How To Talk To Girls At Parties, perhaps in a Midnight slot.
Netflix's recent dating of the Brad Pitt-starring Afghanistan set War Machine for May 26 has prompted speculation it is Cannes-bound. It would mark a first for Netflix which has yet to debut a production at the festival.
Big budget US pictures scheduled for release during Cannes – fuelling rumours of an Out of Competition premiere - include Ridley Scott's Alien: New Covenant (mid-May release) and Pirates of The Caribbean: Dead Men Tell No Tales (late-May release). On the animation front, after Up and Inside Out, Cannes could go for Pixar's Cars 3 ahead of its June release.
Woody Allen's Wonder Wheel could be ready in time but would the director brave the festival again after last year's media storm? There's some buzz around Terrence Malick's Austrian resistance tale Radegund but sources connected to the production say it is unlikely to be ready in time.
Tangerine director Sean Baker's Florida Project could be in the mix while films tipped for a parallel selection slot include Sundance titles Patti Cake$, Novitiate and Brigsby Bear.
Some also are asking whether Cannes might finally acknowledge the growing crossover between film and TV with a special screening of David Lynch's upcoming Twin Peaks TV series, which launches in the US on Showtime on May 21. However, Thierry Frémaux has long maintained that the Cannes Film Festival is a home for films only.
Canadian Cannes habitué Xavier Dolan is not expected to attend with his English-language debut The Death and Life of John F. Donovan, having announced on Instagram that it will shoot until June 2017.
LatAm
Argentine film-maker Lucrecia Martel's historical drama Zama (pictured) was considered a shoo-in for the Competition until co-producer Pedro Almódovar accepted the role of jury president. It now looks set of an Out of Competition slot.
Other Argentine hopefuls include Santiago Mitre's political intrigue drama La Cordillera and father and son tale Hunting Season by Natalia Garagiola who previously screened shorts in Critics' Week.
Mexico could be set for a strong presence with Alfonso Cuaron's Roma, about a family in Mexico City in the 1970s; Michel Franco's mother-daughter drama April's Daughter, and Carlos Reygadas's Where Life Is Born revolving around a couple with an open relationship.
Brazilian hopefuls include Daniela Thomas's 1980s-set political intrigue O Banquete; Good Manners by Juliana Rojas and Marco Dutra, who were last in Cannes with Hard Labour, and The Great Mystical Circus by Cacá Diegues
Recently completed Colombian titles include two introspective tales, Jaime Osorio Marquez's Gran Dragón, and William Virga's Sal. Chilean hopes are pinned on Marcela Said's Los Perros and Marialy Rivas's Princesita about a young girl growing up in a cult.
Eastern Europe and Russia
Hotly tipped titles from the region include Ukranian Cannes regular Sergei Loznitsa's Dostoyevsky-inspired A Gentle Creature and Russian director Andrey Zvyagintsev's divorce drama Loveless.
Other hopefuls include Georgian director George Ovashvili's Khibula (pictured), following a president's journey into the mountains after he is toppled by rebel forces, and, if it is ready, Macedonian director Teona S Mitevska's comedy God Exists, Her Name Is Petrunija, about a woman fight's against a local tradition excluding women in her home-town.
Romania could have a strong presence with titles including Adina Pintilie's drama about solitude and intimacy Touch Me Not(which faces a battle to be ready in time), Andreï Cretulescu's black comedy Charleston, about a distraught recent widower who is visited by his late wife's younger lover, and Florin Serban's Dog.
Other films from the region currently in post-production include Yesterday by Hungary's Balint Kenyeres and Face from Poland's Malgorzata Szumowska.
Ukranian director Myroslav Slaboshpytskiy's film noir Luxembourg set in the Chernobyl exclusion zone is not ready and is expected to debut later this year if not next Cannes. When The Trees Fall by Marysia Nikitiuk is another contender as is Lithuanian director Sharunas Bartas's aid convoy drama Frost whose cast includes Vanessa Paradis.
Middle East and North Africa
The Arab world is expected to have a strong presence at Cannes this year. Titles from the region on Screen's radar include Tunisian director Kaouther Ben Hania's Beauty And The Dogs (pictured),about a girl who fights for justice after being raped by corrupt police officers, and Moroccan film-maker Nabil Ayouch's Razzia, an exploration of the wealth divide in his country which riffs off the 1942 classic Casablanca.
Aside from a focus on Lebanon in the Directors' Fortnight "factory" initiative, Lebanon could also be represented at the festival by Zaid Doueiri's L'Insulte and Nadim Tabet's youthful debut feature One Of These Days, featuring rising actress Manal Issa in the cast.
Other hopefuls from the region include Iraqi director Mohamed Jabarah Al Daradji's female suicide drama The Journey, if it is completed in time, and Algerian director Karim Moussaoui's contemporary drama The Nature of Time.
Egyptian titles possibly in the mix include Amr Salama's Sheikh Jackson, about an Islamic fundamentalist cleric who undergoes a personal crisis after his hero Michael Jackson dies, and The Originals, the latest film from Marwan Hamed.
Iran
The festival might choose to mark the passing of the late director and Cannes habitué Abbas Kiarostami with a special screening of his experimental film 24 Frames, which he was completing at the time of his death.
Other potential Iranian titles include Ali Soozandeh's daring feature-length animation Tehran Taboo (pictured) exploring how young Iranians attempt to live their lives to the full in the capital city, against the backdrop of restrictions and religious laws, and Ali Asgari's Disappearance about a young couple who in a moment of need are turned away from hospitals because they are unmarried.
Israel
Foxtrot — Samuel Moaz's long-awaited follow-up to his Oscar-nominated Lebanon – is the country's main contender for a slot. Other films which could make a Cannes splash include Savi Gabizon's Longing, Amichai Greenberg's The Testament (pictured), and Matan Yair's Scaffolding about a wayward teenager whose life is turned around by an inspirational literature teacher until fate takes a tragic turn.
Eran Riklis is also hoping to make his Official Selection debut with Refuge, co-starring Golshifteh Farahani as a Lebanese woman who has collaborated with the Israeli secret services, opposite Neta Riskin as an Israeli Mossad agent tasked with protecting her in a safe house in Germany.
Asia
Japanese titles expected to be ready include Naomi Kawase's (pictured) Radiance, about the relationship between a young woman and an older photographer who is losing his sight, and Kiyoshi Kurosawa's Before We Vanish, about a woman whose husband is possessed by an alien.
South Korean titles vying for a slot include Hong Sangsoo's Claire's Camera, starring Isabelle Huppert and Kim Min-hee; Ryoo Seung-wan's Battleship Island and Bong Joon Ho's Netflix-backed Okja, which has also been promised a theatrical release in certain territories. Shin Su-won's Glass Garden is another possible.
There is good buzz around Anucha Boonyawatana's The Farewell Flower, her second film after the Berlinale screener The Blue Hour.
Australia and New Zealand
Australian hopes are pinned on Warwick Thornton's (pictured) Sweet Country, an Australian frontier drama set in the 1920s told from an aboriginal perspective.
In the event that Cannes were to embrace TV why not a taster of season two of Jane Campion's upcoming Top Of The Lake, starring one of the festival's favourite leading ladies Nicole Kidman.
Opening film
Cannes traditionally unveils the opening film around about now. As a general rule the festival usually kicks off with starry, feel-good openers like Café Society or The Great Gatsby.
It does occasionally stray from this tradition. In 2015 organisers went with the gritty French drama Standing Tall in response to the dark months France had undergone following a series of terror attacks.
How will it play its cards this year? Will it go with a star-studded production like Pirates of the Caribbean: Salazar's Revenge which would likely ensure the presence of Johnny Depp, Javier Bardem, Orlando Bloom and a coterie of other international stars on the red carpet?
Other major studio titles which could - at a stretch - serve as an opener include Alien: Covenant, Dunkirk (which would also make a memorable, albeit sober, opening as the festival considers a 70-year period generally marked by peace in Europe) or King Arthur: Legend Of The Sword.
Or will the festival rather fete a local hero such as a Besson, with his audacious attempt to take on Hollywood at its own game, or Hazanavicius, whose Redoutable captures a character and period emblematic of the festival's rich past as it fetes a milestone edition.
Last year the festival screened the Palme d'Or winner as the closing film but it may decide to flip the script here too.
Read more:
13 films that could be in the running for an Oscar in 2018
Contributors include Jason Bechervaise, Elisbet Cabeza, Alexis Grivas, Elaine Guerini, Jeremy Kay, Gabriele Niola, Jean Noh, Tom Grater, Vladan Petkovic, Liz Shackleton, Fiona Williams.