While the impasse with Netflix casts a long shadow, Cannes Film Festival and accompanying market are still the crucial platform for showcasing excellence in global cinema in the eyes of most buyers and sellers.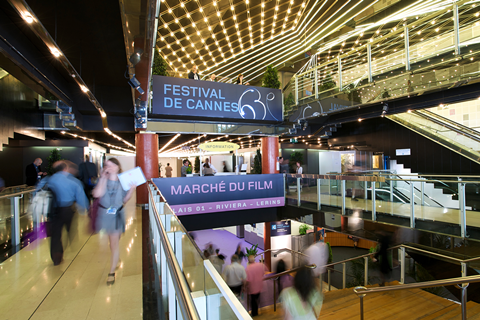 Trust Netflix to throw the identity of Cannes Film Festival into question. The standoff between the venerable celebration of cinema and the disruptor-in-chief from Silicon Valley goes deeper than a tiff. The impasse feels epochal — more important than this year's earlier start day and the edict blocking press from viewing a Competition film ahead of the evening world premiere. It reflects profound issues shaping today's film business.
"Thierry is completely old school," says one seasoned distributor of festival chief Thierry Frémaux in reference to last year's ruling by Cannes that, starting this year, Competition selections must be available for French theatrical distribution. In fairness to Frémaux, his hands are tied in a political knot. The diktat is rooted in France's media chronology laws, which forbid a title from streaming until three years after the theatrical release, and can only be undone by legislators.
However, Netflix has no time for a law that runs contrary to its model and chief content officer Ted Sarandos made it clear the digital titan will not bring any of its films to the Croisette. The boycott includes a host of anticipated titles by several of the world's best, among them Alfonso Cuaron's Roma and Paul Greengrass's Norway. Most excruciatingly for cinephiles, Netflix is holding back The Other Side Of The Wind, the final film by Orson Welles — previously unfinished — that it paid for to complete.
Frémaux told Screen International he begged Netflix to reach some kind of entente cordiale on Roma. He could yet be vindicated if an official selection low on star wattage and minus a handful of auteurs tees up a discovery or two.
Yet Netflix is a million miles away in its mindset, and its intransigence is rooted in market forces. The streaming service says it is giving customers what they want — after all, it is hard to argue with 125 million global subscribers — and its top buyers will be scouring the Croisette for the best available sales titles. "It wouldn't be shocking if Net­flix came to Cannes and were the most aggressive acquirer out of the Competition, [for films that] would then play in North America or worldwide on their service," says one veteran US sales agent.
On the matter of the Cannes-Netflix impasse, the executive adds, "Do you make a decision for the big screen, or do you make a decision for a big audience? On some films, the audience might be greater on a service like Netflix than it would be were it distributed theatrically on a territory-by-territory basis."
Netflix on the prowl
Netflix as a buyer continues to terrify the independent international theatrical buyers who strive to remain relevant in a time of deflated DVD sales and a TV advertising model decimated by streaming. More than ever, they are looking for the choice gems that will enable them to stand out.
"What we saw at Berlin was a sense that on both sides of the fence, buyers and sellers, the material brought to Berlin was more focused — in terms of the budget levels, cast, story ideas, zeitgeist, timing — and there was more business done on that material," says Cornerstone Films co-founder Mark Gooder. "Some films pre-sold very well and some sold well on footage."
Focus and quality are the keys. Buyers are no longer so attracted to 'programmers'. Stuart Ford, who is in Cannes with new venture AGC Studios and has reconvened the bulk of his senior executive suite from IM Global, picks up the theme.
"Cannes is still a dynamic marketplace for the top 20% of product — the presale or finished movies that promise significant financial or critical performance," he observes. "But the independent marketplace for the other 80% — the programmers, small indies and docs — is fighting a losing battle with the multi-territory streaming universe, which presents a more efficient and lucrative way to monetise that volume-driven end of the market.
"Premium content counts more than ever. So I think we'll see this Cannes accelerate the trend of strong business among a small circle of buyers and sellers at the top end of the food chain and increasingly slim pickings elsewhere."
Ford aims to adopt a more boutique-oriented approach to sales as he focuses on offering a 360-degree service that, besides sales, places a heavy emphasis on developing and producing film and TV for multiple platforms. Gone are the days, he says, when a producer could rely on a sales agent to drum up enthusiasm for any package and secure 50%-100% of the budget in presales: "It can still happen, but only for the crème de la crème."
"If you need to sell to finance, it's a tough place to be," Bloom president Alex Walton says, adding that buyers want to find distinctive material they can market. "It's more selective than ever, which is challenging for all of us. But if you have that distinctive material of whatever size, the business is there."
"We all have to get on with our business," notes Cornerstone Films co-founder Alison Thompson. "We're about making sure distributors have something on their slate for the end of this year and into 2019. These guys need product, but they are being very selective, buying 15 titles per annum rather than 30 now.
"We actually like that, it gets rid of the noise and distraction — there are far fewer of those packages which never really felt real in the first place that would be sufficiently annoying for a seller to distract a distributor's attention until the noise died down."
Art of the deal
Arianna Bocco, executive vice president of acquisitions and production for IFC Films and Sundance Selects, says Cannes is "probably the most important market to go to" because of the prevalence of decision-makers, filmmakers and promos.
"Whereas you're tracking more at AFM, Cannes is the place where you sit down and meet people and try to do deals," she says. "It's mid-year and right now we're well into scheduling our 2019 slate. It's important in Cannes to get a sense of what 2019 looks like."
For HanWay Films managing director Gabrielle Stewart, while Berlin is a strong platform to showcase footage, the Croisette is more about the deeper dive. "Cannes is a good place for longer conversations," she says. "People go to Berlin for more contracted periods of time, same with AFM. In Cannes, people are there for a week so you can have drinks, leisurely lunches with people — it hasn't been contracted in the same way."
The large sums of money that Netflix, Amazon Studios and now Apple are willing to pay for content make them a go-to for producers, whom Ford notes are prepared to get a worldwide deal done in one place because they are "agnostic" about where their content launches. "The digital platforms have currently got independent distributors by the throat," he says. "At one end, they've shifted the relationship with the audience so that opening an indie movie in theatres is trickier than ever before. On the other end, they've seized control of the ancillary economics and they're disrupting the pipeline of movies." As international acquisitions executives ask themselves what they need to do to stay relevant, their US counterparts know that Cannes Film Festival is all about finding that arthouse treasure that can make noise in the crowded distribution landscape back home.
Sony Pictures Classics co-founder Michael Barker has built a company on releasing some of the most acclaimed foreign-language films of modern times, including this year's Oscar winner A Fantastic Woman from Chile's Sebastian Lelio. However, he refuses to rest on his laurels and is under no illusion about the task at hand. While he says these days can be more rewarding for distributors with the best content, "all the other foreign-language films are more and more difficult — there are fewer theatres that want to play them and it's a tough marketplace."
Yet Thompson remains adamant that the south of France is special. "Cannes is still considered to be the most important film festival in the world," she says. "My personal view is that nothing has changed. It's still the most important platform for demonstrating excellence in global cinema."
That will be music to the ears of Frémaux, who will be hoping buyers and critics hail his 2018 choices as emblematic of a curated event that remains as vital as ever, and not merely the hallmark of an ancien régime losing influence to the rich newcomer.