As the Croisette welcomes buyers on the lookout for hot arthouse, genre, fiction and documentary titles, Screen profiles a selection of this year's need-to-know projects.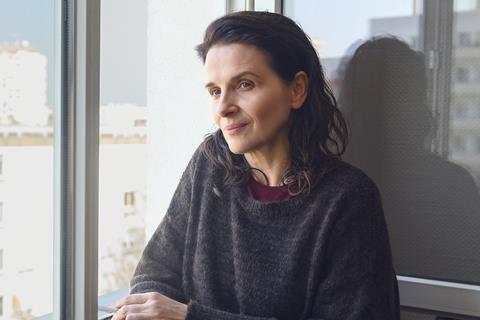 Pathé International unveils Martin Bourboulon's Eiffel, retelling the love story that inspired the creation of the Eiffel Tower, and starring Emma Mackey (Sex Education) and Romain Duris. It also handles Un Certain Regard animation The Bears' Famous Invasion Of Sicily, black comedy La Belle Epoque, which is premiering out of competition, and special screening title To Be Alive And Know It.
Celluloid Dreams launches sales on Czech director Vaclav Marhoul's adaptation of Jerzy Kosinski's cult bestseller The Painted Bird featuring Stellan Skarsgard, Harvey Keitel and Julian Sands in the ensemble cast. It also handles Un Certain Regard animation The Swallows Of Kabul.
Wild Bunch will kick off sales on Philippe Garrel's The Salt Of Tears; Gia Coppola's Mainstreamstarring Andrew Garfield; Sylvie Verheyde's Madame Claude; Lou Ye's Saturday Fiction and Thierry De Peretti's political thriller Undercover starring Vincent Lindon and Pio Marmaï. The company's sizeable Cannes slate also features Palme d'Or contenders Young Ahmed, Oh Mercy!, Sorry We Missed You, Les Misérables and It Must Be Heaven; Un Certain Regard titles Beanpole andHomeward; Gaspar Noé's Midnight Screening selection Lux Æterna; out of competition documentary Let It Be Law; and Directors' Fortnight titles An Easy Girl and Give Me Liberty. It also has Dwelling In The Fuchun Mountains and You Deserve A Lover, both playing in Critics' Week.
Indie Sales brings Bruno Dumont's On A Half Clear Morning starring Léa Seydoux, and Rémi Chayé's western-themed feature animation Calamity — The Childhood Of Martha Jane Cannary. The Paris-based outfit is also handling Directors' Fortnight title The Halt and Chinese Un Certain Regard selection Summer Of Changsha.
Urban Distribution International introduces Coppelia, a modern-day retelling of the classic ballet starring Sierra Leone-born dance star Michaela DePrince, whose life story is being adapted into a feature by MGM to be directed by Madonna.
France TV Distribution has award-winning screenwriter Emmanuel Carrere's second featureBetween Two Worlds, starring Juliette Binoche as a writer who takes a job as a cleaner to research a book on employment insecurity. Other upcoming titles include Nicole Garcia's betrayal tale Lisa Redler, starring Stacy Martin, Benoit Magimel and Pierre Niney.
New titles for TF1 International include English and Italian-language thriller Into The Labyrinth, starring Dustin Hoffman and Toni Servillo, and Jaume Balaguero's Bank of Spain heist movie Way Down, starring Freddie Highmore, Liam Cunningham, Astrid Berges-Frisbey, Sam Riley and Famke Janssen. It also has a promo-reel for Dany Boon's latest vehicle, the action comedy The Lion.
For its market debut, Totem Films launches pre-sales on Compartment No 6, the new film from Finland's Juho Kuosmanen, winner of the 2016 Un Certain Regard prize for The Happiest Day In The Life Of Olli Mäki. The company is also handling Directors' Fortnight title And Then We Danced, which was acquired by ARP for France on the eve of the market, and Critics' Week selection Land Of Ashes, the first Costa Rican film to premiere at Cannes.
Elle Driver launches sales on Italian director Gabriele Muccino's cycle-of-life friendship drama The Best Years, starring Pierfrancesco Favino (who plays the lead role in Competition title The Traitor), Claudio Santamaria, Kim Rossi Stuart and Micaela Ramazzotti. The film will start shooting in June.
Hot new projects on The Bureau Sales slate include Harry Wootliff's second film True Things About Me, which will star Ruth Wilson as a quiet woman living on the fringes of society who falls under the spell of a stranger. Wilson is producing with Jude Law. The company will also look to sew up final sales on Wootliff's feature directing debut, IVF drama Only You.
Loco Films market premieres Russian director Pavel Lungin's Leaving Afghanistan, which has provoked controversy back home. It is also handling Un Certain Regard selection Once In Trubchevsk, which is a tale of secrets and lies set in small-town Russia.
The mk2 Films slate features three of the four female-directed films in Competition — Mati Diop'sAtlantics, Céline Sciamma's Portrait Of A Lady On Fire and Justine Triet's Sibyl — as well as Corneliu Porumboiu's The Whistlers. The company also has Un Certain Regard love story Port Authority, set against New York's underground LGBTQ+ ballroom scene.
Charades kicks off sales on Gilles de Maistre's animation Little Nicholas, an adaptation of the René Goscinny and Jean-Jacques Sempé children's classic, and documentary Africa Mia, about the birth of Afro-Cuban music. Festival titles include Un Certain Regard selection On A Magical Night and Jérémy Clapin's animation I Lost My Body in Critics' Week.
WTFilms handles Quentin Dupieux's Directors' Fortnight opener Deerskin, starring Jean Dujardin, and will show first images for Night Ride, starring Camélia Jordana as an escort who gets close to her Chinese driver, and steamy love triangle tale Sangre.
Hot titles on the Studiocanal slate include the female-driven assassins tale Gunpowder Milkshake, starring Michelle Yeoh, Karen Gillan, Lena Headey and Angela Bassett.
Orange Studio will reveal first images for Olivier Assayas' Wasp Network starring Penelope Cruz, Edgar Ramirez, Gael Garcia Bernal and Wagner Moura, and also launch sales on French comedian Kheiron's Brutus, an ancient Rome-set comedy.
Kinology is selling Critics' Week opening film Litigante. Upcoming titles include Mathias Malzieu's fantasy romance A Mermaid In Paris and Mia Hansen-Love's Bergman Island, which returns to the island of Faro this July to shoot final scenes with Tim Roth in a role originally intended for John Turturro. It will also show first footage for comedy fantasy How I Became A Superhero.
Memento Films International handles sales on China's Palme d'Or contender The Wild Goose Lake and Un Certain Regard selection The Climb. Hot upcoming titles on its slate include Benedict Andrews' Jean Seberg drama Against All Enemies starring Kristen Stewart and The True History Of The Kelly Gang.
Gaumont previews footage of French-Korean romantic comedy #IAMHERE by Eric Lartigau, who directed the 2014 hit La Famille Bélier. The new film stars Alain Chabat as a chef who heads to Taipei to track down a woman he met on Instagram, played by Korean star Doona Bae. It is also handling social comedy The Specials, which premieres in Cannes' rebranded Last Screening slot.
Jour2Fete is selling Un Certain Regard drama Papicha and market screens Francois Ruffin's documentary A Place In The Sun, exploring the roots of the yellow vest movement. Upcoming titles include Icelandic director Runar Runarsson's drama Echo, a panorama of modern society set around Christmas.
Le Pacte is selling quirky, high-concept title All About Yves, which is closing Directors' Fortnight, and Bosnia-set drama Heroes Don't Die, which stars Adele Haenel and is playing Critics' Week. Upcoming titles include Spanish director Rodrigo Sorogoyen's Madre and Jean-Paul Salomé's comedy Mama Weed, starring Isabelle Huppert as a drug dealer.
Luxbox touches down with Un Certain Regard titles Nina Wu and Joan Of Arc. It is also handling a pair of Directors' Fortnight selections: political drama Song Without A Name about the abduction of a Peruvian newborn baby, and musical The Orphanage, the second film from Afghan director Shahrbanoo Sadat.
Playtime's slate includes Directors' Fortnight titles Zombi Child and The Bare Necessity. It also has promo-reels for Valérie Donzelli's Notre Dame (retitled from Our Lady Of Paris), Atom Egoyan's Guest Of Honour and Abdel Raouf Dafri's The Breitner Commando.
Other Angle Pictures is handling Claude Lelouch's out of competition title The Best Years Of Life, which reunites him with Anouk Aimée and Jean-Louis Trintignant, the stars of his 1966 Palme d'Or winner A Man And A Woman.
SBS Distribution sets down with Palme d'Or contenders Frankie, the Ira Sachs-directed family drama featuring an ensemble cast topped by Isabelle Huppert and Marisa Tomei, and Brazilian sci-fi drama Bacurau. Upcoming films include French director Pascal Bonitzer's Spellbound, starring Sara Giraudeau and Nicolas Duvauchelle.
Doc & Film International will lay on special events around bio-doc House Of Cardin, exploring the life of fashion designer Pierre Cardin, and Dutch filmmaker Pieter-Rim De Kroon's Silence Of The Tides, which looks at the Unesco-protected Wadden Sea. The slate also includes ACID selection Blind Spot, about a man with powers of invisibility, while upcoming titles include Sébastien Lifshitz's Adolescentes and Marion Hansel's There Was A Little Ship.
Pyramide International's slate includes Un Certain Regard title Fire Will Come, special screening selection The Cordillera Of Dreams and Critics' Week title Our Mothers.
Cercamon handles Directors' Fortnight film Lillian and also market premieres Cannes Cinefondation alumni Cenk Ertürk's Noah Land, following its Tribeca Film Festival debut.
Bac International is selling Directors' Fortnight title Alice And The Mayor, starring Fabrice Luchini as a mayor who seeks the help of a philosopher to shake up his political thinking. Upcoming productions include the animation Yakari, Danish thriller Wildland and the Bruce Dern-starring comedy Remember Me.
MPM Premium will market premiere Belgian pop star Hendrik Willemyns' Tokyo-set thrillerBirdsong, about a cleaning woman who will stop at nothing to achieve fame, and Le Choc Du Futur, about the birth of French electronic music in late 1970s Paris.
EuropaCorp brings Guillaume Canet's Little White Lies 2, reuniting the original ensemble cast led by Francois Cluzet, Marion Cotillard, Gilles Lellouche, Laurent Lafitte and Valérie Bonneton. The sequel drew more than a million spectators in its first five days of release in France, where it opened on May 1.
Alpha Violet handles Brazilian director Directors' Fortnight entry Sick Sick Sick by Alice Furtado.
SND is market premiering Fabrice Bracq's comedy Just Retired starring Michele Laroque and Thierry Lhermitte as a couple desperate to escape their demanding family for a quiet life in Portugal, and Nicolas Vanier's Spread Your Wings, about an ornithologist who uses his ultralight airplane to teach orphaned geese how to migrate.
Les Films du Losange market premieres Francois Armanet's documentary Oh Les Filles, celebrating French female rock stars from Francoise Hardy through to Vanessa Paradis and Christine and the Queens. It is also handling sci-fi drama Particles from Directors' Fortnight and Stéphane Batut's fantasy romance Burning Ghost from the ACID line-up.
Upcoming titles on the Wide House slate include Edward Porembny's Life And Death Of Max Linder and Hans Lukas Hansen's The Quest For Tonewood.
Wide Management brings Bulgarian directors Kristina Grozeva and Petar Valchanov's drama The Father, their latest collaboration after Glory and The Lesson.
New titles on the Reel Suspects slate include Russian director Kirill Sokolov's black comedy debutWhy Don't You Just Die; Adolfo Borinaga Alix Jr's Mystery Of The Night, about a beautiful woman raised in a forest who experiences the torments of love for the first time; and Lithuanian titleInvisible from director Ignas Jonynas, which won the glocal in progress industry award at last year's San Sebastian Film Festival.