As the Croisette welcomes buyers on the lookout for hot arthouse, genre, fiction and documentary titles, Screen profiles a selection of this year's need-to-know projects.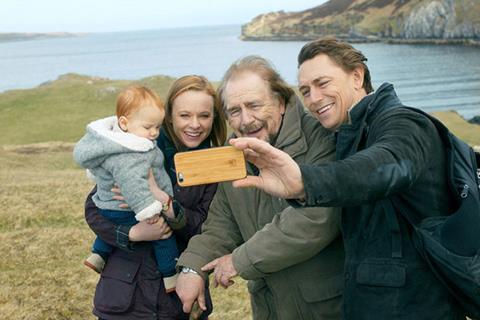 Anthony Hopkins and Olivia Colman are starring together in The Father for Embankment Films, Florian Zeller's film adaptation of his Tony and Olivier-award-winning play. Hopkins plays a man who refuses all assistance from his daughter (Colman) as he ages. Producers are David Parfitt, Jean-Louis Livi, Philippe Carcassonne, Christophe Spadone and Simon Friend. Backers include Film4. Embankment is executive producing as well as handling international sales (excluding France), and co-represents US rights with CAA and UTA.
HanWay Films is bringing John Patrick Shanley's Wild Mountain Thyme, an adaptation of his Broadway play Outside Mullingar, which will shoot in Ireland and New York this summer with Jamie Dornan and Holliday Grainger as the leads. The pair will play star-crossed lovers whose families are feuding over a patch of land separating their two farms. Leslie Urdang, Anthony Bregman, Alex Witchel and Martina Niland produce. CAA is handling North American rights.
Cornerstone Films heads to Cannes with Herself, Phyllida Lloyd's drama about a single mother determined to build her own home with a free online plan. Acclaimed Irish theatre actress Clare Dunne stars and also co-wrote the screenplay with Malcolm Campbell. Production commenced last month in Dublin. Producers are Ed Guiney and Rory Gilmartin for Element Pictures with Sharon Horgan under her banner Merman. BBC Films developed the project and is financing with Screen Ireland and the BFI.
Protagonist Pictures' buzz title for the market is Mitch Jenkins' The Show, based on an original story from Alan Moore (Watchmen, V For Vendetta). Tom Burke leads the cast of the film about a man of multiple identities who arrives in a town full of lotharios, sleeping beauties and gangsters. Producers are Jim Mooney and Mike Elliott of Emu Films, and Tom Brown of Lex Films. The BFI has provided significant backing.
Bankside Films will be screening Adam Randall's US thriller I See You following the film's world premiere at SXSW. Helen Hunt and Jon Tenney play a couple living in a small town where strange occurrences take place after a young boy disappears. Matt Waldeck produced for Zodiac Features. Territories sold to date include Latin America, Spain and South Korea. CAA handles US rights.
One Thousand Paper Cranes is Independent Film Company's buzz sales title for Cannes. Evan Rachel Wood, Jim Sturgess and Shinobu Terajima star in the story of Hiroshima survivor Sadako Sasaki and author Eleanor Coerr, who wrote the worldwide bestselling children's book Sadako And The Thousand Paper Cranes. The film is in pre-production, with Richard Raymond directing from a script by Ben Bolea. Ian Bryce and Irene Yeung produce. CAA handles North American rights.
Altitude Film Sales will be debuting an as-yet untitled Led Zeppelin feature documentary directed by Bernard MacMahon, which will celebrate the band's 50th anniversary. Jimmy Page, Robert Plant and John Paul Jones all feature in new interviews, as well as archive interview footage with late drummer John Bonham. The film is in post-production. CAA is representing US rights.
Mister Smith Entertainment is debuting Ashley Avis's family feature Black Beauty, a contemporary reimagining of Anna Sewell's novel about the bond between a 17-year-old girl and the wild horse that helps her overcome the trauma of her parents' death. Mackenzie Foy stars, with Kate Winslet voicing the titular horse. The project is in pre-production.
Michelle Pfeiffer, Lucas Hedges and Tracy Letts star in French Exit, which is co-represented by Rocket Science and Wild Bunch at this market. Azazel Jacobs directs Patrick deWitt's script about a penniless 60-year-old Manhattan socialite who resolves to live out her twilight days anonymously in a modest apartment in Paris, accompanied by her directionless son and the family cat. Producers are Rocket Science's Thorsten Schumacher and Elevation Pictures. CAA is handling the US sale.
Film Constellation is handling international rights on Annie Silverstein's debut feature Bull, which is playing in Un Certain Regard. Rob Morgan and newcomer Amber Havard star in the drama about a troubled 14-year-old who faces state prison after destroying her neighbour's house. Monique Walton, Bert Marcus, Heather Rae, Ryan Zacarias and Audrey Rosenberg are producers. 30West is handling North American rights.
WestEnd Films' buzz title is I Am Woman, a biopic of Australian singer/songwriter Helen Reddy whose song of the same title became an anthem for the feminist movement in the 1970s. The film is directed by Unjoo Moon, produced by Rosemary Blight, and stars Tilda Cobham-Hervey, Evan Peters and Danielle Macdonald. It is now in post-production and new footage will be screened to buyers in Cannes.
Great Point Media will be hosting a first promo screening for John Scheinfeld's music documentary Sergio Mendes In The Key Of Joy, which chronicles the titular artist who first emerged onto the scene with his group Brasil '66. The film features contributions from Mendes alongside will.i.am, John Legend, Quincy Jones and Harrison Ford. Scheinfeld also produces with Dave Harding.
AMP International's buzz title is Aaron B Koontz's The Pale Door, a horror western executive-produced by Joe R Lansdale (Cold In July). When a stagecoach robbery goes disastrously wrong, a gang seeks refuge in an abandoned town that turns out to be home to a coven of witches.
Blazing Samurai is GFM Films' buzz title for this market. In production, the animated feature's voice cast includes Samuel L Jackson, Michael Cera and Ricky Gervais. Rob Minkoff, director of Disney's 1994 The Lion King among others, is producing. Ed Stone, Nate Hopper and Robert Ben Garant wrote the screenplay.
Documentary specialist Dogwoof will be talking up Mystify: Michael Hutchence. Richard Lowenstein's film, which had its world premiere at Tribeca in April, is an intimate portrait of the late lead singer and songwriter of Australian rock band INXS.
Parkland Pictures is bringing Rory's Way to market. Based on the novel by Jose Luis Sampedro, the film stars Brian Cox as a rugged Scotsman who reluctantly leaves his beloved Hebridean island and travels to San Francisco to seek medical treatment. Oded Binnun and Mihal Brezis co-direct, with Arthur Cohn as producer.
Goalpost Film has The Trip To Greece, the fourth instalment in Michael Winterbottom's travelogue series in which Steve Coogan and Rob Brydon, playing fictionalised versions of themselves, take gastronomic tours of different countries. Goalpost is handling all rights outside of the UK, where the project will again be broadcast as a series on Sky. Like previous instalments, it can be packaged as a series or feature.
Metro International is handling worldwide sales, excluding Canada and Japan, on Nick Moran's Creation Stories. Written by Irvine Welsh with his regular collaborator Dean Cavanagh, and executive produced by Danny Boyle, the film is the true-life tale of the rise and fall of famed UK music label Creation Records and its founder Alan McGee.
Kew Media Group has 2067, a
dystopian sci-fi starring Kodi Smit-McPhee, Ryan Kwanten and Deborah Mailman about a future Earth, ravaged by climate change, where humanity must figure out how to save the planet. Seth Larney directs, Lisa Shaunessy and Kate Croser produce.
Celsius Entertainment is handling international sales on The Artist's Wife. Bruce Dern and Lena Olin star in Tom Dolby's story of a couple who find themselves tested by the husband's Alzheimer's diagnosis. Dolby produces with Mike S Ryan, Abdi Nazemian and Susanne Filkins. UTA handles US rights.
SC Films is selling Where's Santa? at this market. Cameron Hood directs the 3D animated feature, which is in pre-production and scheduled for delivery in 2020. The film follows a young Sherlock Holmes protégé who must save Christmas.
Reason8's slate is headed up by US thriller Women, the English-language debut of Icelandic filmmaker Anton Sigurdsson. Shooting this month, it stars Michael Simon Hall, Anna Maiche, Anna Marie Dobbins and Adam Dorsey and tells the story of a sociology professor who is secretly a kidnapper.
Film Seekers will be showing a promo for Unseen, Justin Edgar's suspense thriller starring Rebecca Rogers as a single mother who is kidnapped and wakes up in a deserted military factory where all the exits are sealed.
Devilworks has supernatural horror film The Young Cannibals from writer/directors Kris Carr and Sam Fowler. The film follows a group of friends on a camping weekend who are tricked into eating burgers made of human flesh and subsequently summon up a supernatural creature.
Kaleidoscope Film Distribution has action feature Cagefighter, starring MMA fighter Josh Herdman, Michelle Ryan, Michael Jai White, Gina Gershon, Jason Maza and former WWE star Jonathan Good. The film follows a disgraced MMA fighter offered a final shot at redemption. Jesse Quinones directs and produces with Lorianne Hall, Shayne Putzlocher and Sara Shaak.
Park Circus is representing international rights excluding UK and North America (on behalf of National Geographic) to documentary Sea Of Shadows. Directed by Richard Ladkani, the film follows the efforts to save the planet's most endangered sea mammal, the vaquita porpoise, from extinction. It premiered at Sundance this year.
Moviehouse Entertainment will market premiere The Runaways directed by Richard Heap. Mark Addy, Tara Fitzgerald, Lee Boardman and Molly Windsor star in the adventure film, which follows three children and their donkey as they are chased across the North Yorkshire moors.
Jinga Films' buzz title for the market is Finale. Directed by Soren Juul Petersen and starring Anne Bergfeld, Karin Michelsen and Damon Younger, the horror film follows two petrol station attendants who unwittingly become the stars of a terrifying show streamed live on the dark web.
Evolutionary Films has Vengeance 2, the sequel to I Am Vengeance, starring Vinnie Jones and ex-WWE superstar Stu Bennett. The film follows a special forces soldier given the opportunity to bring the man who betrayed his team to justice.
Film Republic is bringing The Human Part, Juha Lehtola's Finnish feature based on the novel of the same name. The film, which premiered at the 2018 Tallinn Black Nights Film Festival, follows a previously successful CEO who faces bankruptcy. Producers are Misha Jaari, Mark Lwoff at Bufo and Smile Entertainment.
Cinestaan Film Company has live-action family feature Aasha And The Street Dogs, the story of a plucky street dog who dreams of a better life. Frederik Du Chau (Racing Stripes) directed the talking-animals tale.