In Promising Young Woman, Carey Mulligan walks the genre tightrope while playing a character audiences might not always agree with, but will root for. She tells Screen about her boldest role to date.
"I hadn't read anything like it before," says Mulligan of Emerald Fennell's timely and disquieting Sundance 2020 sensation, "and it was an incredible character. I was equal parts excited and scared, because it does go between comedy and tragedy and thriller, and felt like it was a real tightrope walk, probably more for the director than for me. But I knew I didn't want anyone else to do it, which is usually an indicator."
Shot in 23 days in Los Angeles when Fennell was eight months pregnant — "honestly, you wouldn't have known had she not had a large bump" — Promising Young Woman stars Mulligan as Cassie, a medical-school dropout who spends her days serving coffee and her nights feigning drunk in order to ensnare and shame predatory males who pick her up at clubs.
"It felt akin to addiction, something that built up in her that she needed to act on," says Mulligan of her character's rage-fuelled mission to avenge her friend who committed suicide following a sexual assault that went unpunished. "But neither Em nor I felt she was a hate‑filled character. This was somebody who was full of love, full of the most extreme loyalty."
So what scared her? "Partly that there was a comedic aspect to it. It wasn't something I had done much of, and I knew I'd be surrounded by comedians. And it's a very sensitive subject matter. There's a sense of responsibility tackling something like that. These events happen to people all the time, and you want to handle that in a way that does it justice."
Having made her big-screen debut in 2005's Pride & Prejudice, Screen Star of Tomorrow 2008 Mulligan exploded four years later with An Education, which won her the best actress Bafta as well as an Oscar nomination, and followed it with a string of prestigious literary/indie/period roles in Never Let Me Go, The Great Gatsby, Inside Llewyn Davis, Drive, Shame, Far From The Madding Crowd and Suffragette.
"When I was younger, I wanted to work all the time," she says. "But, in a sense, that was training, because I didn't get into drama school, so I was learning on the job. Then An Education happened, and my agent said, 'This is a very rare moment in an actor's career where you don't have to do everything. You only have to do things if you can't bear the idea of anyone else doing them.' For the most part, that's how things have panned out." (Her advice to the next hot young thing: "Get off social media.")
Screen return
After the birth of her first child in 2015 with musician husband Marcus Mumford, Mulligan scaled back her film work to concentrate on family and theatre, with Dee Rees's Depression-era Mudbound in 2017 and Paul Dano's directorial debut Wildlife in 2018 her only post-2015 film credits. Until now. And so Promising Young Woman (released in the US by Focus Features in December), along with Simon Stone's The Dig — in which she plays Edith May Pretty, on whose southern England estate the Sutton Hoo medieval burial ship was uncovered — represent something of a comeback.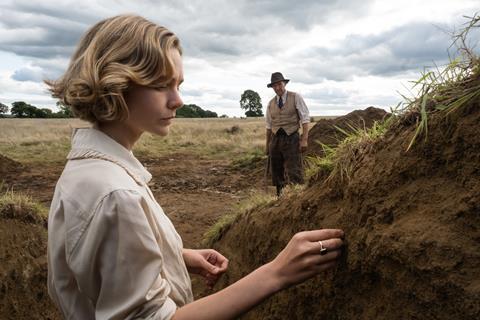 With Mulligan arriving as a last-minute replacement for Nicole Kidman on the Netflix-backed film, The Dig offered the opportunity "to work with Ralph Fiennes, in a field, which seemed too good to pass up. Ralph is one of my favourite actors, and was completely what I wanted him to be, in that he was absolutely delightful, but also mesmerising on set. We visited Sutton Hoo before we started shooting, to sit on the [burial] mounds and absorb them."
Aside from press duties, Mulligan has not worked for a year, and is "itching to get back". Next, she is playing Felicia Cohn Montealegre, wife of composer Leonard Bernstein, in Maestro, directed by and starring Bradley Cooper. "He has always been so supportive of my theatre work, and that led to an audition process." She still auditions? "I'll audition for anyone," she insists. "I just want to be right for the job. With this, it's very much about their love story and their marriage and it needed to be perfect."
Playing complicated, layered, real women remains Mulligan's priority, although she frequently finds herself asked to play "the wife of the great man or girlfriend to the broken man". She sighs. "I know lots of great women and great men, but I don't know any wives to great men who are as boring and two-dimensional as the ones I read in scripts. I read one not long ago where a character was described as 'Betty. Bespectacled, gorgeous but doesn't know it.' And I thought, 'Really? Fucking hell, it's 2020. We're still saying that?' If they're not an out-and-out babe, they need to be secretly beautiful or really fucking clever. Or funny. You can't be regular and have a complex, interesting character." That means "allowing women to be as flawed on screen as men are allowed to be".
Mulligan admits that comes at a price. "I noticed it most in the reaction to Wildlife. Jeanette had this weird effect on people — they were very cross with her, which struck me as odd because I didn't think she was that bad. But because she was unfaithful and exposed her son to some inappropriate stuff, the reaction was extreme. That's indicative of what we have become used to seeing."
She remembers Shame director Steve McQueen saying that film "'is about holding up a mirror. And if the mirror holds up something you don't recognise, you don't relate to it and it doesn't have any effect on you.' That's what Emerald is so good at," she says, bringing it back to Promising Young Woman, "because you don't agree with everything Cassie's doing, she's not particularly nice most of the time. But you still want her to get the justice she's looking for.
"We expect that of men in films all the time — they behave in unconventional or criminal ways, and we still root for them. The [same] should be true for women. And often isn't. But I do think that's changing."