Hot projects from Hong Kong and China include Jackie Chan's Police Story and a two-part epic from John Woo. Liz Shackleton previews the buzz titles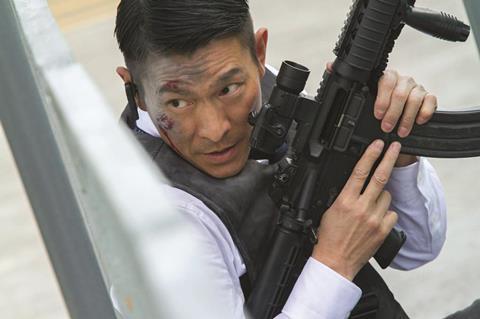 As The Light Goes Out
Dir Derek Kwok
Emperor Motion Pictures' bigbudget fire-fighting drama is currently in post-production and being readied for a January 2014 release. Nicholas Tse and Shawn Yue star as fire-fighters battling local politics and an out-of-control blaze at a liquor warehouse. Hong Kongbased Media Asia is co-financing the film with EMP. The cast also includes Simon Yam, Hu Jun and William Chan.
Contact Emperor Motion Pictures
mayyip@emperorgroup.com
Dragon City working title
Dir Derek Kwok
Set in 1970s Hong Kong, this Donnie Yen vehicle follows a cop who assembles a team to fight against corrupt police and gangsters in Kowloon's crime-infested Walled City. Currently in pre-production, the project will be directed by Kwok who co-directed hit fantasy adventure Journey To The West: Conquering The Demons with Stephen Chow.
Contact Media Asia
ricky_tse@mediaasia.com
Firestorm
Dir Alan Yuen
This gritty cop thriller stars Andy Lau as a policeman chasing a criminal crew. Lau also produces with Bill Kong. The film marks the directorial debut of Yuen, best known as the scriptwriter of Shaolin, Connected and Rob-B-Hood. Lam Ka Tung (Election) and Hu Jun (Red Cliff) also star. In post-production, the film is being readied for a year-end release.
Contact Edko Films
chiujulian@edkofilm.com.hk
The Four II
Dir Gordon Chan, Janet Chun
The sequel to Chan and Chun's The Four, which grossed $32m last July, continues the story of the four members of the Divine Constabulary who each have special powers. Deng Chao, Liu Yi Fei, Collin Chou and Ronald Cheng reprise their roles as the crime fighters, with Anthony Wong again playing their chaperone. Backed by Enlight Pictures, the company behind Lost In Thailand and So Young, the 3D martial-arts action adventure will be released in China on November 22.
Contact Arclight Films
ying@arclightfilms.com
Home Coming
Dir Zhang Yimou
Zhang is currently shooting this drama based on Yan Geling's acclaimed novel The Criminal Lu Yanshi, which follows a Chinese intellectual over several decades. The film reunites him with Gong Li and also stars Chen Daoming. Oscar-winning make-up artist Greg Cannom, whose credits include The Curious Case Of Benjamin Button, is on board to help the characters age over 30 years. Produced by Le Vision Pictures, for whom Zhang works as creative director, the film will be released in 2014.
Contact Le Vision Pictures
xieman@letvpicture.com
Kung Fu Killer
Dir Teddy Chen
Chen (Bodyguards And Assassins) directs this $25m action thriller starring action supremo Donnie Yen and popular mainland actor Wang Baoqiang. Yen plays a former Police Academy martial-arts instructor who is imprisoned after accidentally killing a man. Wang plays a vicious killer who starts targeting martialarts masters in Hong Kong. Produced by Hong Kong-based Emperor Motion Pictures (EMP), the film is tentatively slated for a summer 2014 release.
Contact Emperor Motion Pictures
mayyip@emperorgroup.com
The Crossing
Dir John Woo
Scripted by Wang Huiling (Lust, Caution), Woo's two-part romantic epic, now shooting, follows three couples travelling from mainland China to Taiwan in 1949. Produced by Woo and Terence Chang's Lion Rock Productions, Beijing Galloping Horse and China Film Group, the $40m film has a stellar cast including Zhang Ziyi, Takeshi Kaneshiro, Korean actress Song Hye-kyo, Huang Xiaoming, Tong Dawei and Japanese actress Masami Nagasawa. The first feature is tentatively scheduled for late 2014, with part two expected in 2015.
Contact Beijing Galloping Horse
huangguoxian@ xmbt.com.cn
Beijing Love Story
Dir Chen Sicheng
Chinese actor Chen, whose credits include Lou Ye's Spring Fever, makes his directorial debut with this drama starring Tony Leung Ka-fai, Carina Lau and Siqin Gaowa. The story revolves around a traffic accident that links five couples. Wanda Media is backing the film and handles international sales, excluding South-East Asia, Hong Kong and Taiwan which are handled by Emperor Media Group.
Contact Wanda Media
celine.lin.wanda@gmail.com
Out Of Inferno 3D
Dir Pang Brothers
Universe's $20m fire-fighting drama unfolds in an offi ce building that is engulfed by fl ames during a party. Louis Koo stars as a former firefighter dragged into the mayhem and Lau Ching Wan and Lee Sinje round out the cast. Released in China over the recent National Day holidays, the fi lm marked a career best for the Pang brothers, with a gross of $14m after one week.
Contact Universe Films Distribution
alice_leung@uih.com.hk
Personal Tailor
Dir Feng Xiaogang
Scheduled for release on December 19, Feng's latest project marks the director's return to comedy following last year's historical drama Back To 1942. The film, a loose sequel to his 1997 Dream Factory, revolves around a company that offers a unique service in helping people to live their dream in one day. Long-time Feng collaborator Ge You stars in Personal Tailor along with actress Bai Baihe, who starred in 2011 sleeper hit Love Is Not Blind.
Contact Huayi Brothers
annabelle.hao@huayimedia.com
Rise Of The Legend
Dir Chow Hin Yeung
Marking the fi rst fi lm about legendary kung-fu master Wong Fei-hung in almost 20 years, Rise Of The Legend reunites producer Bill Kong with director Chow and screenwriter Christine To following their collaboration on Nightfall (2012). Eddie Peng plays the role immortalised by Jet Li in the Once Upon A Time In China series, while the cast also includes Sammo Hung, Jing Boran and Zhang Jin. Behind-thecamera talent includes Yuen Wooping as action director and Ng Man Ching as cinematographer.
Contact Edko Films
chiujulian@edkofilm.com.hk
Urban Games
Dir Robert Brown, Zhang Peng
US stunt co-ordinator Brown and China's Zhang co-directed this extremesports action adventure, scripted by Brown and starring Shawn Dou and Michelle Chen. The story follows a parkour specialist attempting to rescue his sister from kidnappers. Cop ro d u c e d by China Film and Hong Kong's Media Asia, the fi lm is in post-production.
Contact Media Asia
ricky_tse@mediaasia.com
Police Story 2013
Dir Ding Sheng
Jackie Chan's upcoming $30m action title is the highly anticipated reboot of the star's Police Story series, which kicked off in 1985 and spawned several sequels. In the new film, Chan stars as a police officer who is taken hostage with his daughter and a group of strangers by a bar owner demanding the release of a long-time prisoner. Liu Ye and Jing Tian also star in the film, directed by Ding who worked with Chan on Little Big Soldier. Produced by Chan's Jackie & JJ Productions, Wanda Media and Starlit HK Int'l Media, the fi lm is being readied for a year-end release.
Contact J & JJ International
ramychoi@gmail.com
White-Haired Witch
Dir Jacob Cheung
Directed by Cheung and produced by Huang Jianxin, this 3D wuxia epic revolves around the romance between a young sorceress and martial-arts disciple in the twilight of the Ming Dynasty. Fan Bingbing and Huang Xiaoming head the cast of the fi lm, while the creative team includes costume designer Timmy Yip. Backed by Bona Film Group, the fi lm has a tentative release date of February 2014.
Contact Distribution Workshop
virginia@distributionworkshop.com
The White Storm
Dir Benny Chan
Chan's crime drama revolves around an ambitious Narcotics Bureau chief inspector, his loyal subordinate and an undercover cop. The three roles are played by Hong Kong stars Lau Ching Wan, Louis Koo and Nick Cheung. Produced by Hong Kong's Universe Films, the $16m fi lm is receiving its world premiere at Hong Kong Asian Film Festival and its international premiere at Rome Film Festival before its mainland China release through Bona Film Group on November 29.
Contact Universe Films Distribution
alice_leung@uih.com.hk
Young Detective Dee: Rise Of The Sea Dragon
Dir Tsui Hark
Tsui's 3D action adventure grossed a staggering $75.2m on its first 10 days of release in China over the National Day holiday period. A prequel to his 2010 hit, Detective Dee And The Mystery Of The Phantom Flame, the fi lm stars Mark Chao as Dee alongside Feng Shaofeng, Ian Kim, Angelababy, Lin Gengxin and Carina Lau as Empress Wu. The fi lm was produced by Nansun Shi and Tsui's Film Workshop with Huayi Brothers Media Corporation.
Contact Huayi Brothers
annabelle.hao@huayimedia.com