The Austrian producer of Un Certain Regard title 'Corsage' talks about shooting in Belgium, France, Luxembourg, Austria and Italy during a pandemic.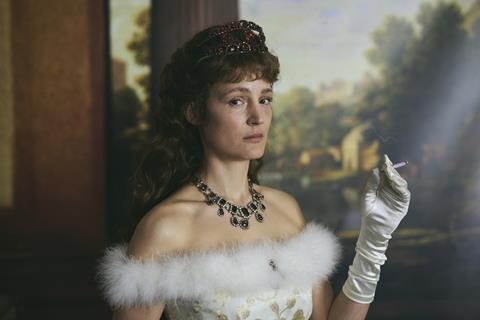 Marie Kreutzer's $8.1m (€7.5m) costume drama Corsage was an ambitious endeavour without throwing the challenges of the Covid pandemic into the mix. The filmmakers met the task by shooting in two blocks: the first between March and April 2021 and the second in mid-June for a further month. Filming took place in Austria, Luxembourg, France and Belgium, and a day in Italy. It was made entirely on location.
"In Vienna, we shot in the Hofburg [Palace] and in the Schönbrunn Palace," says the film's producer Alexander Glehr of Vienna-based Film AG. "In lower Austria we shot in Eckartsau, a castle in which the last Austrian emperor abdicated. In Luxembourg, we had some beautiful castles. In France, we had a villa."
Corsage stars Vicky Krieps as the Empress Elisabeth of Austria, who chafes against her role as the beautiful but passive companion to the emperor. Paris-based sales agent mk2 Films was quick to board the project and pre-sold it to Germany and Austria (Alamode) and to France (Ad Vitam). Financing came from Eurimages, the Austrian Film Fund, Film Fund Luxembourg, FISA — Film Industry Support Austria, the Vienna Film Fund and FilmFernsehFonds Bavaria. There was also broadcaster support from ORF Film/Fernseh-Abkommen, ZDF/Arte and Arte France Cinéma.
Glehr brought on co-producers Samsa Film in Luxembourg, Komplizen Film from Germany and Kazak Productions from France. "They are all experienced in these broad European audience-focused, arthouse films," says Glehr of his partners. "They had a deep understanding of what we were doing."
Komplizen had just shot Pablo Larrain's Spencer, Kazak had made 2021 Palme d'Or winner Titane and Samsa Film's credits include Alexander Nanau's Collective and Ari Folman's Where Is Anne Frank. Glehr's link with Komplizen stretches back to 2009 when he was a European Film Promotion 'Producer on the Move' in Cannes, alongside Komplizen's Janine Jackowski. "We kept in contact and tried to find the right projects to collaborate on."
Komplizen introduced him to Kazak, with whom they had worked in the past. Samsa was keen to become involved because of Luxembourg-born Krieps.
Cost of business
Glehr was glad to have such experienced partners when additional Covid-related costs increased the budget by several hundred thousand euros. The layers of bureaucracy around filmmaking in Austria and elsewhere increased beyond what existed pre-pandemic. "You need more people to do the same things."
Extra crew meant more cars and catering, for example. "Things got somehow more complicated," says the producer. "In former times, we worked with one production co-ordinator. Now, we had two to four working on this film; we had more location managers, assistants and helping hands."
The heads of department were mainly from Germany or Austria, with German the main language spoken on set. The horses were hired from the Czech Republic.
"We tried to reduce the amount of travelling to a minimum," says Glehr. "We tried to keep the locations as close together as much as possible. This sounds ridiculous when we shot in Belgium, France, Luxembourg, Austria and Italy but we tried to stay in any one location for the most possible shooting days.
"Working [during] and after the pandemic means a totally different world to what we did before," the producer reflects. "It was fun but also a big challenge. But if you succeed, that maybe is a bigger joy, a bigger pleasure than before."