Playing the title role in Good Luck To You, Leo Grande has brought recognition and dual Bafta nominations to Ireland's Daryl McCormack. "To be honest I didn't anticipate it," he tells Neil Smith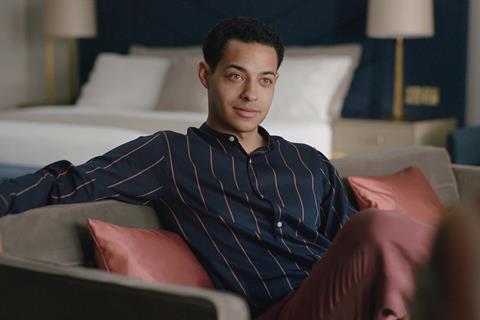 It has been, by any measure, a remarkable year for Irish actor Daryl McCormack. Just over 12 months ago, on the evening of his 29th birthday, he and Emma Thompson took part in Sundance Film Festival's online premiere of Good Luck To You, Leo Grande, director Sophie Hyde and screenwriter Katy Brand's poignant portrait of a widowed schoolteacher in her 50s (Thompson) who employs the services of a young sex worker (McCormack).
One year later, on the eve of his 30th birthday, McCormack, a Screen Star of Tomorrow in 2021, was nominated by Bafta in both the leading actor and rising star categories, with Hyde's drama also scoring nods for leading actress (Thompson), outstanding British film and outstanding British debut (Brand).
"The film is really close to all our hearts," says McCormack from Belfast, where he is filming the six-part Gothic thriller The Woman In The Wall with Ruth Wilson for the BBC and Showtime. "It was a small project, shared between myself, Sophie and Emma, and it meant a lot to us. We felt like we had found a beautiful story and we wanted to do it justice. For it to have done so well is amazing and heartwarming."
Shot in Norwich in 2021 under strict Covid-19 protocols, Leo Grande has enjoyed a charmed life since its debut last January, screening at Berlin, Sydney and Tribeca ahead of an international rollout that saw it generate a respectable $9.7m. Searchlight Pictures picked up the US rights at Sundance for a reported $7.5m and released it digitally on Hulu.
Since then, the film has steadily picked up steam as an awards contender, with four British Independent Film Awards nominations at the tail end of 2022, including a combined citation for McCormack and Thompson in the joint lead performance category, while Thompson was nominated for a Golden Globe. "Emma has a wealth of experience while I'm very much at the beginning of my career, so we come from completely different walks of life," says McCormack. "But it didn't stop us from getting to know one another on a deep and intimate level."
In preparation to play the titular Leo, a confident man in his 20s who regards prostitution as a positive life choice, McCormack consulted sex workers. The people he met, he says, were happy to share their insight and experiences once they were sure his intentions were professional rather than prurient. "I was grateful to them for giving me an insight into their passions and idiosyncrasies," he says. "It made me realise how individual each story is. I think they could sense I had not just an admiration, but also a respect for who they were as people. I hope they are proud of the film; it would mean the world if they were."
Experience counts
In 2014, when he was still a student at TU Dublin Conservatoire, McCormack reached the final round of auditions for Finn in Star Wars: The Force Awakens, a role that eventually went to John Boyega. With nine years of hindsight, McCormack realises he was simply not ready for the opportunity. "I hadn't even left drama school, so I had zero experience," he admits. "But I think if something of that scale came along again, I wouldn't be as overwhelmed or unprepared. The experience I've had over the last couple of years would make me feel more comfortable. That said, I don't think about projects in terms of size. I just want to tell different stories, and I'll always gravitate towards the scripts that interest me the most."
Raised in Nenagh in County Tipperary, McCormack stayed in Dublin after graduating before moving to London in 2017. Small roles in Cleaning Up, Vikings and A Very English Scandal followed, along with an offer to take on the part of gang member Isaiah Jesus in the fifth and sixth series of Peaky Blinders.
"It was a great ride, and I was welcomed with open arms," he says of the BBC period crime drama, in which he replaced English actor Jordan Bolger. "But you have to quickly find your bearings in that kind of environment, because you don't want to drop the ball. I felt a lot more comfortable during my second season — I was able to come back with more confidence. In saying that, your focus has to be on what you have to do on the day, and not on what other people think of you."
McCormack's film appearances were limited prior to Good Luck To You, Leo Grande, with only 2020's Pixie — an Ireland-based road movie in which he starred with Olivia Cooke and Ben Hardy — giving him a role of note. Since collaborating with Hyde and Thompson, however, he has been to Hamburg for The Tutor, a thriller about a young author hungry for recognition who takes a tutoring position at a famous writer's estate.
"It's quite an intense character study that feels very much like a play at times," he says of prolific TV director Alice Troughton's debut feature, which also stars Julie Delpy and Richard E Grant. "It was an exciting project and a character I hadn't played before." Grant is hosting this year's Bafta Film Awards, and McCormack is looking forward to being reunited. "He'll be amazing. Richard is a very charismatic and funny gentleman, and he has all the potential to be a great host on the night."
As a keen photographer, McCormack is open to the idea of one day making films of his own. "It is something I've always been interested in as a hobby, so I've had an admiration for that part of the craft," he reflects. "I'm not sure if I'll ever sit behind the camera, but who knows what the future holds.
"You have to have discipline in this job in order to keep going forward. I'm really grateful that more offers are coming in, and that people are responding to the work I'm doing."