The Swedish film-maker, who made a 'drunk baby' short that went viral a few years ago, makes his feature debut with the inventive and moving The Giant.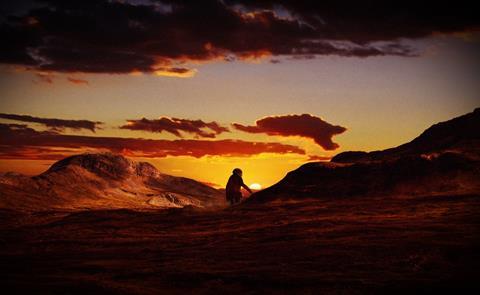 "I really like to combine fantasy elements with realistic elements," says Swedish writer/director Johannes Nyholm. He's certainly done both in his anticipated debut feature The Giant, which has its world premiere at the Toronto International Film Festival today (September 9) before competing in San Sebastian. Indie Sales handles international sales; TriArt will release in Sweden on September 14.
The story, which Nyholm started cooking up a decade ago, is about a man named Rikard, who is autistic and has a severe facial deformity. He lives in a care home but thinks he can reunite with his estranged mother if he can make her proud by winning a big pétanque (boules) tournament. When his everyday struggles overwhelm him, he retreats into a fairytale-like fantasy world where he is a 50-meter-tall giant.
On paper, it sounds absurdist, but the film itself is touching and warm.
"So much around him is tragic and dark, but I've always gone towards humour and a glimpse of hope," Nyholm explains in his office in Gothenburg, Sweden. "I want it to be like a fairytale happening in real life. As a director, I want to show everything is possible. There is always a little chance of hope or a glimmer of magic."
Nyholm drew on his own experiences in writing the script. "It's a mix of so many elements of my life. It started when I had fever dreams when I was four and felt like I was trapped in another body. I wanted to reconstruct that psychological state in the main character."
The director formerly had summer jobs in care homes so felt at ease in that community. He also used to play on pétanque teams. The idea for the giant came from a music video he directed a decade ago for a Swedish artist called The Tallest Man On Earth.
Behind the mask
The film's 40-day production was a diverse mix of styles: documentary-like scenes in care homes, where amateur actors were encouraged to improvise; scenes featuring 300 extras to recreate the petanque tournament; and the fantastical giant scenes, including helicopter shots in northern Sweden's gorgeous Stora Sjofallet National Park.
The film's Western feel is accentuated with an Ennio Morricone-like score from Swedish composer Björn Olsson. "This air of Western was there from the beginning," explains Nyholm. "Rikard is a lonely guy, riding his tricycle towards the sunset…. That's his white horse."
Rikard is played by Christian Andrén, a theatre actor Nyholm discovered on an extras casting site. The facial deformities aren't real, they are a silicone mask that took three and a half hours each day to apply to the actor. (You can see what Andren looks like normally in Nyholm's funny new short Crowdfunding, which is available on YouTube.)
Having the mask (made by Oscar nominees Love Larson and Eva von Bahr) look realistic was crucial. "It's important you believe in him or it will all fall apart," Nyholm says.
The severity of the facial deformity was a manifestation of the character's isolation. "He's hard to communicate with, you don't know what's going on in his mind," Nyholm explains. "But there is a giant world going on in there. He's got an exploding inner life."
For all the film's artistic ambitions, emotions remain at the heart of it. "The first ting is to give something direct to the audience to make people laugh and cry," he says.
Playing around
After studying art and animation, Nyholm directed inventive and acclaimed shorts, two of which were selected for Cannes Directors Fortnight: The Tale Of Little Puppetboy and Las Palmas. If you know Nyholm's name already, it's likely through Las Palmas. Better known as that "drunk baby" film, Nyholm made it with his one-year-old daughter and watched it go viral - the trailer has had nearly 20 million views.
For The Giant, Nyholm teamed with Garagefilm's Maria Dahlin and Beofilm's Morten Kjems Hytten Juhl. He is producing his next feature himself, which is already shot and "90% finished". Entitled Koko-di, Koko-da, he describes it as "a much less complicated film, like a chamber play." The film stars Leif Edlund and Ylva Gallon and is a relationship drama about a couple camping in the woods, confronting their inner demons, when a surrealistic circus crew shows up.
"It's much darker than The Giant," he says.