Denmark's TV crime dramas are global hits, and its feature films are booming thanks to a privileged support system, but could that lead to complacency? Wendy Mitchell talks to Danish industry experts.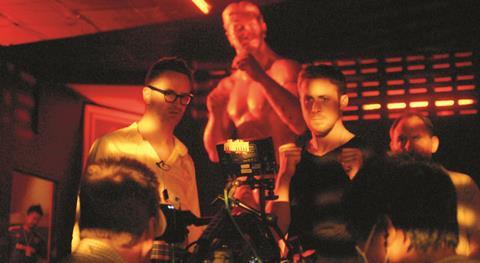 Sarah Lund and her famous knitwear might be the emblem of modern Danish creative success, or an itchy eyesore to some. But when talking about the country's theatrical feature films, the global success of The Killing, Borgen or The Bridge cannot be ignored.
The Danish Film Institute's international producer Noemi Ferrer Schwenk jokes that she is tired of being asked on her travels if she has DVDs of Borgen 3 in her handbag. But, more seriously, she sees the boon those Scandi TV crime series have been to the Danish industry on an international scale. "For all the creatives, it has been a great boost, and for producers, it can give international partners a completely different understanding of certain names."
Claus Ladegaard, head of the production and development department at the Danish Film Institute (DFI), adds: "The confidence in the business in general is growing. We have this feeling that we are making quite good films and quite good series, and that gives us the courage to engage in more ambitious projects. Also it's a positive effect that other countries are trying to engage Danish talent both in front of and behind the camera."
On the flip side, the potential problems of such success in TV crime series are that Danish content could be pigeonholed, that TV work becomes more middle of the road to keep drawing big audiences, or that film loses out on access to top actors and writers who work more in TV. "We still have a lot of talented screenwriters for film, so the problem isn't as big as some people might make it out to be," Ladegaard says.
Indeed, Sarah Lund herself, Sofie Grabol, is starring in her first feature film in six years.
Of course, it is more than a few TV series that have put the Danish film industry in its healthy position. The DFI, founded in 1972 and under new leadership since 1997, had production and development funding of a whopping $52m (€39m) in 2012 (initiatives such as distribution and marketing support are on top of that budget).
By government decree, the two public broadcasters, Danish Broadcasting Corporation (DR) and TV 2 have to contribute to financing Danish films — some $10.7m (€8m) each annually.
From short films by rising talents to industry-leading documentaries or a title like Nicolas Winding Refn's Thailand-set Cannes Competition title Only God Forgives, the experts say DFI backing is crucial to getting films made.
Refn says: "Here in Denmark, we have the best support system in the world.
We take it seriously. There's an extreme support. The DFI was hugely influential in getting the Thailand-set Only God Forgives made.
"Working in LA or in England, you see how lucky we are. And how much support we have, and freedom, and everything that comes with that."
Signe Byrge Sorensen, producer of award-winning documentary The Act Of Killing and founder of Danish production company Final Cut For Real, notes: "That system at the DFI is important for the culture of documentaries, CPH:Dox has grown so much in the past 10 years, and the DOXBIO initiative is bringing films to the countryside. To work in this kind of supportive environment is incredible. When I see the fight to survive in other places, I feel very, very grateful."
Tobias Lindholm has written three films with Thomas Vinterberg, directed 20 episodes of Borgen, co-directed R and directed A Hijacking - all within five years of graduating from film school.
"There are great things happening artistically with Danish drama in the world. I'm proud to be part of that wave," he tells Screen. "I feel privileged when I hear from colleagues around the world how hard it is to finance films, when we can finance more easily, you can put together money quite fast."
Vinterberg, one of the founders of the landmark Dogme movement who most recently directed Cannes award-winner The Hunt, adds: "The DFI is absolutely unique. The system supports feature films and the networks support the development of something like Borgen. It's all state supported. And it allows the time to grow and create quality, and that is fantastic and unique. I think privileged is exactly the right word.
"Another thing here that is unique is that we have a community, we work with each other," Vinterberg continues. "Tobias and me, Lars [von Trier] and me. We have so many interactions between directors who normally compete. People don't do that elsewhere."
Recent Danish successes include von Trier's Melancholia, Oscar winner In A Better World, Sundance award-winner Teddy Bear, Oscar nominee A Royal Affair, festival hit A Hijacking, plus documentaries ranging from Armadillo to The Act Of Killing, among many more.
Local audiences are coming out in support of homegrown fare. Local market share is healthy at the box office. In 2011 it reached 27%, led by Martin Zandvliet's A Funny Man, and in 2012 it rose to 28%, led by Anne-Grethe Bjarup Riis's This Life.
Going international
There has also been commercial success around the world. Rikke Ennis, CEO of Copenhagen-based sales powerhouse TrustNordisk, says: "Danish films have seen an amazing comeback in recent years… with films like In A Better World, A Family, A Royal Affair, The Hunt and A Hijacking, it seems like the recipe of making a successful film both locally and internationally has been found. With the talent in focus, the depth of characters and a touch of edgy and melancholic Danish mentality, it seems to address a universal audience."
Danish film-makers are working more internationally - whether that is Refn going to the US to make Drive, Susanne Bier making the Italy-set Love Is All You Need or Danish co-producers boarding films such as Sally Potter's Ginger & Rosa and Espen Sandberg and Joachim Ronning's Kon-Tiki.
One new initiative that could make Denmark more attractive to foreign producers will be the launch later this year of the Copenhagen Film Fund, which was confirmed in January and is expected to be made operational this autumn. The fund, which is completely separate from the DFI, is likely to have a budget of $6.3m (€4.7m) over three years, to support 10-15 projects.
The DFI's Ladegaard predicts: "We could attract quite interesting films, and the Danish workers in the film industry could really learn from them."
Out of the comfort zone
With such support, there can come comfort, and comfort can breed complacency, warn some Danish experts.
Playing the role of the self-described "old grumpy guy", Vinterberg says he sees some "mediocre" work being made in Denmark and he would like to see more "artistic courage".
"Dogme would not have happened today. Cinemas don't support these [types of] films, [while] the networks think a lot about viewers, more than they did 10 years ago. The support system tries to support what sells. So the original artists are very few."
He is not just throwing stones, he also notes that his last film, The Hunt, was "almost mainstream in a way". He adds: "The whole notion of being rational and reasonable is the thread of the country now. We have to fight that."
Ladegaard agrees: "We need to still give producers encouragement to make films that aren't totally secure in terms of audiences."
Even the DFI's New Danish Screen scheme for rising talents could back more challenging work, he adds: "Because the Danish production companies are under financial pressure, the most daring films aren't coming to us anymore. We'd like to see more daring work than we do. It's partly because producers are thinking more commercially than 10-15 years ago, but the kind of film director that represents a traditional image of the artist, they're not around anymore. The von Trier type making totally original pieces [is missing]."
Lindholm adds: "There is a big lack of courage - it's political and it's also in film. We have to be able to get the courage and be out there and not just do what everybody else is doing. A script being functional could make it easy to finance but it doesn't make it good."
Encouragingly, Nordisk producer Rene Ezra says he sees a tide turning with some new directors such as Lindholm and Michael Noer. "The openness to doing a film like R, it's inspired by breaking the chains of normality."