UK writer-director Lynne Ramsay tells Kaleem Aftab about why her first film for six years subverts audience expectations.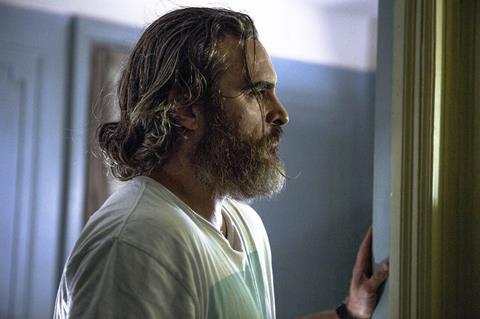 "I guess this film is about white men in power that are beyond reproach," says Lynne Ramsay of her adaptation of Jonathan Ames' 90-page pulp novella You Were Never Really Here. Joaquin Phoenix stars as Joe, a hitman hired to rescue kidnapped Nina (Ekaterina Samsonov) the young daughter of a New York senator.
Since the film debuted in an unfinished cut at Cannes, the industry has been rocked by multiple abuse scandals and with each sordid revelation Ramsay's thriller seems ever more prophetic. "It's a kind of strange, traumatic time," says Ramsay. "Just as you think you've got a handle on something, you realise that you haven't. I think a lot of people are realising that you cannot behave like that, you're not God."
In the production process, Ramsay and Phoenix would discuss how the film etches away at masculinity. "It defies expectation and it's not what you think it's going to be; it turns the genre on its head a little bit," Ramsay explains. "Joe thinks he can save someone, but it's a much bigger picture than he thinks. He's not this knight in shining armour but it's not for me to say whether this is a feminist parable or something."
Ramsay was handed the novella by Rosa Attab of France's Why Not Productions and devoured Ames' prose in two hours. She wrote the screenplay on spec while living on a quiet, traffic-free Greek island, imagining Phoenix in the lead role. She got in contact with him through UK producer Jim Wilson, who had worked with the actor on Buffalo Soldiers, and went on to produce You Were Never Really Here.
"I emailed Joaquin and then we spoke on the phone. He told me he understood only half of what I said because of my Scottish accent. I felt like I knew him. I was at a film festival in Krakow when he called to say he had a tiny window and the next week I had to pack my family and bags ready to shoot for 29 days in New York in a boiling hot summer."