How the Love Actually producer guided the gay-footballers chamber piece from Royal Court sell-out to BFI Flare opening-night film.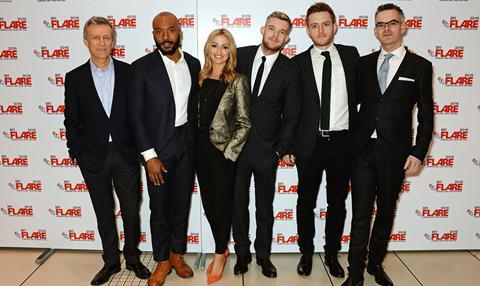 Last night (Mar 16), The Pass opened the 30th edition of the BFI's long-running LGBT film festival - now called Flare - at the Odeon Leicester Square.
As well as being the first Flare opener to premiere at Odeon's flagship cinema in 10 years, it also marked a return for Duncan Kenworthy, producer of Four Weddings And A Funeral, Notting Hill, Love Actually and The Eagle among others, who has premiered four films at the venue.
For Kenworthy, opening BFI Flare with The Pass was an optimal result for a film he self-funded and produced entirely under the radar, with the understanding that if it wasn't a creative success, he could decide not to unveil it to the wider world. Fortunately, reviews for the Ben A. Williams-directed adaptation of John Donnelly's play about gay footballers have been positive, including Screen's verdict.
Kenworthy's journey with The Pass started in early 2014, when he managed to secure a ticket to the sold-out Royal Court run courtesy of neighbour Russell Tovey, who was playing the lead role of Jason, a closeted gay footballer whose story unfolds across three nights in different hotel rooms.
On the evening he went, Kenworthy was struck by the fact that two thirds of the audience were women, which he found an interesting turnout for a play about a young gay professional footballer who feels trapped in his situation and the emotional damage that causes. "It's an extraordinarily powerful piece of writing," says the producer.
While he's a Manchester United season-ticket holder, Kenworthy is by no means a football obsessive. Instead, he connected to the story through his experiences of growing up in the UK in the 1960s, when homosexuality was still illegal, and being in close quarters with other boys - many of them his friends - without ever being able to tell them he was gay.
"Now it's very different, but this particular world of football sort of recreates my experiences growing up," he says. "For whatever reason, nobody in the Premier League has felt able to come out."
The idea of turning The Pass into a film began to grow on Kenworthy as he mulled over improvements he might look to make for a big-screen version - including a different ending. With the action taking place in three hotel rooms, the budget could easily be contained and wouldn't need to come anywhere near those of his previous two films The Eagle and Love Actually, which cost $25m and $50m respectively.
"A crucial part of my decision to film it was a realisation that the knee-jerk reaction about 'opening up' a play was definitely unnecessary in this case," says Kenworthy. "The whole point is it's an intimate piece set in hotel rooms - why lose that huis clos intensity by inventing action to take us outside? What attracted me to it in the first place was the forced closeness of these characters. It's an integral part of the drama. Opening it out would have dissipated all that intimacy."
Kenworthy didn't approach the BFI or any other UK funding schemes or outside investors, wanting to retain complete creative control and deciding to make the project entirely in house through his production company Toledo.
"I didn't want anyone else involved," he says. "When you make any film, there's always a chance it won't be as brilliant as it was in our heads. I said to everyone, 'Let's not publicise the fact that we're making it. Let's not talk about it and then if it's bad, we'll just write it off. But if it's good, that will be a fantastic result.'"
Kenworthy hired his former assistant Williams, whose Tube Tube series of short films shot on the London Underground had earned him some media attention, to make his feature directing debut, and together with Donnelly they set to work adapting the play into a film script.
Kicking off
The Pass was shot between December 2014 and January 2015, using the main soundstage at the National Film and Television School in Beaconsfield - where Kenworthy is a governor - to build sets for the three hotel rooms where the story takes place over 10 years.
"I was excitedly telling [NFTS director] Nik Powell and [director of curriculum] Jonathan Wardle at a dinner about what I was doing and they said, 'Why don't you make it at the NFTS?'" The optimal time was December and January when students weren't using the school's soundstage, and Kenworthy, who funds two scholarships for BAME students per annum at the school, ended up hiring a few students and recent graduates to work on the production.
One of the graduates line produced the film; his supervising art director on The Eagle, Peter Francis, also earned his first feature credit as a production designer. "There were so many pleasures in it for me," says Kenworthy, "giving all these people a shot at working on a feature."
While Tovey and Lisa McGrillis reprised their stage roles, Screen Star of Tomorrow (2012) Arinze Kene replaced the actor who had played the character of Ade, Jason's training-academy mate, at the Royal Court when he became unavailable.
Tovey and Kene age 10 years in the film, so the decision was taken to shoot in reverse order. The third act and second act were shot over six days in December. The production then shut down for two weeks over the Christmas holiday while Tovey and Kene went on strict diets and worked with a personal trainer to sculpt them into convincing 19-year-old footballers. They returned in early January and shot the opening segment in three days.
In the edit, Kenworthy realised that the second act, in which Jason gets caught up in a tabloid sting with McGrillis' pole dancer, wasn't working: "It was a perfect storm of problems; what worked so well in the theatre didn't work that well on film."
He decided to scrap it and reshoot the segment. With the NFTS no longer available, a deal was struck with the May Fair Hotel to use their penthouse suite (often rented by real footballers) and nighttime reshoots took place in April.
An extended post-production followed as Kenworthy waited for Glenn Fremantle - Oscar-winner on Gravity and a previous collaborator - to find time in his schedule to do the sound mix at Pinewood. As soon as The Pass was finished, Kenworthy screened it to a small group at the BFI's screening room and was swiftly offered the BFI Flare slot.
Without outside financing, Kenworthy has been answerable to no one but himself. He owns the film outright and while his original thoughts were to pursue a digital distribution route, he is currently in discussions with sales companies and a UK distributor about a theatrical release in the latter part of 2016.
While Kenworthy has other projects on the go, including a BBC One series called Stop In The Name Of Love that he is executive producing ("Sex In The City in contemporary London with Motown songs" is how he describes it) and a film adaptation of the Ian McEwan novel The Children Act directed by Richard Eyre, which they are aiming to shoot this year, his experience with The Pass is one he would happily repeat.
"It was such a pleasure and such a fun thing to do and everyone was up for it," says Kenworthy. "I'm certainly going to see plays at the Royal Court more than I did before."