British director looks back at his Tribeca and Edinburgh-nominated documentary, from the producer of Searching For Sugar Man, ahead of its UK TV premiere.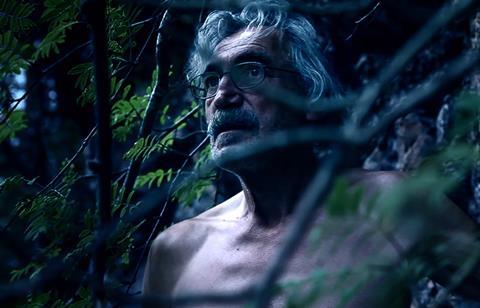 It has been nearly a year since Garnet's Gold received its debut at the Tribeca Film Festival, where it was nominated for best documentary feature.
The film, which also played in competition at Edinburgh, is to finally be broadcast in the UK tonight (March 17) on BBC4 under the title The Lost Gold of the Highlands.
Directed by British filmmaker Ed Perkins and produced by Simon Chinn (Searching For Sugar Man), the doc centres on Garnet Frost who returns to Scotland's Loch Arkaig, 20 years after coming close to death on a hike there. Frost became obsessed by a strange wooden stick discovered before he was rescued; a stick he believed would point the way to a great fortune.
The feature took more than four years to make but Perkins says the experience has been "fantastic".
Looking back on the film's journey since its premiere, the filmmaker says: "We first started filming in Garnet's shed and now we've ended up with a film on BBC Storyville.
"It premiered at the Tribeca Film Festival, it won best documentary at the Jozi Film Festival, it's played in New York, Edinburgh and it's showing at the Madeira Film Festival in April.
"Liza Minnelli sang an original song for the film; 'Until the End', and we got to work with Simon Chinn; a double Academy Award-winning producer. It's been fantastic."
Frost is equally pleased with the result and says: "I absolutely love the film. All the people who have been following this story and my adventures, my friends, family and so on, are all really excited on my behalf, so it's very good news.
"And now it's on national television. It's sort of like a dream. I already have people stopping me in the street. It bothers me slightly because I don't want to be conspicuous. I don't like people pointing me out. It's exciting, but at the same time, it's a little bit frightening too."
Award-winning team
It marks the first feature for Perkins, who previously shot behind-the-scenes docs for Oscar-winner Searching for Sugar Man, Project Nim and The Imposter.
"It's been an amazing collaboration," says Perkins, who worked on the doc with producer Chinn, exec producer John Battsek, composer J. Ralph and editor Paul Carlin.
"For many young filmmakers trying to make their first film, the first big step is trying to find the story. But I think it's crucial to try and surround yourself with filmmakers who are much more talented and much more experienced than you are.
"I was very lucky to be able to do that and I owe the team a huge debt of gratitude because they rescued me from a million mistakes I was making along the way. I owe them everything really."
Democratization of film
Astonishingly, the entire film was shot on a single camera - and by the director himself.
"I shot the whole film on a Canon 5D II, which is a little DSLR camera," Perkins says.
"It's an amazing camera. In the last decade there's been an amazing movement in filmmaking because young filmmakers now have access to really cheap cameras.
"As a result, I think there's been a democratization of the whole filmmaking process because you no longer need a huge budget and a crew to make a film."
The Lost Gold of the Highlands airs on BBC4 at 11pm tonight (March 17) and will then be available on BBC iPlayer for a month.