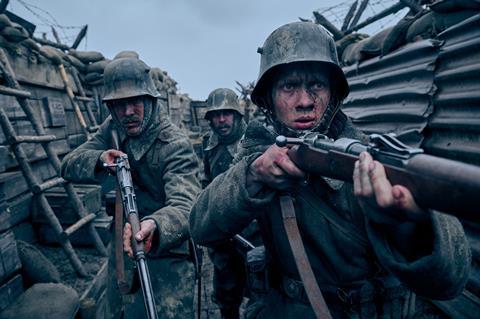 Erich Maria Remarque's classic novel All Quiet On The Western Front, written almost a century ago, has never been filmed in its native language until now.
It has been adapted for the screen and reintroduced to the world by director Edward Berger, with lead character Paul Bäumer played by Felix Kammerer.
The film is Germany's official submission as best international feature for the Oscars, and follows an idealistic young German soldier who soon finds himself exposed to the realities of war.
In the video above, Berger and Kammerer discuss the challenges of bringing the story to life in the most authentic way possible, and why the story feels just as relevant today.
Berger's previous projects include Emmy winner Deutschland 83 and Bafta winner Patrick Melrose. Stage actor Kammerer makes his big screen debut in the film.
All Quiet On The Western Front premiered at Toronto and was released on Netflix in October.

Netflix is an American media services provider, headquartered in Los Gatos, California. As of July 2018, Netflix has 130 million total subscribers worldwide.