As usual, European Film Promotion (EFP) has curated a crop of 20 of the hottest rising producers from 20 different European countries for its annual Producers on the Move programme. But not as usual, in pandemic times, the event is moving online for the first time in its 21 years, running May 11-15.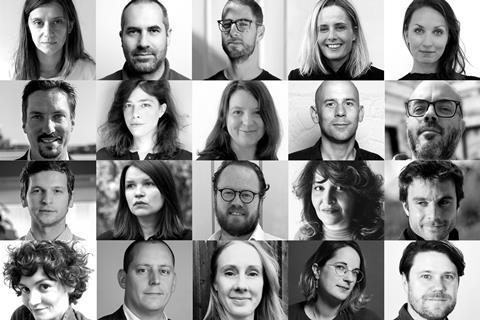 For EFP Managing Director Sonja Heinen, the decision to make the event digital this year once Cannes had cancelled its usual May dates was an easy one. "Of course it takes place during Cannes [usually], but it's not really dependent on Cannes as a festival," says Heinen. "Because we are running it for such a long time, we are connected to people, we are able to approach people we need as experts, even without Cannes."
"We quickly came up with a plan B," she continues. "We have been working with Zoom since August 2019 so we know the technology, and we have adapted the programme to work best digitally – including proper lunch breaks and recognising that some participants have children at home."
EFP kept the original May timing for Producers on the Move, not wanting to compete with attention with the new Cannes online Marche scheduled to run in late June. In fact, the silver lining could be that because there is not the madness of Cannes happening outside the door, industry experts and attendees can each focus more on their Producers on the Move activities and meetings. "There are so many distractions in Cannes, and some days we only have four hours of events because we know the producers have other meetings in Cannes," says Heinen.
Two producers who would have been selected realised that they couldn't take full advantage of the virtual week – one is looking after three young children, for instance – and gave their places up for the next producers on the selection list.
The partners on the event, including Creative Europe, Eurimages and all the national support bodies who partner on the initiative, "were totally flexible," Heinen says. "What you also see in this situation is big solidarity."
Activities planned online this week include the cohort pitching their projects to each other; private speed meetings between the producers and sales companies; a general industry meet-and-greet (industry experts can request an invitation by emailing producers@efp-online.com); a Eurimages case study of Father by Srdan Golubovic; case studies of production and distribution in the age of Covid-19; a talk with Cannes Marche head Jerome Paillard to learn more about June's virtual market; and networking events including meals or drinks together on Zoom.
Gabor Greiner of sales company Films Boutique has previously collaborated with participants he met at past editions of Producers on the Move, like the Junafilm production Pelican Blood. He's keen to meet this year's "exciting bunch" of producers virtually. "Covid-19 does not mean the end of the industry," says Greiner. "Films will be made and producers will keep working. Therefore I don't see any reason why I should not be continuing meeting exciting new talents to talk about their upcoming projects."
Adds Heinen: "Even if we don't know when travel bans will lift and when shooting will start again, it's a good time to develop films together. We always have to co-produce in the arthouse industry."
One of this year's Producers on the Move (to see the full list, click here), Tanja Georgieva-Waldhauer of Germany's Elemag Pictures, is already accustomed to doing online meetings frequently because of her co-productions, so she thinks the online format will work fine. "I am very excited to meet the other Producers on the Move and hope to find connections that will last for a while. Especially in times like these it's very important to keep every European collaboration going."
UK producer Rupert Lloyd (Theeb) adds, "Regardless of where it is held - in Cannes or online – Producers on the Move is a valuable piece of promotion, networking and intel gathering for any producer. So much business is conducted online today, it does not seem too out of the ordinary. I think participating online will make the participants and guests more focused."
Danish producer Monica Hellström of Final Cut For Real says online can't entirely replace the benefits of a physical meeting, but explains, "I am so relieved that the event is still going ahead and EFP have been ready to change the set-up so we can still take part and meet each other. I think it's important that we still move on despite everything – we will still gain a lot from meeting each other and sharing our projects and experiences. I hope this week with create a good ground for future meetings in real life at festivals."
Heinen hopes the group of 20 producers will eventually all get to hang out with each other offline at a future international film festival, noting that they have already started bonding online. "They get a special badge of honour that they were Producers on the Move 2020, when Cannes was cancelled," she concludes. "The spirit of the group might become even better."


EFP (European Film Promotion) is an international network of film promotion institutes from 36 countries from throughout Europe, each representing their national films and talent abroad.