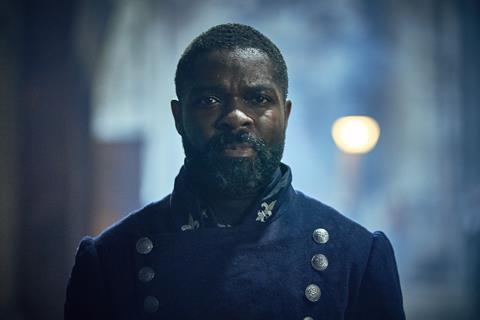 When the BBC approached David Oyelowo about starring as Javert, opposite Dominic West as Jean Valjean, in Andrew Davies' six-episode limited series of Victor Hugo's classic novel Les Miserables, the 43-year-old UK actor was initially reluctant.
But reading Davies' adaptation – and subsequently Hugo's 1862 tome – convinced him there was ample opportunity to deliver a more nuanced portrayal of the character than had been seen in the previous high-profile version: Tom Hooper's 2012 musical adaptation in which Russell Crowe had portrayed the obsessive police inspector.
"I saw how much more meat there was on the bone compared to what I had seen in the musical," says Oyelowo. "I felt that the opportunity with Andrew's adaptation was to really give context to Javert's obsession with Jean Valjean, and to this very violent end to his life at his own hands."
Premiering on December 30, the series achieved solid ratings during its BBC One run, with PBS broadcasting in the US in April and May; BBC Studios handles international distribution.
Based in Los Angeles for the last 12 years, Oyelowo is now in Oregon for the eight-week shoot of his feature directing debut The Water Man. Emma Needell's script was on the Black List and follows an 11-year-old boy who moves to a small town with his family, where he seeks out a mythical local with the reputed ability to cheat death in the hope he can cure his mother's illness. "It's an adventure story about a boy trying to save his mother," says Oyelowo.
Increasingly active as a producer in recent years, Oyelowo was an executive producer on Les Miserables, and is co-producing The Water Man with Oprah Winfrey. He is also a producer (as well as lead actor) on the Blumhouse Productions horror Relive, which premiered at Sundance, and the Peter Pan/Alice In Wonderland prequel Come Away alongside co-star Angelina Jolie.
With wife Jessica Oyelowo, he runs production company Yoruba Saxon which has a first-look deal with MWM Studios (formerly Madison Wells Media). The couple has multiple film and TV projects in development, some in collaboration with Winfrey's company Harpo Films, as well as the feature Cyrano The Moor with Disney. The musical twist on Cyrano De Bergerac is being written by Moonlight scribe Tyrell Alvin McCraney with Jeanine Tesori (Shrek The Musical) doing the music. "We are in the trenches with it right now," says Oyelowo.
If Oyelowo scores a Primetime Emmy nomination for Les Miserables, it would be his third, the previous two coming in 2015 as lead actor and one of the producers of the HBO/Plan B collaboration Nightingale.
What did you think when the BBC and Davies first approached you about playing Javert?
I hope this doesn't sound like hyperbole [but] it was life-affirming for me. I had grown up in the UK on period dramas, not least Andrew Davies period dramas, but just always felt that that was something that would never be afforded me by way of an opportunity. And so to have made fairly robust and scary choices in order to keep things moving in my career, and 11, 12 years on from moving to the States to find that opportunities were opening up that were certainly not in the offing when I was [in the UK] for me or anyone who looked like me – that was a true indication that things are shifting within my own lifetime.
Colour-blind casting has been gaining traction in UK stage and TV productions in particular. Is that a big win for the industry?
It's a win when it comes to this underlying thinking that to have someone like me play Javert is historically inaccurate and therefore not permissible. Because I'm so invested in the representation of people of colour on TV and film, I've done the research, I've read the history books, I know that to have someone like me playing Javert is not outside of the realms of historical plausibility. There were people of colour who were operating not purely as subjugated, enslaved or browbeaten individuals at that time.
But even beyond that, I think we all can admit that when we make a piece of content, whether it be television or film, what makes it relevant is to have people who are going to be watching it represented within the thing itself. Whether that's emotionally or in terms of the optics of it, you have to speak to humanity and if you are only ever showing one demographic side of humanity, you're going to run out of stories, you're going to run out of reasons for a broad audience to watch your show. The encouraging thing about Les Mis is that a much broader audience than otherwise would have watched it, both in the UK and certainly in the States, watched it not just because of me but because across the board, people of colour were a part of that production.
Were you worried about being able to make Javert more than the one-dimensional 'villain' of the piece?
That was definitely on my mind from the offset because, in all honesty, I did think that that's how Javert comes off in the musical. What I saw was an opportunity that even if you don't sympathise with him, even if you don't like him, you can at least empathise with why he made the choices he made on the basis of his own familial history – being born in prison, hating that side of himself, somehow transposing onto Jean Valjean that part of himself he hated – and at the end of the story realising that the person he was really trying to destroy was himself. One of the great things I have heard from folks who've watched the show is they didn't like Javert but they felt for him. For me, that's mission accomplished.
Dominic West said he felt you were avoiding him and turning down his dinner invitations. How did you approach your on-set relationship with your on-screen adversary?
[Laughs] I guess I did. I was so deep in this thing when we were shooting it that I probably subconsciously felt that to be hanging out with Dominic was not going to serve me or the character. We're great friends now and I love being around him. He's incredibly funny and jocular and that is not Javert so I felt like I needed to keep that at bay during the shoot.
Dominic has his own theory about Javert's obsession with Valjean, which is that Javert was in love with him.
Dominic would think that [laughs]. For me, both in relation to [Victor] Hugo's book and how I played Javert, I felt he was asexual. I can't imagine Javert in any kind of romantic or sexual relationship. He dedicated himself so totally both to his job and his obsession with destroying this other human being. So you could argue that there is attraction there but I personally didn't dwell on that because I was just so fascinated by the obsession Javert has to destroy this man. It's documented that Hugo based the characters of Jean Valjean and Javert on the same man and that was where my head was at.
Did you need to detox from playing Javert after production wrapped?
It was very immersive, it was six months, but I have four children and they would not tolerate hints of Javert in our house [laughs]. So that tends to be a very good way for me to shake any given character. But this did have an impact on me, not only as an actor but also in producing the show. I was buried in it, my work on this show did not end once we finished shooting. It was watching cut after cut after cut of the episodes to make sure that we were landing it, and also the marketing and the rollout – I was very keen to make sure that both the BBC and PBS were doing everything we could to get it to a broad audience. I applaud both companies in doing exactly that.
You've become very active as a producer in recent years. Did you move in that direction out of career necessity?
Yes, borne out of the necessity that there are stories I want to tell, there are stories I want to help other people tell, there are people who I would like to see both in front of and behind the camera. And you can either wait by the phone, hoping that other people are going to instigate and initiate that or you can use the degree of notoriety you have to try and be the instigator, and I've chosen to do the latter. I didn't go to drama school thinking I would be a producer – it has been a byproduct of not wanting to be one of those people who just complains but who actually can make things happen.
Oprah Winfrey is an executive producer on The Water Man. Are the two of you close as creative collaborators?
Yes, we have several projects together in television and film. We became very good friends after we did The Butler and Selma together and we see eye to eye on the kind of stories we want to tell and representation in front of and behind the camera. She's been a part of this project for the four years that we've been developing it. We're producing it independently with ShivHans Pictures who did Captain Fantastic and Trumbo among other films; they're fully financing it. I'm just putting my head down and trying to make the best film I can.
Is the plan for you to also star in Cyrano The Moor?
For now! We'll see. Our take on it is rather than it being the size of his nose that curtails both his ascension in society and with Roxane, it's the colour of his skin. It'll be set in the 1800s in the UK, probably in the Bristol area.
What's in store once you've completed The Water Man?
I've had to keep the acting at bay to give me the time to get The Water Man right in the edit but I have a number of films coming out soon that I'll need to beat the drum for as they roll around. Relive, the film I did for Blumhouse that premiered at Sundance, and Come Away both come out this year. We just did some reshoots for Chaos Walking for Lionsgate, that'll be coming out probably early next year. And then I just did Peter Rabbit 2 before I started on The Water Man. I've got to get The Water Man right and then I can turn my head back to being in front of the camera.