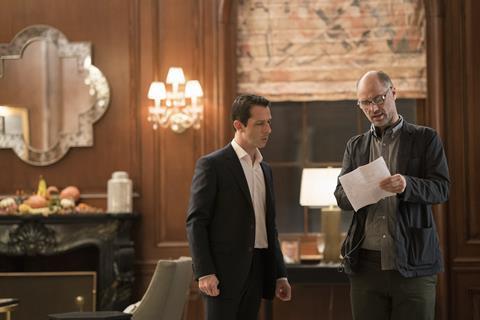 Jesse Armstrong is an old hand at deconstructing, mostly to comic effect, the mores of British life and culture. He was the co-creator of the award-winning sitcom Peep Show, and a writer on Christopher Morris' terrorist black comedy Four Lions. He has also dealt with the vagaries and eccentricities of power, in the US as well as the UK, in Armando Iannucci's two political satires The Thick Of It and Veep for TV as well as Iannucci's feature In The Loop, for which he earned an Oscar nomination.
But what the UK writer had not done prior to HBO's 10-episode Succession was create and run a drama series for a US network with a US setting and US subject matter.
The show has how been nominated for five Primetime Emmy awards: for outstanding drama series; outstanding directing for a drama series (for Adam McKay-directed episode 'Celebration'); outstanding writing for a drama series (for Armstrong-penned episode 'Nobody Is Ever Missing'; outstanding casting for a drama series and outstanding original main title theme music.
Set in the wealthiest environs of New York, the show deals with power, politics and money as ageing patriarch Logan Roy, played by Brian Cox, begins to cede control of the family's international media conglomerate to his four, frequently-warring children, played by Jeremy Strong, Kieran Culkin, Sarah Snook and Alan Ruck.
Armstrong, who serves as showrunner and executive producer, says he was eager to set the series in the US because America provided much of the inspiration – and not just in the person of Rupert Murdoch – for the subject of a still unproduced screenplay Armstrong wrote earlier in his career.
"I'd read a lot in preparation for it, particularly Disney War [James B Stewart's 2005 book about Michael Eisner's reign at the Walt Disney Company] and A Passion To Win, which is Sumner Redstone's not very readable but pretty interesting autobiography," Armstrong explains. "I very much wanted to do it in an American context."
He pitched the idea for the show to network chiefs in Los Angeles, though one premium cable channel — appropriately enough one whose studio parent Warner has just been swallowed by media conglomerate AT&T — was at the top of his list.
"HBO was always the place I hoped would take an interest, and they did," he says. "Adam McKay [writer-director of Vice, Anchorman and other hit features] was interested in directing, and he had just done The Big Short, so it came together as a potentially enticing package for HBO. And as a writer, the 10-part American HBO series, with the budget they can command and the cast you can assemble, that really is a very enticing prospect."
Undertaking the role of showrunner – a position only just being adopted in the UK television industry - was made easier by the presence of fellow executive producers including McKay, who also directed the series' first episode; Frank Rich, the New York Times political columnist who was also an executive producer on Veep; Kevin Messick, from McKay and Will Ferrell's Gary Sanchez Productions company; and Jane Tranter, much respected UK producer of shows including Torchwood and HBO's The Night Of.
"I had a posse of people to ask for advice and bounce things off," says Armstrong. And in the end, serving as showrunner "was quite bracing. It felt like a challenge to step up to that level of responsibility".
He contends the success achieved in US TV by his compatriots including Iannucci and Black Mirror creator Charlie Brooker, means "Americans have a good degree of openness to creative talents from around the world."
The right tone
Making Succession as a one-hour drama was another departure for a writer whose previous credits have been almost exclusively on projects labeled as comedies. Like other 'peak TV' era series, the show walks a fine line tonally, with the running-time and pacing of a drama but some wincingly funny moments along the way.
"Tone is one of those ineffable, mysterious things," Armstrong says of the series' delicate balance, "and it's quite difficult to describe to people. I developed the tone — and especially the visual tone — in conjunction with Adam, and I know when we're right and I know when we're wrong. It's an instinctive thing rather than an intellectual thing.
"Shows like The Sopranos, Six Feet Under and Breaking Bad — shows I admire and would dream of being in the same category as — weren't strangers to comedy and irony."
Even with his own show to run, Armstrong has found time to serve as an executive producer on UK fantasy comedy series Dead Pixels (waiting for word on a second season from Channel 4) and as an executive consultant on FX's US vampire comedy series What We Do In The Shadows. He also has screenwriting credits on two upcoming features: Chris Morris' comedy The Day Shall Come (which premiered at SXSW) and Downhill, the English-language remake of Force Majeure from the The Way Way Back team of Nate Faxon and Jim Rash.
However, his Murdoch script is now unlikely to get made, Armstrong admits, and projects including Border Guards and a film about US political strategist Lee Atwater, both in development with Succession partner McKay, are not close to production.
The project that could soon go before the cameras would reunite Armstrong with Sam Bain, his co-creator on Peep Show and follow-up UK series Fresh Meat. The former university friends, who both worked on turn-of-the-millennium UK sketch comedy show Smack The Pony, recently collaborated on the script for Jonty, a feature comedy set in the Broadway theatre world that is set up with A24.
The second series of Succession starts airing in August, and sees the Roy family fighting a takeover battle with Holly Hunter playing the head of a rival media conglomerate. Even though he has a keen eye for news events, Armstrong says machinations in the real-life media world inform rather than dictate what happens in the show.
"Just because it's not the Murdochs doesn't mean we don't read everything about them and absorb it," he explains. "But we also read everything about what's going on at Disney and AT&T and Warner and the Sinclair Group. It's a research-heavy show and we should be reflecting currents in media and culture and politics in the way that they increasingly intersect. Usually the headlines don't go straight into the show. They get put through the blender of the characters we have and the stories we have already running."