As a lockdown phone conversation makes clear, Fiona Shaw is nothing like Carolyn Martens, the mysterious, often arrogant MI6 spymaster she plays with irresistible aplomb in Killing Eve.
For one thing, Shaw talks with a soft Irish accent that is in marked contrast to her character's clipped upper-class English tones. "I had learned that people who are secretive tend to pause before they speak," says the experienced stage and screen actress, whose performance in the second season of the witty thriller series earned her a 2019 Emmy nomination and the best supporting actress TV Bafta.
"So I began to pause and pausing made me stiller, and by being stiller I began to think I knew a lot more than anybody else did in this story. That early thing of stopping her brain from gushing – in the way you may be hearing me doing to you now – is Carolyn."
In the series, originally developed for TV by Phoebe Waller-Bridge (and produced by Sid Gentle Films for BBC America, with Endeavor Content distributing), it is Carolyn who recruits intelligence investigator Eve (played by Sandra Oh) to track down psychopathic assassin Villanelle (Jodie Comer). As lead writer for season one, Waller-Bridge "quickly fell for Carolyn", Shaw recalls, finding different sides to the stiff British spy.
"And that's just been extended and expanded by other writers as it's gone along," says Shaw. "The great pleasure of playing in Killing Eve is that there's much more contradiction in the characters than you normally get to play. That doesn't mean they don't add up, but that they are as interesting as we are as people."
Still, she adds: "If you think that I've solved the character, I really haven't. I'm hoping more surprises are around the corner."
There were certainly surprises in the series' recently concluded third season (headed by Suzanne Heathcote as lead writer) as Carolyn faced the death of someone close to her and was pushed into uncharacteristically violent action. The season was "a lot less 'fun', in the sense of fun", Shaw admits.
"It tickles the writers' fancies to say what would happen if [Carolyn's] cool, calm exterior gets threatened. And I was very challenged by that. I was sympathetic to her repressiveness, and I worked hard to try and catch it."
There may be more surprises ahead in the fourth season, which according to the show's usual schedule should start its six-month shoot this autumn – a situation that may have to be reconsidered because of the pandemic and its knock-on effects.
Lead writer for the fourth season is Laura Neal (whose credits include Netflix's comedy-drama Sex Education) and, without revealing any secrets, Shaw confirms that, as she and other cast members have done with lead writers in previous years, she has talked to Neal about what is in store for Carolyn Martens – and offered a few suggestions of her own.
"It's good for us to talk to the writers," Shaw says, because "it's the underlying identity of the character that you're trying to get to. Otherwise it's not alive, it's just a cardboard cutout. And the longer we play them, of course, the more possessive all the actors are of the characters.
"But equally I think the fun of the experience is that the writer should write something outlandish that throws a curveball at the character, so they're not allowed to sit in their comfort zone."
The long haul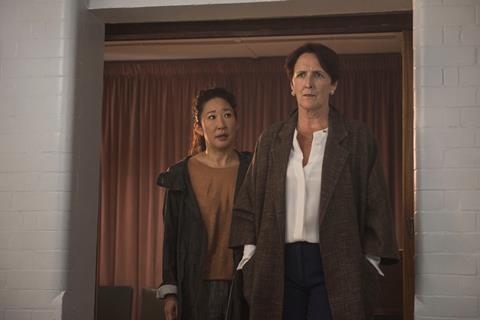 Starring on one show for three seasons has been a new experience for Shaw, whose previous TV work has consisted mainly of guest spots, occasional TV movies and mini­series – the BBC's Mrs Wilson being the latest – and a 12-episode run nearly a decade ago in HBO fantasy drama True Blood.
During each of Killing Eve's first two seasons, Shaw pursued a new career path directing opera productions – Medea for Wexford Festival Opera and Cendrillon for Glyndebourne – but she gave up that sideline when the series was renewed for its third season.
"I knew then that this was taking over my life," she says. "But it has very happily taken over my life because with the episodic nature of our work – whether one's performing in a play or in a series or traveling – it has been marvellous to know what I'm doing for those six months [each year]."
Killing Eve is just the latest critical and commercial success for Shaw. On stage in London and New York she has made award-winning appearances in As You Like It, Hedda Gabler, The Taming Of The Shrew, Machinal and Electra, among others.
Over her 30 years working in film, meanwhile, she has taken in 1990s Hollywood comedies such as Three Men And A Little Lady and Super Mario Bros through auteur dramas including Jim Sheridan's My Left Foot, Franco Zeffirelli's Jane Eyre and Terrence Malick's The Tree Of Life to five of the Harry Potter films, in which she played the young wizard's disagreeable Aunt Petunia.
And between seasons two and three of Killing Eve, she added another three – yet to be released – features to that list: independent UK thriller Corvidae; Netflix's young-adult mystery Enola Holmes, with Millie Bobby Brown starring and Killing Eve's Harry Bradbeer directing; and writer/director Francis Lee's period drama Ammonite, starring Saoirse Ronan and Kate Winslet.
Ammonite was included in the Newcomers section of this year's Cannes Official Selection. If the coronavirus had not put paid to the physical event, Shaw, whose brother lives in the south of France, "would have loved to have been with him, swanning around the Croissette".
And just for good measure, after Killing Eve's third season wrapped in January, Shaw began work in Budapest on Baptiste, joining the BBC crime drama with Tcheky Karyo for its second season until the pandemic halted production mid-shoot.
There have been plenty of offers, thanks in part to the zeitgeist-tapping success of Killing Eve. "I have had a lovely year of things coming in the post," says London and New York-based Shaw, who says she would be particularly keen for a US-shot project to bring her back to the States. But with one-and-a-half TV series pending and concerns about post-virus shooting conditions, Shaw, like many in the industry, is looking to the future with a certain amount of caution.
"I'm not going to say yes to anything until after next February," she says. "I think it will take the autumn, if we're lucky, to get back to Baptiste. Then there's Killing Eve over the winter, if we're lucky. I wouldn't have thought I'd be taking any chances on anything that's hoping to shoot before then."