Julia Garner picked up a Primetime Emmy last year for playing scheming, endlessly resourceful Ruth Langmore in the second season of Ozark, the crime drama produced by MRC for Netflix. The show's third season again puts her in the running as outstanding supporting actress in a drama series.
Sassy, tough and adept at quick repartee, Ruth is from a dirt-poor Missouri background, and Brooklyn, New York native Garner's impeccable southern accent is one of the great glories of her performance. Having grown up on the wrong side of the tracks, Ruth takes everything in her stride, from the violent threats of a Mexican drug cartel to being treated with contempt by the men around her, even though she is a lot smarter than them.
It is a complex role that Garner was desperate to play from the outset. Speaking from Los Angeles, where she and her husband, musician Mark Foster, were spending the Covid-19 lockdown together, the actress explains that she had recently appeared in Juanita Wilson's Tomato Red (2017), in which she had a similar accent, when she auditioned.
"[The Ozark producers] gave me mock scenes. I remember thinking, just from those scenes, that this character [Ruth] is unbelievable. I have to get this part," she recalls.
Garner also talks about the appeal of the character being "rough around the edges" but also "sensitive" — an intriguing combination for the actress. "To me, Ruth is the most sensitive character on the show. She might not seem it but she has a lot of shame and blame. She gets her feelings hurt a lot.
"I always try to play people who are curious," she continues. "You might not be the most educated person, but if you have a whack of curiosity there is already so much depth. If there is no curiosity, there is only so much you can do with the character."
Growing profile
Garner, now 26, has had a meteoric rise, landing roles in high-profile TV dramas such as Dirty John and The Americans and appearing in feature films like Grandma and Sin City: A Dame To Kill For. She makes a rule of never becoming too obsessed with any particular project or role in case it falls through, but made an exception for Ozark.
"I am good at letting things go," she says. "You have to be in this business. But this part, I couldn't let it go. I am not a competitive person. I am only competitive with myself, not with others. But if I saw somebody else get this part, I was going to have a hard time watching it."
On the day she was up for the part, Garner could hear the other actresses auditioning alongside her. "New York casting offices are so small," she notes. "The casting office was like a shoebox. There was a really small waiting room and the walls were paper thin. There were, like, 15 other girls going in."
Each one played Ruth with a normal accent, Garner recalls. "I started freaking out. I thought, 'OK, let's try the lines with a normal accent.'" She soon realised, however, that she could not remember them unless she spoke with the southern accent she had been practising. "I did it once and the guy was like, 'Thank you.' I called my mom and said, 'I am not getting this part.'" She was offered the role the following week.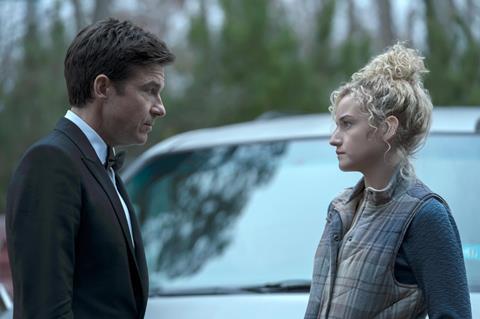 Three seasons on, Ruth has become something of a cult figure, evolving as a character throughout the years. "What I learned from being on Ozark is that there is a difference between being repetitive and being consistent," Garner reflects.
As well as that accent, Garner is also blessed with an extraordinarily expressive face. "Her eyes are amazing. There's so much going on," marvels Australian filmmaker Kitty Green, who directed her in Sundance hit The Assistant as a young woman working for an abusive Harvey Weinstein-like boss. "I always say with screen acting, it is all about the face, even if you do have a lot of dialogue," Garner agrees.
Before shooting began on The Assistant, Green explained that she wanted it to be a very quiet film. "I thought that was a smart direction because the subject matter is very loud. I love that contradiction," Garner reflects. "To be honest, because I really didn't have many lines in [The Assistant], it was a new challenge. Ozark has so many lines; it has an accent involved."
It may be surprising to learn that Garner took up acting to overcome her shyness as a young teenager. "If you're a shy kid, it kind of loosens you up a little bit."
Garner's mother is a therapist, and her father is a painter and art teacher. "They are educating me about art — and about feelings. You can only imagine the discussions," she jokes. "If we had a family fight, it would be like work therapy."
A die-hard fan of Bette Davis, Garner consults her mother's psychology books when she is tackling a new role. She also writes notes about her character in a diary, which enables her to pick up where she left off after long breaks in shooting. "A year later, when I don't remember what I did, I can [read it] during prep," she explains. "I feel like it helps me stay in touch with who that person is."
Screen break
After flitting between Ozark's Atlanta set, Los Angeles, where her husband is settled, and her hometown of New York, the lockdown has forced Garner to stay in one place.
She had been working on Shonda Rhimes' Netflix series Inventing Anna about outrageous Russian con artist Anna Sorokin, who hoodwinked New York high society into believing she was Anna Delvey, a wealthy European heiress. "It was supposed to be a 10-month shoot," says Garner. "We shot about five months and then stopped because of Covid, so we have five more months to go."
When Garner was speaking to Screen International in late May, proposals were being made for film and TV production to resume under strict social-distancing rules. "It's scary," says Garner.
"I understand why they have to do it. It's about jobs and everything. But it's not as if you're working in a cubicle and you can be in your own space. I can't tell you how many people touch me all day [during filming] for make-up, hair and for the mics. Sometimes, there are five or six people touching me at the same time, so it's going to be interesting."