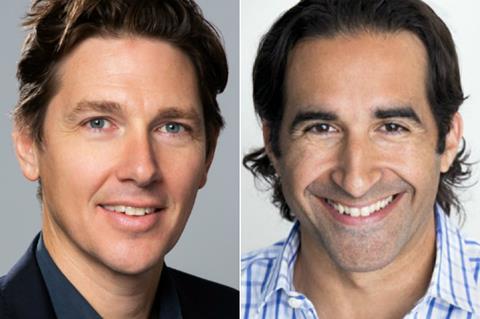 Heading into their first market as joint heads of the newly merged Endeavor Content Film Group, Alex Walton and Alexis Garcia talk to Screen about the group's ambitions, and how they see the marketplace.
"It creates a very different kind of company," say Garcia, who previously led the film advisory group, and international sales head Walton.
The executives were recently named EVPs, film, advisory, Endeavor Content and have worked together for years. Garcia introduced Walton to producer and Garmin heir Ken Kao, who backed Bloom and launched the sales agency with Walton six years ago before it was eventually acquired by Endeavor Content.
Endeavor Content has begun talks with AFM 2020 Online buyers on the comedy Revolver starring Ethan and Maya Hawke, which Andrew Stanton (Finding Nemo, Stranger Things) directs, and Jimmy Giannopoulos's crime thriller film The Birthday Cake with Ewan McGregor.
The group's productions during the pandemic include Adam Mason's genre title Songbird, and The Lost Daughter, Maggie Gyllenhaal's directorial debut and Elena Ferrante adaptation starring Olivia Colman, Dakota Johnson and Paul Mescal, which is nearing the end of production in Greece.
Is Endeavor Content Film Group a formality or a substantial change to how you operate?
Alexis Garcia: The evolution is that we're all having the same conversation about projects but the difference is the various paths aren't siloed… Now we're evaluating projects together. The goal is that in the future there could be somebody who came from the international sales side who could represent a financier and help to package and raise financing for a project, just as much as it could be somebody who came from the film advisory side who could help drive a sale to a UK distributor.
How has the pandemic affected your strategy as you build projects for the marketplace?
Alex Walton: Movies always come in cycles, and they reach their right moment to really pop. We've been able to make a few films that we've built from scratch within [the pandemic] that we've seen the whole way through: Songbird, which we launched in Cannes and Michael Bay produced; and Malcolm & Marie, which recently sold to Netflix and was in the Toronto period.
Neither of these projects would have happened in the same way, outside of the pandemic, in terms of the containment. I felt very strongly genre movies at a certain price were going to be the most convertible because of the home entertainment value. Songbird was available for the world and we took it to market. STX acquired North America and the UK, and it sold out independently outside that. It's going to be releasing in weeks.
How do you keep the independent distributors happy when streamers, especially Netflix, have been aggressive buyers as their businesses boom?
Walton: It's the type of film. Something like The Lost Daughter is exactly the kind of thing where it's the combination of filmmaker and the elements. They're the type of movies that are going to be helped through the festival experience that can get critical acclaim – the independent marketplace will always have a very important part to play in breeding those filmmakers and those stories.
Do your financier and producer partners want a quick recoup through a sale to a streamer, or are they willing to wait for theatrical to return?
Garcia: It's all over the spectrum. There are quite a few who want to be aggressive now in terms of getting things made. Some want to work with movie stars, and others take the approach of getting as many things into production as possible, which would not depend on stars and you can fall back into genre, for example. Streamers are here to stay and they're always going to be a market-moving force, but anybody who's trying to make content during this very challenging time is going to want as many partners and options on the table as possible.
Walton: The variety in terms of financiers' ability to recoup is critical to drive the marketplace. You can never fully predict that something is going to end up one way rather than the other, so you always want to have the options. Certainly in the short term there isn't the ability to release films as quickly and widely independently right now as there is within a streaming company.
Garcia: To Alex's point, in the immediacy of the sale, you have talent or filmmakers who are nervous about what the theatrical landscape looks like in the next year so, yes, in this moment they're going to value the immediacy of what the streamers can do to get their movie out that they've been working on for the last couple years.
On the other side of it, you have Kenneth Branagh, who just finished his film Belfast. We're in early discussions on the sale of that film and there's this strong preference for a traditional theatrical cinema experience from him. That's not to say in the course of this process that there's no version of it ending up at a streamer. [Endeavor Content represents worldwide rights to the project, which is in post.]
What worked well in virtual Cannes that you can bring to AFM? And will we see more drive-in screenings for buyers like you did in LA during virtual Toronto?
Walton: We would love to try and replicate the drive-in [approach] in different parts of the world. In fact we looked to replicate the Toronto drive-in screenings [of Penguin Bloom, Concrete Cowboy, and Shadow In The Cloud] in different parts of the world that time around as well, and for all the obvious reasons it became very unpredictable. The one thing you don't want to do is invite people to something that would make them feel uncomfortable from a humane point of view.
While Toronto were very happy when we brought the idea to them, that's not something we'd be able to do as effectively during AFM because it's not connected to a festival. The things that worked very well that we did for the first time in virtual Cannes was to show presentations on one day, and have the business week to engage during a marketplace timeline. That's something we're looking to replicate during AFM. It's important you create a timeline to get people's attention.
What are buyers looking for?
Walton: Everyone's looking for scripts. The big buyers are very professional and organised and have quite full line-ups for 2021. They're not going to miss the opportunity, but they're looking for reliable content they can monetise for 2022.
Is there an update on Harry Haft, which stars Ben Foster as a Holocaust survivor and boxer, and Naomi Watts family drama Penguin Bloom?
Walton: We screened Penguin Bloom in Toronto and that one is cooking in terms of deal-making. There's lots going on with Harry Haft. When the pandemic hit we quickly agreed it wasn't the right thing to be putting in front of paying audiences. It's a heavy film and as important as ever today with all that's been happening in the world, so we want to give it some space.