Original, new and different — those are the watchwords guiding the big-screen career of filmmaking duo Dan Kwan and Daniel Scheinert. The pair tell Dan Jolin the secrets of their success in creating box office hit Everything Everywhere All At Once.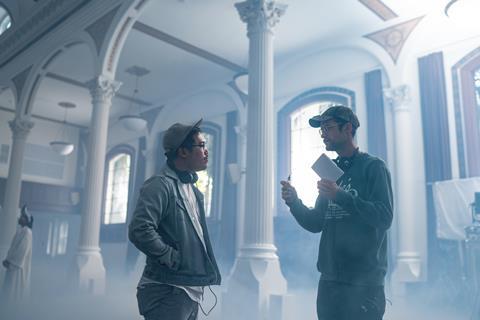 Ever since they met and joined creative forces as film students, Dan Kwan (34, from Westborough, Massachusetts) and Daniel Scheinert (35, from Birmingham, Alabama) have been chasing after the new.
"Originality is our default," says Kwan — one half of the filmmaking partnership collectively known as the Daniels. "When we were in film school, someone told me, 'If you want to be successful, you either have to be the best or the first.' I knew as a 19-year-old I'll never be the best. So I'm going to see if I can be the first. A story might entertain us, it might make us think, but it won't fully affect us unless it's something completely new. Something that takes you off guard. Something that can bypass the intellect. I realised there was power in our ability to create something new."
Everything Everywhere All At Once certainly fulfils that mission statement with flying, kaleidoscopic colours. The idiosyncratic writer/­director duo's second feature not only grossed more than $100m worldwide against its modest $14.3m budget (making it A24's biggest hit to date), it also struck a resonant chord with audiences worldwide, as exuberant reaction videos filled up TikTok.
The blend of mind-bending sci-fi, martial-arts action, crude humour, domestic drama and wry commentary on the information-overload era makes Everything Everywhere feel fresher than a lemon spritz enema. The movie drew a remarkable lead performance from Hong Kong veteran Michelle Yeoh as a dispirited Chinese-American launderette owner dragged into an anarchic, universe-­clashing conflict, and, among other weirdnesses, featured a sushi-chef raccoon, an apocalyptic bagel, a conversation between two rocks, and Jamie Lee Curtis with hot dogs for fingers.
All of which suggests the movie must have been hell to finance. "It was actually really easy," counters Kwan. What the former music-video directors were pitching — "a sci-fi action-adventure about family" — was, they point out, nowhere near as strange as their 2018 feature debut Swiss Army Man. An absurdist, gross-out, wilderness-­survival comedy, this created a bizarre double act from a suicidal castaway (Paul Dano) and a flatulent dead body (Daniel Radcliffe) that could be ridden like a jet ski. In short, "Anything is more marketable than a farting corpse movie," laughs Kwan.
"It was like, 'Oh, these children finally grew up. Maybe this one's not as scary to finance!'" says Scheinert. "A24 believed in the project right from the beginning. We're lucky they've been so good to us over the years."
He and Kwan spent a year developing the Everything Everywhere script with Joe and Anthony Russo's production venture AGBO. They then returned in 2018 to their Swiss Army Man backers, which not only financed the film, but also respected the Daniels' insistence it should be a theatrical experience.
"We were passionate about engineering this film to be seen with an audience," Kwan explains. "That was a struggle, because very early on we had producers saying, 'If you sell this to Netflix, you're going to be able to get your budget immediately and you won't have to worry about casting.' We had to dig our heels in, and luckily A24 were very much willing to support that vision."
The indie studio also, says Scheinert, "didn't get super-militant about which celebrities get attached. They believed in Michelle. Once she was attached they were like, 'Rock 'n' roll, let's go!'"
Gender flip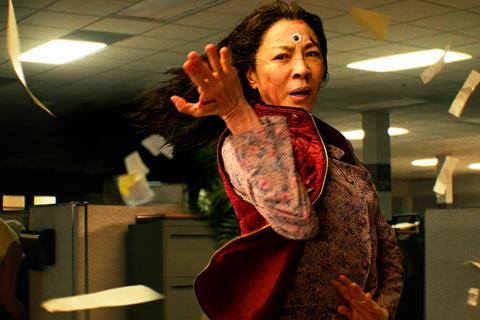 Yeoh had been in the pair's minds since the project's inception, although they originally imagined her as the other half of the central married couple, with Jackie Chan in the lead. However, Kwan and Scheinert realised the story would be more interesting with a female lead, so they flipped the spouses (eventually giving Indiana Jones And The Temple Of Doom child star Ke Huy Quan an astonishing comeback in the role of the husband) and made Yeoh the lead.
"When we started writing it for Michelle, the script came alive," says Scheinert. "We thought, 'This is an action movie we haven't seen over and over. A mom on this adventure is way different than watching Neo learn about the Matrix. So it was scary by the time we met her, because we did not have any back-up ideas." Fortunately, it turned out Yeoh is "a lot weirder than we thought", Scheinert reveals. "She's a bit of a sci-fi nerd."
"When we met her, Michelle was just about to release Crazy Rich Asians," adds Kwan. "We asked her, 'What do you want to do with your career next?' She replied, 'I miss kicking ass. I want to fight again.' We were like, 'Please do that with us.'"
While Yeoh is a seasoned veteran with 49 movie acting credits to her name, the Daniels were keenly aware of their sophomore status as feature directors, not least because Swiss Army Man had been such a baptism of fire. "We bit off way more than we could chew, with a very naïve understanding of what it takes to make a feature film," admits Kwan of their debut production. "We learned a lot, but it was a really hard shoot."
"It was a ton of [production] moves on a pretty small budget," says Scheinert. "We did four night shoots in a row one week, and everyone started to lose their minds and get sick." As a result, the duo spent time between the two productions honing their craft and planning skills on TV directing gigs (such as Awkwafina Is Nora From Queens). Then, once Everything Everywhere was rolling, they resolved to base the production in a single office building, in Simi Valley, California.
"We didn't want to spend all our time travelling around," says Scheinert. "In one room, they'd be building the apartment set. In one room, the stunt team would be rehearsing a fight. In one room, the lighting team would be pre-lighting. And in another room, we'd be shooting."
"We basically recreated our version of a studio," says Kwan. "That's really what we did in this random building, for much cheaper and within our own process. It felt so efficient, so fun. Everyone got to interact and hang out."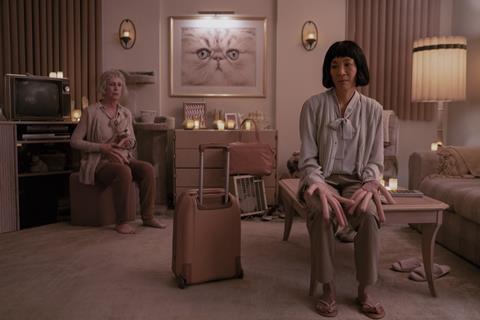 In the wake of Everything Everywhere's success, the Daniels have gone from recreating their version of a studio to signing up with an actual studio, agreeing to a five-year partnership with Universal. A surprising move, perhaps, given their distinctness of voice. "Universal's pitch was simple," explains Scheinert. "Which was, they want to make whatever we want to write. That's such a rare filmmaker jackpot moment."
Kwan does not see any incongruity between the Daniels' artistic ambitions and the studio's commercial concerns. "I think our interests are actually aligned, in that we're trying to make films that will reach a broader audience," he says. "Because if we aren't, then we're not achieving our goal of making an impact on people's lives."
Meanwhile, the pair are preparing for another venture into tele­vision, having been tapped by Steven Yeun to produce and direct A24 and Showtime's Mason, a surrealist, semi‑autobiographical comedy series devised by and starring Nathan Min. "He's inspiringly weird," says Scheinert of the rising New York comedian. "A whole new genre of weird from us. Other than that, I don't know what to say — we haven't made it yet."
Next steps
What strange new form their next cinematic step takes remains to be revealed. Scheinert says they have an Excel document with 15 movie ideas on it — all "weird, but in different directions" — three of which are frontrunners for feature number three. "One is bigger than Everything Everywhere. One is intentionally focused on three characters, but it's still philosophically overly ambitious. Then there's one that's more about process than product — how experimental could you get making a kids' film? But we don't know what we'll actually make next."
They also don't know whether they will ever be able to repeat the success of Everything Everywhere. "It is such a precarious thing that we're trying to do," says Kwan. "It's a tightrope walk every time."