Horror icon talks to Screen about her career resurgence and latest film, body horror Replace.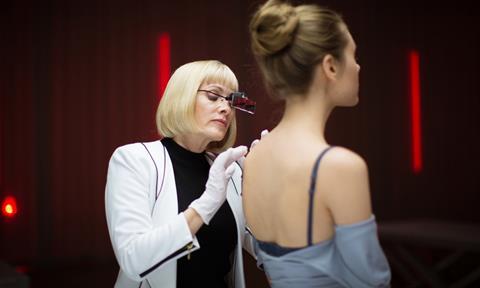 "I've been offered some of the most interesting roles, probably the best, of my career," says Barbara Crampton of her career resurgence that was kickstarted with Adam Wingard's home invasion hit You're Next in 2011.
Speaking to Screen at Montreal's Fantasia International Film Festival, Crampton joked that You're Next revealed to people that "Barbara Crampton's not dead", leading to roles in films such as Ted Geoghegan's critically acclaimed We Are Still Here and Jackson Stewart's genre festival favourite Beyond The Gates.
"I was lucky enough to have a really nice career in my early years and now I have this extra second coming," she reflects. "I've been offered amazing roles from up-and-coming film-makers, so I'm doing a lot of those and I'm enjoying that. This collaboration I have with this new crop of directors is really inspiring to me as well."
Replace
One of those is Crampton's latest film Replace, a body horror that received its Canadian premiere at Fantasia. It marks German director Norbert Keil's second feature film which he co-wrote with Richard Stanley, with Crampton's role of the enigmatic Dr. Rafaela Crober initially written for a man.
"I appreciated the fact that they were trying to add more women to the script and have three dynamic women approaching the same subject from different points of view was a smart idea, whether they used me or someone else," she explains.
Praising Keil for his calmness and confidence on set, she admits to being surprised at the visual style of Replace, but in a good way.
"I didn't see it in my mind the way it turned out to be. The way it was shot was very artistic and dreamy and when I saw it, it was really arresting for me. I saw an early cut of the movie, so even before it was honed to what it is now, the visuals were quite striking, so I was very impressed by that layered aspect of it," Crampton enthuses.
Working with newer talent like Keil has had its benefits for Crampton as well in terms of the collaboration on set, especially when compared to her earlier roles in the likes of Stuart Gordon's Re-Animator.
"I feel willing to speak my mind a bit more. When I was younger, you naturally wouldn't do that when you're new in the business," she notes. "Because I worked in a lot of movies that these young film-makers have grown up watching, they do talk to me about what it was like, how things have changed, and I think we have more of a dialogue now."
'New Blood' initiative
Her experience with up-and-coming film-makers over the recent years makes Crampton the perfect choice as a mentor on Horror Channel FrightFest's 'New Blood' initiative to find new genre writers.
Crampton is hoping that the scheme will continue to develop the "shift" she's experiencing in genre film currently. "Young film-makers will hark back to what they grew up on for inspiration, but all of them have sensibilities that are trying to break the boundaries of what genre is," she explains.
"People are talking about elevated genre and post-horror and everybody hates those terms, and I do too, it seems to be a marketing tool. I think that people are telling interesting stories that have horror elements to them, and they don't have to be clichéd."
For Crampton, she hopes that 'New Blood' will unearth writers who can tell a story that reflects the "current culture" we're in with "rich characters that actors are going to want to play".
"As a young screenwriter, you have to think about writing characters who are interesting and dynamic and have an arc. Every character in every movie thinks it is their movie and everyone else is in their movie, so the writer has to think about that when they're writing," she outlines.
"That's something I can help with from an acting point-of-view, looking at the story as a whole and how the characters can tell this story in a meaningful way that all fits together to tell one cohesive idea."
If that sounds like you, applications are open for 'New Blood' until August 4, with the event held on the opening day of FrightFest, August 24.
Replace screens at Horror Channel FrightFest on Friday, August 25.