Rome's new-look market is putting the onus on convergence to bring cinema, TV and video games under one roof. Melanie Goodfellow reports on the festival's first International Audiovisual Market.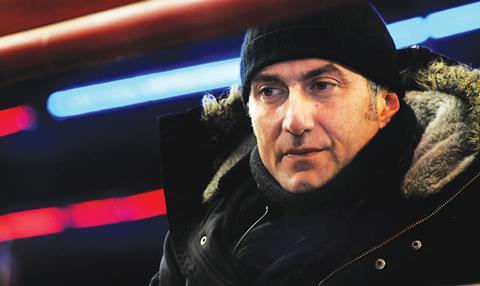 'Hot topics in the TV world are increasingly hot topics in the cinema world, and vice versa'
Lucia Milazzotto, MIA
In their heyday, Rome's Baths of Diocletian, the biggest public pools in the Empire, welcomed 1,000 bathers a day. Some 1,800 years later, the site will host 800 cinema, TV and video game professionals for Rome Film Festival's International Audiovisual Market (MIA), running October 16-20.
The new event incorporates the festival's existing industry strands — including The Business Street, the New Cinema Network and TvDays — and places fresh onus on media convergence as well as Italy's potential as an international production partner (it offers a 25% tax credit for film and high-end TV shows).
"Convergence is a fact," says MIA director Lucia Milazzotto, who took up the post this summer. "Hot topics in the TV world are increasingly hot topics in the cinema world, and vice versa, but their business calendars are very different throughout the year.
"We want to create an opportunity for professionals from different industries to gather in one place, just after MIPCOM and before AFM. We want it to be an event where professionals can network and build new relationships, rather than rush from one 20-minute meeting to the next."
As part of this strategy, the television strand TvDays will feature four 'soft talks' followed by matchmaking sessions on 'Stories that Travel', 'Digital Platforms', 'Made for Digital' and 'Bankability of European Talents'. "It will have an informal, living-room feel," says Milazzotto. "These sessions take their cue from the TV world but are open to everyone and we're hoping there will be some crossover."
Confirmed participants at TvDays include Marco Alberg, president of Brazil's independent TV producers association ABPITV, Israeli TV producer Avi Armoza, whose formats include the recent NBC hit I Can Do That, and Noel Hedges, EVP of content and acquisitions at London-based TV content specialist DRG.
Backing the big screen
For the cinema world, MIA continues the work of the Rome Film Festival's tried and tested The Business Street and New Cinema Network co-production market initiatives, now redubbed MIA TBS and MIA NCN. Roughly 200 film-buyers and 40 sales agents are expected to attend MIA TBS which, as in previous years, will consist of a mix of screenings, debates, workshops and networking events over four days.
"Our consultations with the industry revealed demand for a European market ahead of the AFM, showing the freshest content from the second half of the year," says Milazzotto. "All the features screening have to be more recent than June 2015."
Titles set to screen will include Stefano Sollima's Rome-set organised-crime thriller Suburra, which goes on general release in Italy that week. Challenges facing distributors and the digital single market will be among the topics in the debate and workshops programme, and there will be territory focuses devoted to Cuba, Korea and Taiwan, as well as a China Day.
MIA NCN will present 23 projects, including British film-maker Sally Potter's first film in three years, The Party, Italian director Costanza Quatriglio's He Looks Like My Son, Swedish director Agneiszka Lukasiak's Deliver Us From Evil and Turkish film-maker Kutlug Ataman's Hilal, Feza And Other Planets.
Since its first edition in 2006, NCN has presented 228 projects, roughly 50% of which were completely financed, currently in production or finished, according to Milazzotto, who cites past high-profile attendees such as The Selfish Giant and Zero Motivation.
Iranian Hana Makhmalbaf's The Single Mother, Argentine Sebastian Schindel's Dante's Secret and Czech Petr Vaclav's Il Boemo will be among another six projects presented in the new Make It With Italy sidebar, aimed at pictures with strong Italian co-production potential. "One of the key ambitions of this market is to open up Italy to the international market again, and put it back on the map for European media and entertainment business," says Milazzotto.
Aside from a 'soft talk' entitled 'MIA ITALIA', giving an overview of working with Italy, the country's main film and TV bodies ANICA and APT, as well as Istituto Luce-Cinecitta and several film commissions, will be out in force at the market.
ROME'S MIA NCN OFFICIAL PROJECT LIST
50 Miles From Boomtown (Swi-US)
Dir Flo Linus Baumann, prod Alex Scharfman
237 Years (Rom)
Dir Ioana Mischie, prod Alain Goldman
The Death Of Black Horses (Tur)
Dir/Prod Ferit Karahan
Deliver Us From Evil (Swe)
Dir Agnieszka Lukasiak, prod Peter Krupenin
Digger (Gr)
Dir Georgis Grigorakis, prod Maria Hatzakou
Goddess Of Calm Seas (It)
Dir Elisa Amoruso, prod Costanza Coldagelli
Grace Period (Leb)
Dir Saleh Nass, prod Paul Baboudjian
He Looks Like My Son (It)
Dir Costanza Quatriglio, prod Andrea Paris
Hilal, Feza And Other Planets (Tur)
Dir/Prod Kutlug Ataman
A Hymn For Mars (UK)
Dir Ruth Paxton, prod Tom Wood
Italo Disco (Sp)
Dir/Prod Richard Garcia
King Of Norway (US)
Dir Sylvia Saether, prod Steven Berger
Look Up (It)
Dir Fulvio Risuleo, prod Donatello Della Pepa
The Man With The Magic Box (Pol)
Dir Bodo Cox, prod Iza Igel
Mobile Homes (Fr)
Dir Vladimir de Fontenay, prod Eric Dupont
Mustang (Fr)
Dir Laure De Clermont-Tonnerre, prod Alain Goldman
My Body Will Bury You (It)
Dir Giovanni La Parola, prod Olivia Musini
Oliver And The Pool (Mex)
Dir Arcadi Palerm, prod Mariana Monroy
The Party (UK)
Dir Sally Potter, prod Christopher Sheppard
Perfect Taste (It)
Dir Mariana Monroy, prod Daniele Mazzocca
Riot Waif (SA)
Dir Zinaid Meeran Prod Jean Meeran
The Siege On Liperti Street (Cyp)
Dir Stavros Pamballis, prod Panos Papahadzis
We Didn't Talk About The End (Ser)
Dir Mina Djukic, prod Snezana Maric