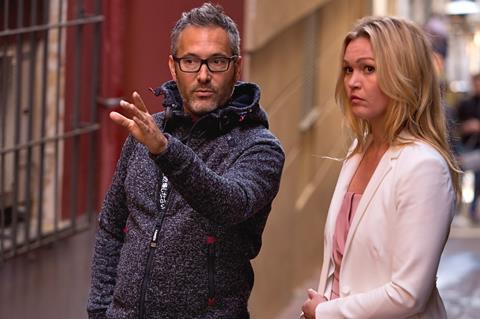 Belgium's Hans Herbots has made a global name for himself directing episodes of international TV series such as Riviera (Sky), The Serpent (BBC and Netflix) and Rellik (Cinemax). Now he is preparing two projects much closer to home, both of which are being presented at this year's Re>Connext (October 4-15) the annual digital showcase for films and TV series made in Flanders and Brussels, Belgium.
Ritual, which attends as a work-in-progress, is Herbots' first feature since 2014's The Treatment and, like that film, is an adaptation of a novel by Mo Hayder; this time about a police diver who makes a gruesome discovery. And Herbots will also be pitching high-concept TV series This Is Not A Murder Mystery, a 1930s thriller set in the world of surrealist art, along with co-director Matthias Lerber.
How are you pitching your TV series This Is Not A Murder Mystery?
It's based on an original idea by my co-director Matthias Lerber, who wanted to do something with the surrealist [art] movement. Back in the 1930s, there was a surrealist artists conference in London [as part of the 1936 International Surrealist exhibition at New Burlington Galleries], and the artists were invited by Lord [Edward] James to stay on his estate for a week. All these people were there; [Renee] Magritte, Man Ray, [Salvador] Dali. Then fiction takes over; there's a murder, and Scotland Yard is brought in for a traditional investigation. And Magritte tries to get ahead of the investigation and find the killer himself. Because of the visual style of it, and the art, it feels to us a bit like Baz Luhrmann's The Great Gatsby.
Why do this story into a TV series, not a feature?
We believe the world and the characters are so rich that we need more time to explore all that, that it can only be told in five or six hours of story.
How will you approach this particular pitch?
Story and character remain the key elements. With TV, you can talk more in-depth about the characters and how they connect and interact, because there is a bit more room for that. We have created a nice document with lots of pictures and links to clips, and the presentation will be very visual. We have a strong package that we will also be taking to UK broadcasters, because we want to develop this as an international series. It will be in English and French and, much like The Queen's Gambit, have a very precise visual style, with visual elements pushing the story forward. We will need to find a partner who shares our willingness to take the story as far as we can.
You're also presenting your new feature Ritual at Re>Connext.
It's based on a book by Mo Hayder; I previously adapted her book The Treatment into a film. Her stories are psychologically dark and interesting, and this is about a young woman who works as a police diver. She finds a hand in a Brussels canal, and that's the beginning of a journey that takes her back into her own personal story, mixed with the police investigation. It's a story about coming clean with yourself and finding closure. It's a mixture of genre and psychological drama.
What stage is it at, and what are you hoping to find at Re>Connext?
It's in post; we're actually mixing it now and hope to be finished in a couple of weeks. We're trying to find international buyers, who can open gateways to an audience.
Just as you're bringing both a TV series and a feature to Re>Connext, you've worked across both forms. Which do you prefer?
They are challenging in different ways. For the last five or six years, I've been working mostly on UK and American projects. That's really nice, because you become part of a system that is working well, there's money, the stories are very challenging, you go across the world to shoot. On the other hand, it's very nice to come back and make features here [in Belgium], because you have much more independence as a director. It's a much more personal way of storytelling. But because the market here is so small, I do love to go back and forth. You learn a lot by working closely together with a small team, and you learn even more when you do a series on a bigger stage. It's very fruitful.