The territory is responding to China's growing interest in Russian films by establishing a pavilion to raise its profile at Filmart.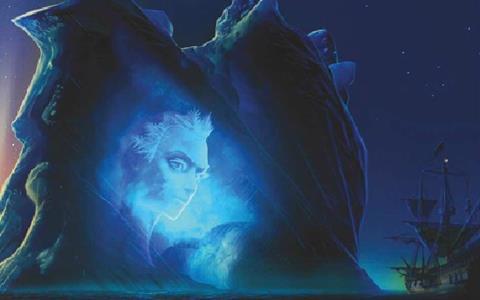 Russia is boosting its presence at Filmart this year, including its first Russian pavilion at the market. The government-backed Russian Cinema Fund organises the pavilion and welcomes companies including Reflexion Films, Bazelevs and Wizart Animation.
Roskino is at Filmart for the second time with an umbrella stand showcasing five key brands - DOORS, film studios Mosfilm and Glavkino, Gosfilmofond and sales company Planeta Inform - as well as presenting 18 Russian production and distribution companies with their latest titles on the DOORS platform.
CEO Katya Mtsitouridze explains that Roskino has become acquainted with the Asian market through co-organising Vladivostok Film Commission and being a member of the Asian Film Commissions Network, as well as hosting Asian buyers at the DOORS market in St Petersburg last September.
"The Chinese market today is one of the key platforms for Russian film-makers where we must be present," she says. "We are good neighbours and have a great tradition of collaboration. We know that old classic Russian comedies and dramas are still very popular [there], with some titles even being adapted and produced in China with local film stars." Moreover, Fedor Bondarchuk's 3D war epic, Stalingrad, took $8.3m on its first weekend in China to become the best non-Chinese opener to date.
Fledgling sales outfit Reflexion Films will be at Filmart for the second year running and will focus on a handful of titles ranging from Anton Rozenberg's crime drama Slide and animated sci-fi comedy Koo! Kin-Dza-Dza, to documentaries Altitude and Rudolf Nureyev: Rebellious Demon. "The Asian market is a real target for us now, as we have interest in our films from Japan and South Korea," head of international sales Olga Kolegaeva notes.
One of Russia's fastest-growing computer animation studios, Wizart Animation, will be coming to Hong Kong for the first time to present the second film in its Snow Queen franchise, Snow Queen 2: The Snow King, and the studio's first completely in-house title, Sheep And Wolves.
The first deals on Snow Queen 2 were closed at EFM in Berlin with the UK's Signature Entertainment, South Korea's Cinema Republic and the Middle East's Shooting Stars, and negotiations are set to continue at Filmart as more than 30 countries - including a US theatrical distributor - have shown interest in the title.
"We had very positive results with Snow Queen's theatrical release in the Korean market [where it grossed more than $1.5m], and we find the Asian market in general very attractive for us," says Wizart's Anna Mysskaya.
Another Filmart debutant, Night Watch director Timur Bekmambetov's production-distribution house Bazelevs, will be showing its successful Yolki comedy franchise and action-adventure comedy Kiss Them All, which took $37m at the Russian box office last year.
The company will also announce the titles set for delivery in the second half of 2014. "Animation and action films work best for these territories," adds Bazelevs' head of sales, Valeria Dobrolyubova.
Russian films in HKIFF 2014 selection
Yes And Yes
After starring in Valeriya Gay Germanika's feature debut Everybody Dies But Me, which screened in Cannes in 2008, actress Agniya Kuznetsova is reunited with the director on Yes And Yes, which is showing in HKIFF's Indie Power sidebar. Kuznetsova plays an inquisitive girl from the outskirts of Moscow, embarking on a coming-of-age adventure in the city's bohemian art community.
World sales Reflexion Films reflexionfilms.com
Break Loose
Alexey Uchitel's fast-paced drama follows the violent fallout as a police operative falls for a gangster's moll. It has been selected for the festival's Platforms - Midnight Heat programme.
World sales WIDE widemanagement.com
The Major
Yuri Bykov's award-winning crime drama premiered at Cannes 2013 Critics' Week. It plays in the World Cinema - Global Vision section in Hong Kong.
World sales m-appeal www.m-appeal.com