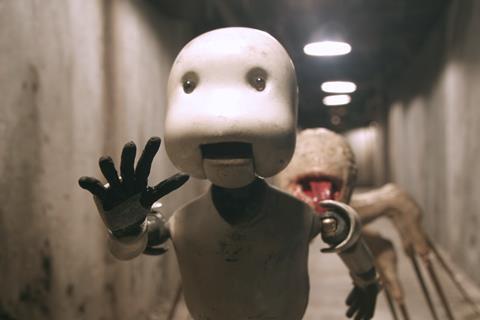 Japan is attending Filmart Online fresh from a successful Berlinale and European Film Market, where Ryusuke Hamaguchi's Wheel Of Fortune And Fantasy premiered in competition and was awarded the Silver Bear Grand Jury Prize.
In addition, Yujiro Harumoto's A Balance screened in Panorama and Sion Sono's Red Post On Escher Street played in Critics Week.
Just a few weeks later, more than 70 Japanese film sellers, broadcasters and film commissions have signed up to participate in Filmart, reflecting that production in Japan is back up and running after the disruptions of the Covid-19 pandemic last year. Cinemas are also open, although with restricted hours and seating capacity in some areas.
Upcoming releases in Japan include Daihachi Yoshida's Kiba: The Fangs Of Fiction, starring Yo Oizimi (March 26); Daigo Matsui's Remain In Twilight (April 29); and two further installments in the Rurouni Kenshin franchise – Rurouni Kenshin: The Final (April 23) and Rurouni Kenshin: The Beginning (June 4).
The Aobas' Dining Table (working title)
Dir. Soushi Matsumoto
Matsumoto's second feature revolves around single mother Haruko, living with her son and a young couple, who is asked to take care of the daughter of a former friend while she attends summer school. As the daughter adjusts to life with this unconventional family, Haruko decides to repair her relationship with the old friend, whom she fell out with long ago. Naomi Nishida (The Longest Night In Shanghai), Miwako Ichikawa (Rebirth) and Shugo Oshinari (The Real Thing) head the cast of the film, which is being lined up for local release this summer. Matsumoto's debut It's A Summer Film premiered at Tokyo film festival last year. Contact: Free Stone Productions fsp-sales@freestone.jp
The Asian Angel
Dir. Yuya Ishii
Filmed in South Korea, Ishii's latest drama stars Sosuke Ikematsu as a Japanese novelist who, following the death of his wife, takes his son to Seoul hoping to stay with his estranged older brother. When the brothers take a road trip together, the writer meets a struggling singer who has just been dumped by her lover and record label. Joe Odagiri, Korean actress Moon Choi (Our Body) and Kim Minjae (Peninsula) also star in the Japan-Korea co-production, which premiered as the closing film of Osaka Asian Film Festival (March 5-14). The crew includes Korean talent such as cinematographer Kim Jongsun (Alive) and composer Park Inyoung (Pieta). Ishii's The Tokyo Night Sky Is Always The Densest Shade Of Blue won best director at the Asian Film Awards and played in Berlinale Forum in 2017. Contact: Yasushi Miyamae, ColorBird ymiyamae@colorbird.co.jp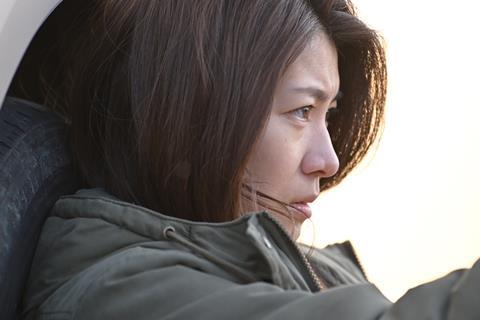 A Balance
Dir. Yujiro Harumoto
Harumoto's second film was selected to screen in the Panorama section of this year's Berlin film festival, before which it won a Jury Award and People's Choice Award at Pingyao International Film Festival, as well as the New Currents Award at Busan International Film Festival in October 2020. Kumi Takiuchi (It Feels So Good) stars as a documentary filmmaker investigating the suicides of a student and teacher, who are alleged to have been having an affair, when a scandal emerges much closer to home. Harumoto made his debut with critically-acclaimed indie drama Going The Distance in 2016. Contact: Shujiro Fujioka, Toei shu_fujioka@toei.co.jp
Belle
Dir. Dir. Mamoru Hosoda
Paris-based Charades and Japan's Nippon Television (NTV) are sharing sales duties on Hosoda's latest animated feature, following their collaboration on his last film Mirai (2018), which world premiered in Directors' Fortnight at Cannes and picked up Oscar and Golden Globe nominations. His new work, produced by Studio Chizu, follows Suzu, a 17-year-old high-school student living with her father in a rural village, who for years has only been a shadow of herself. One day, she enters a virtual world where she is no longer Suzu, but Belle, a world-famous singer. The film is being lined up for Japanese release in summer 2021. Contact: Mayumi Furuyama, Nippon TV furuyama.stf@ntv.co.jp (Asia); Charades sales@charades.eu (rest of world)
Drifting Flowers, Flowing Days
Dir. Yutaka Tsunemachi
In post-production, Tsunemachi's debut feature follows three young people in Tokyo – one working on a construction site, one in a flower shop and the other in a design studio – who begin to change when they start questioning life. Produced by Japan's IPPO, founded by indie producer Sachihiko Tanaka, the film stars Hiroki Sato (Sasaki In My Mind), Kaho Seto (Orange) and Masashi Yamada. IPPO has previously produced films from young directors, such as Shingo Matsumura's Love And Goodbye In Hawaii (2017) and Yuho Ishibashi's Sayounara (2018). Contact: Maria Ruggieri, Asian Shadows maria@chineseshadows.com
First Gentlemen
Dir. Hayato Kawai
Kei Tanaka (Mellow) and Miki Nakatani (Memories Of Matsuko) star in this comedy drama about an ornithologist who returns from a long bird-watching trip on a remote island to discover his wife, the leader of a minority political party, has become prime minister of Japan. While he has always been supportive of her political career, he did not expect to be thrust into the limelight in this way. Kawai is a well-known TV director who has also directed films such as Kizoku Kourin: Prince Of Legend (2020) and First Love Loss Time (2019). First Gentlemen is being lined up for Japanese release in autumn 2021. Contact: Mami Furukawa, Nikkatsu m.furukawa@nikkatsu.co.jp
The Great Yokai War – Guardians
Dir. Takashi Miike
Miike is directing a reboot of his 2005 fantasy action hit The Great Yokai War, which again pits a schoolboy against Japan's ancient creatures, except this time the Yokai goblins are joined by a selection of monsters from around the world. Scripted by Yusuke Watanabe (Twentieth Century Boys) and starring Kokoro Terada (My Dad Is A Heel Wrestler), the film is in post-production for release in summer 2021. The prolific Miike is a Cannes regular, most recently with First Love in 2019, which premiered in Directors' Fortnight. Contact: Chiyo Mori, Kadokawa mori-c@kadokawa.jp
Junk Head
Dir. Takahide Hori
Gaga Corporation has picked up international rights to this innovative stop-motion animation feature, which is being re-edited for Japanese theatrical release in March. The film is almost a solo effort as Hori was responsible for the original story, character design, cinematography and direction. It imagines a future world where humans have gained longevity through genetic manipulation, but at the cost of their fertility, and are on the brink of extinction. The government sees hope, however, when a group of clones who rioted against humans thousands of years ago appear to regain the ability to reproduce. The original version of the film won a special mention at Montreal's Fantasia Film Festival in 2017 and has played at several other fantastic film festivals. Contact: Keiko Yoshida, Gaga Corp yoshidak@gaga.co.jp
Kakegurui Part 2 (working title)
Dir. Tsutomu Hanabusa
The sequel to Hanabusa's Kakegurui (2019), based on a bestselling manga, is again set in an elite academy that teaches students how to become expert gamblers. Minami Hamabe (Let Me Eat Your Pancreas) and Mahiro Takasugi (Before We Vanish) return for the sequel, and are joined by singer/actor Ryusei Fujii, a member of boy band Johnny's West. The story follows a legendary gambler who is called to the academy to deal with an upstart student who is outplaying all of the school's executives. Japanese release is scheduled for May 2021. Contact: Keiko Yoshida, Gaga Corp yoshidak@gaga.co.jp
Kiba: The Fangs Of Fiction
Dir. Daihachi Yoshida
Yo Oizumi (Tokyo Ghoul) stars as the editor of a struggling magazine in this drama about the ruthless corporate and creative battles at a recession-hit publishing firm. Based on a bestselling novel by Takeshi Shiota, who wrote the book with Oizumi in mind, the film also stars Mayu Matsuoka (Shoplifters), who plays a rookie editor, and Koichi Sato (The Human Trust), as an executive who is trying to shake up the company. Japanese release is scheduled for March 26. Yoshida's credits include A Beautiful Star (2017), Pale Moon (2014) and The Kirishma Thing (2012). Contact: Shion Komatsu, Shochiku shion_komatsu@shochiku.co.jp
Last Of The Wolves
Dir. Kazuya Shiraishi
The sequel to Shiraishi's yakuza noir The Blood Of Wolves (2018) again stars Tori Matsuzaka (Birds Without Names), while Ryohei Suzuki (The Forest Of Wool And Steel) joins the cast. The story is set years after the Irako-kai gang boss has died and two rival syndicates have concluded a peace treaty. However, a Korean-born Japanese mobster, tired of the ceasefire, decides to show no mercy even to the seniors of his own syndicate. In post-production, the film is scheduled for local release on August 20. In addition to The Blood Of Wolves and Birds Without Names (2017), Shiraishi is known for 2016 rogue cop drama Twisted Justice and directed dramas One Night and Sea Of Revival in 2019. Contact: Shujiro Fujioka, Toei shu_fujioka@toei.co.jp
The Night Beyond The Tricornered Window
Dir. Yukihiro Morigaki
An adaptation of a mystery-horror comic by Tomoko Yamashita, one of Japan's hottest female manga creators, this suspense horror revolves around two men – one of whom can see ghosts, and the other who has the ability to expel them – who team up to work as exorcists for hire. They are soon contacted by a police detective, who enlists their help in investigating a spate of murders from the previous year. Masaki Okada, Jun Shison and Yurina Hirate head the cast of the film, which was released theatrically in Japan on January 22. Morigaki has directed several TV drama series and made his feature debut with Goodbye, Grandpa! in 2017. Contact: Shion Komatsu, Shochiku shion_komatsu@shochiku.co.jp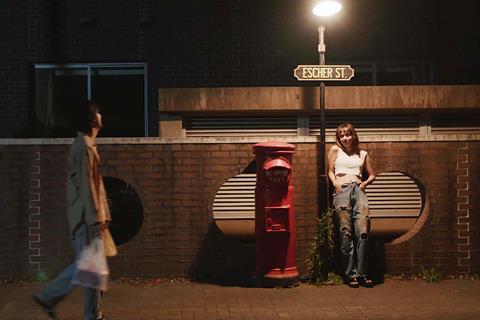 Red Post On Escher Street
Dir. Sion Sono
This comedy drama from maverick filmmaker Sono follows a handsome and critically acclaimed director as he holds auditions for his next film. Many performers dream of becoming the next darling of Japanese indie cinema, but find too many other aspiring actors are standing in their way. Sen Fujimaru, Riku Kurokouchi and Mala Morgan head the cast of the film, which screened at festivals including Mar del Plata in late 2020 and Berlin Critics Week earlier this month. It was also released digitally in the US as part of the Japan Society's '21st Century Japan: Films from 2001-2020' from February 5-18. Contact: Nobi Hayashi, AMG Entertainment n-hayashi@amg-e.co.jp
Remain In Twilight
Dir. Daigo Matsui
Matsui's latest drama, based on the stage play he also scripted, revolves around a group of high-school friends who reunite after years apart to attend the wedding of one of the group. Another member of the group has been dead for years, but still turns up to the wedding, so his friends decide to act nonchalantly and fail to remind him that he is in fact deceased. Ryo Narita (The Cornered Mouse Dreams Of Cheese), Ryuya Wakaba and Kenta Hamano head the cast of the film, which is scheduled for Japanese release on April 29. Matsui's Wonderful World End screened in Berlin's Generation 14plus in 2015, while Japanese Girls Never Die (2017) was invited to the Tokyo and Rotterdam film festivals. Contact: Yasushi Miyamae, ColorBird ymiyamae@colorbird.co.jp
The Samejima Incident
Dir. Jiro Nagae
Rena Takeda (Kamen Rider Amazons) stars in this horror film about a group of former high-school friends who stay in touch via an annual online drinking party. When one of the group fails to show up, her worried friends start to discuss a 20-year-old urban legend, 'The Samejima Incident', which they believe she may have been exposed to. Sakurako Konishi (Colorless) and Harumi Shuhama (One Cut Of The Dead) also star in the film, which was produced by Aeon Entertainment and released theatrically in Japan in late November last year. Nagae previously directed romantic mystery drama Liar! Uncover The Truth (2019), which Nikkatsu co-produced and sold internationally. Contact: Mami Furukawa, Nikkatsu m.furukawa@nikkatsu.co.jp
Sexual Drive
Dir. Kota Yoshida
This triptych about sex, aphrodisiac food and secret desires recently had its world premiere in the Big Screen competition of International Film Festival Rotterdam (IFFR). Although billed as an "erotic" movie, it doesn't feature explicit sex scenes. However, it does feature explicit eating scenes, with one character appearing in all three parts and leading otherwise conventional men and women astray. The cast is headed by Tateto Serizawa, Manami Hashimoto, Ryo Ikeda and Honami Sato. Yoshida's short film Kyojima 3rd St., Sumida City screened at IFFR in 2012, while his feature Love Disease (2018) picked up the best actor prize at Asian Film Festival Roma. Contact: Gabrielle Rozing, Fortissimo Films gabrielle@fortissimofilms.com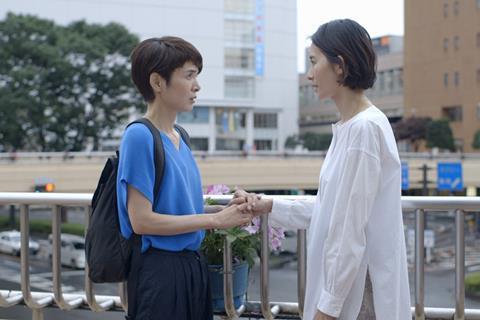 Wheel Of Fortune And Fantasy
Dir. Ryusuke Hamaguchi
Following his Cannes Competition title Asako I & II (2018), Hamaguchi continues with the theme of duplication and mirroring of female characters in this new work, which was awarded the Silver Bear Grand Jury Prize at this year's Berlin film festival. The film comprises three episodes, each revolving around a woman, which tell stories of an unexpected love triangle, a failed seduction trap, and an encounter that results from a misunderstanding. Kotone Furukawa, Kiyohiko Shibukawa and Fusako Urabe head the cast. Hamaguchi also co-wrote the screenplay for Kiyoshi Kurosawa's Wife Of A Spy, which won the Silver Lion at Venice in 2020. Contact: m-appeal films@m-appeal.com
The Women
Dir. Nobuteru Uchida
Yukiko Shinohara (Midnight Diner) and Kana Kurashina (March Comes In Like A Lion) head the cast of this drama about a young woman who has graduated from university but finds her career prospects limited due to Japan's 'employment ice age'. She takes care of her mother – who is half-paralysed and critical of her daughter for being unmarried in her late thirties – and can only find peace through her boyfriend, who is also her mother's caretaker, and a female friend who runs a bee farm. The film is being lined up for a spring release in Japan. Uchida's credits include Love Addiction (2010), which played in Rotterdam and won the grand prize at Tokyo Filmex. Contact: Free Stone Productions fsp-sales@freestone.jp