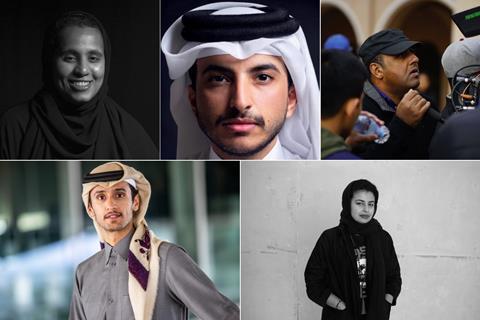 The scope, breadth and ambition of the filmmakers emerging from the Doha Film Institute (DFI) talent incubator Qumra is testament to its ambitions to establish an international-facing industry and produce films and shorts to play for audiences beyond the Gulf state's borders.
Screen spotlights five to watch.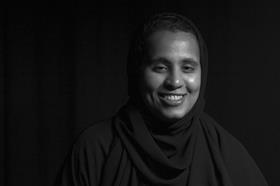 A.J Al-Thani
A.J Al-Thani aims to invent a genre with Khuzama. "It's a Bedouin western," says the writer-director of the feature she is developing and has been selected for Qumra.
Khuzama is a story of betrayal, vengeance and retribution centering on a young heir to a Bedouin tribe and a fight for truth and justice in the perilous, barbaric land of Remal.
Based between London and Doha, the 28-year-old has been developing Khuzama for five years. She is also readying a TV series called Arabnovela, a nod to Qatar's telenovela producing heritage.
Her filmmaking ambitions began with the launch of the Doha Film Institute and in 2010 she took part in one of its first film workshops and has gone on to sign up for every workshop the DFI has subsequently offered. Al-Thani's 2016 short Kashta won the Made in Qatar award at what was then known as the Ajyal and her second short The Black Veil debuted at the Tribeca Film Festival in 2020.
Al-Thani plans to shoot Khuzama in Qatar next year out in the desert, outside the modern metropolis Doha. "When I go out in the desert with my camping gear I feel I'm at one. The desert is my home."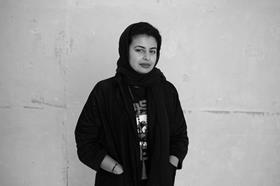 Hamida Issa
After making films for over a decade, Hamida Issa's new documentary feature Places of The Soul is set to be the most emotional and personal project of them all.
The feature-length documentary film follows Issa on a journey to Antarctica with an environmental and leadership expedition where she encounters the complex realities of the world's most untouched natural wildernesses.
"Making this film has been such an existential crisis, it was a purification process," explains Issa. "It was my healing and it is my life."
Seven years in the making, Issa's documentary explores the duality that exists between modernity and tradition and nature and civilization, the ice desert of Antarctica and the sand desert of Qatar. It is also a love letter to Issa's mother. She died when Issa was 13-years-old but left her daughter an entire library of tapes she had filmed during the filmmaker's early childhood.
DFI has supported Issa's efforts from the get-go and returns to Qumra for the third time with Places of the Soul having been to production and work in progress incubators. It is now at the picture-lock stage. Landing an international film festival run and a distribution deal is on Issa's to-do list.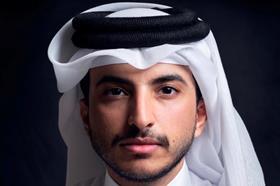 Khalifa Al-Marri
Doha native Khalifa Al-Marri has been making films since high school. He now juggles his full-time role with Katara Studios in Doha as a director/creative producer with the early stages of writing his debut feature film. The recent success of Al-Marri's short Olayan about a Bedouin boy and a camel cemented Al-Marri's reputation as one to watch: The DFI Qatari Film Fund -backed short won the Made in Qatar best narrative award and best short film in the Hilal jury programme at the 2021 Ajyal Film Festival.
"I just won these awards and everyone keeps asking 'who is this guy and what's his next project?'" he laughs. "But everyone says the first feature has to be unique and this is why I'm afraid of choosing too quickly. A feature is a big step up from a short so I want to make sure what I do is different and not what people expect."
Katara Studios is willing to fund his next feature and the Doha Film Institute is also happy to help. Al-Marri insists he wants to make his feature debut in Qatar as it will mean more freedom and more time for the production.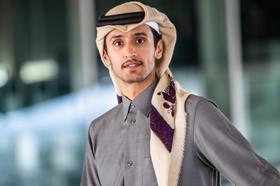 Ali Alhajri
March 2022 finds Ali Alhajri busy in the post-production editing suite with his debut short film Kinship, selected for Qumra's shorts section. It details the story of a man on the cusp of fatherhood wrestling with his past and how he is facing becoming a dad. It is shot in Arabic and Qatari Bedouin.
"I'm excited to participate in Qumra, getting the feedback from people within the industry about my work," he tells Screen.
Alhajri did some crowdfunding via Indiegogo and also secured support from the Doha Film Institute.
"It was very important to me to go through the real independent filmmaking financing process to be able to create a film just so I know what it takes to make a film," he explains.
A fan of genre films that blur the line between fantasy and realism, the filmmaker says he is harnessing and channelling his self-diagnosed ADHD into his filmmaking.
His day job is at the Qatar Foundation where he produces/directs short documentaries.
"I'm interested in how our minds sometimes blur fiction and reality. How does that create the world around us individually?" he says. "I want to see how I can use the visual language to tell the story of someone's internal conflict.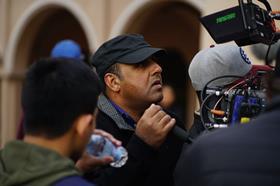 Mahdi Ali Ali
As a manager at the Doha Film Institute for over a decade, Mahdi Ali Ali has racked up executive producer and supervisor credits on more than 30 short films produced by the Institute.
The Qatari native, an MFA graduate from EICAR, the International Film School of Paris, is developing his first, as-yet-untitled feature-length fiction project. realising his childhood dream of writing and directing a film.
The film centres on a Qatari man going through a painful divorce and the fallout for him, his wife and their children. "I hope my project will go into production at end of the 2022 and I will aim to start casting for it this summer," says Ali Ali.
It is 70% financed by the DFI and Ali Ali, well-placed because of his DFI service, is talking to potential backers for the final 30% across the region including the Turkish Radio and Television Corporation fund (national public broadcaster of Turkey), AFAC (Arab Fund for Arts and Culture) and other Qatari funds.
"I'm happy that the DFI has the infrastructure for producing short films, but for the feature films, we still need manpower, technicians. The money's there but the equipment and manpower is what we are missing in Qatar for feature film making."