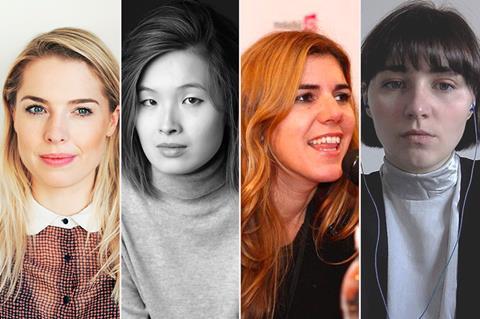 Four international filmmakers talk about their projects and what they hope to achieve at this week's CineMart, taking place as part of the online International Film Festival Rotterdam.
A Dutiful Wife
London-based Haolu Wang is the writer-director of A Dutiful Wife, a feminist psychological thriller, which she plans to shoot in China. It is being produced by Liang Ying and Huang Xufeng at Factory Gate Films.
"CineMart showcases and supports filmmakers dealing with subjects that are bold and confrontational. A Dutiful Wife is a psychological thriller but given the context of it being set in China and being a feminist film, I can see it as being quite confrontational on many fronts," says Wang. "I can see quite easily the controversy it will stir."
Wang and her producers are attending CineMart looking for "like-minded" European co-producers who, she believes, may be more understanding about the film's themes than some of their counterparts in China itself.
"You have the global MeToo movement and the global feminist awakening. People are very aware of what is happening. But in China that is really not the case…women's rights are going backward. We want to find support and understating from Europe."
A Dutiful Wife could be made using the UK-China co-production treaty. The director emphasises she doesn't want to make "an underground film" and that the majority of the financing is therefore likely to come from China. "It's most important for me that people in China do see these film, especially women."
A recent graduate of the UK's National Film and Television School, Wang also has another project on the boil, a UK-set sci-fi love story Fellow Travellers. "They are quite different, the two mentalities and cultures. When I am writing a Chinese project, I really think differently, in a different language. Living in London gives me a distance to be able to portray China in a way that, if I always lived in it, I wouldn't be able to see."
Producer Liang Ying was formerly a sales agent, working at Asian Shadows. Wang says she is one of the rare female Chinese producers.
"It is very hard to find a producer in China that understands what I am trying to do with A Dutiful Wife," says Wang of her producer. "Most producers [in China] are men. Ying is the one person who understands what I am trying to do. She really understands my creative taste."
Ground Zero
Iryna Kovalchuk is the producer of Ground Zero, a Ukrainian drama that will be directed by Zhanna Ozirna.
Kovalchuk, the founder of Radar Films, jokes she and her director partner Zhanna Ozirna are "those rare birds" in the Ukrainian film industry not based in Kiev. She has her offices instead in Lviv. Radar, she adds, is the "only regional film company" in the country.
The producer describes Ground Zero as "a comment on modern Ukraine. It reflects the way we transform reality in the way we would like to see it, not the way it actually is.
"Ukraine is a big country with a lot of controversial sides. We would like to explore and show them in our films…Ground Zero can be referred to as a feminist story. We have a very strong female character who is the main character in the film."
She and Ozimaa are looking for international partners during CineMart.
"The main thing about CineMart is that it feels like family. They give very big support to the project. Of course, we would have liked to have been present physically but still I would say that CineMart gives us a lot of possibilities."
Cora
Amanda Livanou is the Greek producer of Evi Kalogiropoulou's CineMart project Cora and founder of Neda Film.
Livanou is a regular CineMart attendee. "It's a great, great market to launch a new project which is what we are doing with Cora," she says. "I am a fan of it, very loyal to it and I think it works great."
Cora is billed as a supernatural drama about the struggle of two young working-class women for freedom and their own identity within the confines of a dystopian patriarchal society.
"The project has very strong characters which I really love," says Livanou. "That is one of the things that connected me to Evi [Kalogiropoulou] and the project in the beginning."
Director Kalogiropoulou's short film Motorway 65 was in official competition at the 2020 Cannes Film Festival in October. "Time-wise, this is perfect," says Livanou. "CineMart attracts everybody in Europe, market-wise, and with some interesting non-European presences. It has a very good mix of sales outfits and co-producers. The meetings are as good as they can get."
Future Me
Olivia Sophie van Leeuwen, head of the documentary film department at Amsterdam-based Halal Docs, is taking part in CineMart with Vincent Boy Kars' hybrid project Future Me.
Last year, van Leeuwen was at IFFR accompanying Vincent Boy Kars' Drama Girl, which screened in the Tiger Competition. Now, she is back at CineMart with his next project, Future Me, the third and final part of his trilogy about Dutch millennials. She is looking for co-producers "and maybe a brave sales agent who wants to get on board at this stage".
Last year, Drama Girl opened in Dutch cinemas for two days – and then the pandemic hit. At least, the producer jokes, "the posters were everywhere for a very long time."
The new project blends documentary and fictional elements as the director envisages how his future life might turn out. He has recruited an actor to play an ageing version of himself.
CineMart is the first time Future Me has been presented anywhere. "It's still very early so it's a bit scary," the producer says. "If there is a place in the world where special films like this, which cannot be categorised, belong, it is IFFR."
The Netherlands Film Fund is already aboard the project as is broadcaster VPRO.