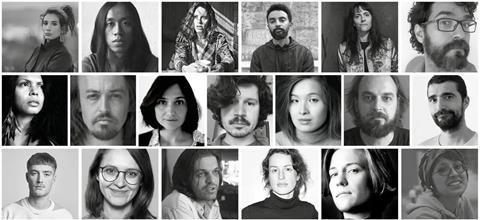 CineMart, the co-production market of the International Film Festival Rotterdam (IFFR), has revealed the 17 feature projects to be showcased at the upcoming edition, which will take place entirely online.
The market will run February 1-5, during the 50th IFFR, and will invite filmmakers to pitch their projects virtually to a host of international film professionals in tailored one-to-one meetings, as well as online presentations that are open to all CineMart guests.
Eleven of the filmmakers are returning to IFFR after previously screening films at earlier editions, with four of those directors having been nominated for IFFR's flagship Tiger Competition: Vincent Boy Kars, whose Drama Girl played at IFFR 2020; Johannes Nyholm, whose Koko-di Koko-da screened at the festival in 2019, and Filipa Reis and João Miller Guerra, whose Djon África was selected in 2018.
Nyholm previously secured a grand jury prize nomination at Sundance in 2019 for Koko-di Koko-da and special jury prize at San Sebastian in 2016 for The Giant.
In addition, Evi Kalogiropoulou's Motorway 65 was nominated for best short film at Cannes 2020, Carla Simón won the best first feature award at the Berlinale in 2017 for Summer 1993 and Nele Wohlatz's El Futuro Perfecto won best first feature and was nominated for a Golden Leopard at Locarno in 2016.
Three of the selected projects were previously supported by IFFR's Hubert Bals Fund (HBF), including Nele Wohlatz's ¿Duermen Los Peces Con Los Ojos Abiertos?, Shahrbanoo Sadat's Kabul Jan and Truong Minh Quý's Viet and Nam. Among the selected filmmakers, Sadat, Ana Cristina Barragán and Felipe Bragança have had other film projects previously supported by HBF.
The 38th edition of CineMart will take place during the IFFR Pro Days, which also runs February 1-5. IFFR Pro has also selected four VR projects for inclusion in this year's CineMart.
An additional seven projects will be presented as part of BoostNL, a collaboration between CineMart and Netherlands Film Festival that aims to strengthen the market potential for Dutch films in development and international projects that have previously received support from the Hubert Bals Fund.
CineMart 2021 selection
¿Duermen Los Peces Con Los Ojos Abiertos? (Arg-Braz-Neth-Ger)
Nele Wohlatz, Ruda Cine/CinemaScópio/Circe Films/Blinker Filmproduktion
Cora (Gre)
Evi Kalogiropoulou, Neda Film
Do You Know Anything About OMID? (Iran-Fr)
Keywan Karimi, Key Film/Promenades Films
Dreyana Grooms (US-Fr)
Gabe Klinger, CogniCine/Black Monarch Entertainment/Les Films Hatari
A Dutiful Wife (China)
Haolu Wang, Factory Gate Films (China)
Firehawks (Sw-Den)
Johannes Nyholm, Johannes Nyholm Produktion/Beofilm
Future Me (Neth)
Vincent Boy Kars, HALAL
Ground Zero (Ukr)
Zhanna Ozirna, RADAR Films
The Ivy (Ecu-Mex)
Ana Cristina Barragán, Boton Films/BHD Films
Kabul Jan (Ger)
Shahrbanoo Sadat, Adomeit Film
The Last Tears Of The Deceased (Eth-Can)
Beza Hailu Lemma, Gobez Media/Gobez Media
Légua (Por-Braz-Fr)
Filipa Reis/João Miller Guerra, Laranja Zul/Uma Pedra no Sapato/Desvia/KG Productions
Macunaíma (Braz-Fr)
Felipe Bragança/Zahy Guajajara, Duas Mariola/Promenades Films/Globo Filmes
Milano (Bel-Neth)
Christina Vandekerckhove, Lunanime/Bastide Films
Novak (Gre-Neth)
Harry Lagoussis, Heretic/keplerfilm
Romería (Sp)
Carla Simón, Avalon P.C.
Viet And Nam (Viet-Phil)
Truong Minh Quý, Epicmedia Productions Inc
BoostNL selection
Holy Electricity, Vakhtang (Tato) Kotetishvili, Ogasavara Films/Nushi Film/The Film Kitchen/AMONDO films/Stout&Smits (Georgia/Poland/Netherlands)
Jacobsweg, Eelko Ferwerda, BIND/Vico Films (Netherlands/Ireland)
De Maalstroom, Teddy Cherim, Graniet Film (Netherlands)
Marina, Laís Santos Araújo/Pethrus Tibúrcio, Aguda Cinema/Carnaval Filmes (Brazil)
Marionettes, Arianne Hinz, Rinkel Film/Alchemic Film (Netherlands)
The Settlement, Mohamed Rashad, Hassala Films/Caractères Productions (Egypt/France)
Un Personaje Volador, Martina Juncadella, Una Presencia Cine/Vitrine Filmes (Argentina/Spain)
Immersive selection
A City Of Foxes, Nihaarika Negi, Tamanoir Immersive Studios (France/USA)
Goddess Of The Water, João Paulo Miranda Maria, Les Valseurs (France)
Orphée Et Eurydice, Robin Coops/Avinash Changa, M31 Foundation/WeMakeVR (Netherlands)
Tokoloshe And Other Behemoth Creatures, An African Folk–Gore Anthology, Kirstin Lee Grey/Tsoku Maela, different (South Africa)