Glen Basner, Nick Meyer, Helen Lee-Kim and Alex Walton spoke to Screen Americas Editor Jeremy Kay.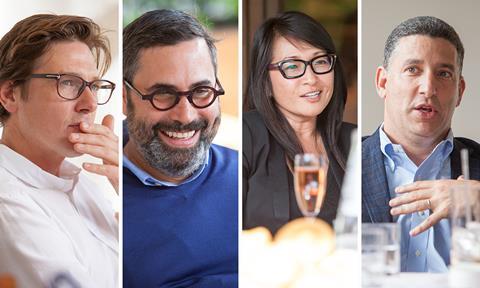 To regard Glen Basner (CEO, Film­Nation, middle left), Nick Meyer (CEO, Sierra/Affinity, far right) Helen Lee-Kim (partner and head of international, Good Universe, middle right) and Alex Walton (CEO, Bloom, far left) as simply sales agents is to miss the point.
As Netflix and Amazon Studios transform the landscape, and audience demographics, tastes and the way people consume content continue to evolve, the executives are looking deeply at their businesses and striving to innovate.
Everyone participating in the lively conversation at the Mr C Beverly Hills hotel in late April emphasised the need to accept that disruptors are critical elements in the ecosystem — and indeed elements that can create new opportunities across the industry.
Each of their companies has enjoyed success with theatrical fare that has elevated cinema-going. FilmNation has Oscar-nominated Arrival, which has grossed nearly $200m worldwide. Sierra/Affinity's Manchester By The Sea is a $75m global hit starring Oscar winner Casey Affleck. Good Universe teamed with 21 Laps, No Trace Camping and WME Global to sell worldwide rights on Kin to Lionsgate. Bloom's upcoming slate includes George Clooney's Suburbicon starring Matt Damon and Julianne Moore, and Scott Cooper's Hostiles with Christian Bale and Rosamund Pike.
There is hunger for more theatrical success, as well as a broader desire to champion premium content across its many forms. How do you adapt and build your business to survive?
Glen Basner: Instead of following a traditional model, we're looking to create as many different models to distribute, monetise and exploit our films or television. So whether it's selling traditionally, territory by territory, or doing a worldwide deal with a studio, or selling to Netflix or Amazon or anything in between, for us it's just about matching up the right film to the right distributor and the right financial plan. And being open to and creating those new models continues to allow us to have the scale and scope of our business.
Helen Lee-Kim: The lines of content are all blurring. TV, film, videogames — the convergence of all that media is being driven by the consumer. It used to be that distribution was king, content was king. Today, the consumer is king. And so we're leaning into how can we get our hands in a variety of these buckets and be experts on the creation of this content, whatever that content is, and then match it up with the best distribution plan.
Nick Meyer: The key to survival is perpetual evolution. You can't stick with how you do things and make everything conform to you; you have to reinvent yourself rapidly, consistently, while still staying committed to the core ethic of what your business is. That means you have to be prepared to reinvent yourself all the time. Otherwise it's almost impossible to stay relevant in a landscape that's shifting as quickly as this.
Alex Walton: We've all been moving away from just being a supplier of movies to supplying our own movies, creating our own content, owning more of our content, which gives us more control of the supply line and actual profit centre. You have to be agnostic about distribution.
Who are some of the partners you have met who are outside the traditional film sphere?
HLK: We have a partnership with this very interesting, narrative-driven videogame company [Campo Santo]. They just won a couple of Baftas and have this videogame called Firewatch. The game plays very naturally as a three-act film. Very character-driven. It's on a gaming platform now, but we see no reason why it can't be a movie, a series, short-form, VR — all of those things.
GB: We invested in a VR platform called Littlestar. This opportunity came through an existing relationship and we used it as a way to continue to put capital to work and to get educated on VR. At some point when VR migrates into our space of storytelling, hopefully we'll be ahead of the curve.
What do buyers need to do to stay relevant to you?
NM: The traditional territorial distributor is at a really challenging point. Their commitment to helping make movies happen, which has been the traditional model for them, is not consistently working in the way it had. That said, their opportunity to secure the rights to those projects relies on them still being that independent, entrepreneurial risk-taker. Output deals haven't been good for a lot of them over the last 24 months, and that's also caused them to be reticent if they have limited capital to continue to be aggressively pre-buying projects. And yet that entrepreneurial spirit is what's going to allow them to have success, which is going to recirculate dollars or pounds or euros into the ecosystem. Together we have to continue to find a way for them to make those bets and have enough success for them so they continue to stay viable.
GB: I'm more worried about how we remain relevant to them. How do we continue to supply them with films that compel them to pre-buy — because that's what the foundation of our business is based on — and execute so they are rewarded for taking that risk? It's less about how they remain relevant to me, because I still find them to be foundational relationships for my company and, despite all the change, will remain foundational relationships for my company. While they're going through change and figuring out their business… it's my job to listen and then act.
AW: The majority of them are making local content. The studios were controlling that space for many years and the majority of the key partners, including output partners, are making their own strong TV and film. If they're going to acquire one of our films at an early point, it needs to stand out in terms of quality for them to monetise that in their local market.
Have you introduced buyers to new formats?
HLK: We helped Awesomeness launch their feature film business, so Awesomeness Films president Matt Kaplan came to Cannes last year and pitched how they built their business in this digital world, and their plans for this feature-film business. Then we thought we'd explore to see if some of our all-rights guys would be interested in sticking their toe in this digital space. It was exciting to see their faces light up because they saw potential growth. They've licensed the movies and we bundled some short-form, which wasn't part of the original conversation. They have these great distribution and marketing teams… and what can those teams now leverage across different platforms to complement each other?
How do you engage with digital natives?
HLK: That demographic has always been one we've looked at from a film perspective. It's just that they need to be compelled to go to the movies.
GB: Rather than looking to target the five-to-10-year-old demo in five years, I'm trying to look at how people are consuming either short-form or long-form content and on what devices — and trying to match up stories that can have impact.
You work or are likely to work with the disruptors-in-chief Netflix and Amazon Studios, and yet distributors including your traditional buyers struggle to compete with them. How do you reconcile that?
NM: It's another home for creative content, so there's content that's going to traditional buyers and then there's content that's suited for one of these streaming services. That's good for people in the business of telling stories and creating content. We all sit in a somewhat small pond — the traditional independent territorial distributor is a huge part of that — particularly in the feature-film business. We're all in it, so everyone is interconnected in some way. We do business with the studios. We do business with the independent buyers. We do business with Netflix. We do business with Amazon. That's our ecosystem.
AW: Our buyers are all clients of those companies, and eager to be. There's caution that has been in the marketplace and in the short term those companies are going to be able to take risk where our buyers aren't able to take risk in terms of new filmmakers and new talent. They can be less traditionally driven and don't have to have the same historical, television-based business, so they'll be breaking more talent, which has been the lifeblood of independent film, and we'll then benefit from that and our buyers will too.
GB: What you hear from the US distributors at festivals is it's a struggle to compete because the economics are completely different in how Netflix or Amazon evaluate a movie compared to how they do. If you look at Sundance, a lot of movies that could have been sold to a theatrical distributor may have ended up with Netflix because they were simply willing to invest more, or saw more value in the film. That I hear quite a bit.
HLK: They are an option. They're not the only option, but they need to be weighed up against everything else.
GB: There's so much fundamental change in how a distributor buys a movie from us and how they can go monetise that film. The disappearance of DVDs, the lack of competition in free TV in certain markets… there are many factors going on that are affecting the ability of distributors to monetise what they buy from us.
NM: The importance of premium content is vital. It doesn't matter how it's being consumed. If you look at the earliest days of Netflix territorially, they were buying huge amounts of library — that's how they started to fill their hours. Not anymore. Now they're looking for premium content, whether they're creating or securing.
What impact are non-traditional buyers having on holdbacks?
AW: For an international buyer to have invested in a premium title that they're then held back on as it opens domestically on VoD or day-and-date, that's a particular challenge to buyers outside of piracy. If a US release is seen [internationally] as television-based, getting exhibition in key worldwide markets is tough. We're not seeing broken windows as much [yet] around the international marketplace, so it's a real challenge for them.
HLK: Some are trying to evolve. In Sundance there was a film that was picked up domestically by Netflix [that Good Universe sold internationally, Mudbound] and we were very sensitive to everyone's situation and kept them in the loop on what was happening in the US. There were a handful of distributors that realised there are shifts in the model, and they're trying to find a way to adapt and release the title locally.
NM: We've been through a situation on a movie where the inverse happened [Wild Card]. Domestic [Lionsgate] was going to go day-and-date, but we said, "Hang on a second, [maybe] the movie can go wide internationally in markets that are a minimal piracy risk" — we had that dialogue. That takes a lot of work on our part, but you do it because you're protecting the artist, you're protecting the content, you're protecting your distributor.
What other elements of theatrical distribution should be addressed?
HLK: When you take the macro view of the theatrical model, the day somebody can crack the nut of maximising a wide release and not spend $25m or $50m to release the movie in P&A — that is the day movies we all make will have a huge resurgence in the marketplace. A24 is doing it already and hopefully BH Tilt will get in there.
GB: Even if they just cut back 10%-15% and can have the same result, that would be the margin on every movie.
What opportunities excite you and what keeps you up at night?
NM: The opportunities are the ability to put great stories together and be that connective tissue between the artist and the audience and everything in between. What keeps you up at night is the same thing. How do you keep finding premium content?
GB: I haven't slept well since the '80s! You read about everything as if it's zero-sum. "Is theatrical going to be around and is Netflix going to destroy it?" I think it's a little bit more nuanced than that. My biggest concern is what's going to be the piece of material that excites me to push the boulder up the hill? I'm just worried about what the next one is and the one after that and the one after that.
AW: We're in an era when there's never been a greater demand for content. There are many different ways of exploiting it, but there are more buyers out there than ever before, largely US-based and increasingly worldwide. That's a very positive sign for the long life of storytelling, whether that's in cinema, TV, short-form or whatever. The business is healthy. It's evolving.
HLK: The moviegoing experience is still a shared one. Seeing a film in a packed theatre — you can't replicate that feeling.
GB: You look at the Academy Awards last year and independents did really well. But then you also look at the box office of movies like Manchester By The Sea, Nick's film. It's amazing and to suggest that the theatrical business is dying doesn't make sense to me when I see the grosses.
What have you learned about TV?
HLK: We're very intimate with comedy and genre. We have a comedy with HBO [Brotherhood], so we're definitely leaning into what we know but very open to everything else.
GB: I've learned that TV is changing very rapidly in terms of what broadcasters want to buy. It changes from meeting to meeting. The [need for] premium content is the same and having things be more filmic has real value. But, at the same time, it's not analogous to making a film and, at first, I thought I'd be able to just translate and jump over. But, actually, I've taken a step back and have been asking questions and learning.
Are stars important?
GB: We think the star concept is a very old-fashioned way of looking at the business. Would we want big stars in our movie versus not? Of course. But is that the only thing? Absolutely not. It is one component of many things that are required for the magic to happen.
NM: The movie's the star. It starts with the story you're telling, which generally attracts the director, producer or showrunner, which brings the cast.