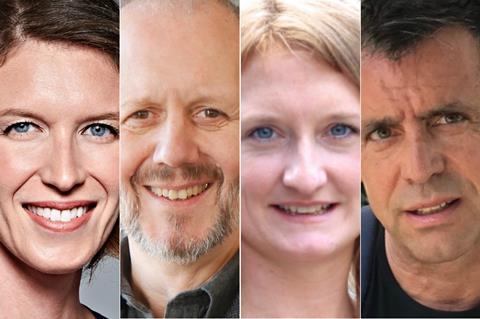 As Venice reignites a disrupted year in which the Covid-19 pandemic has forced the cancellation or online pivot of one film festival after another, Screen gathered together four of the UK's leading independent producers in the closing days of August for a wide-ranging conversation that took place over, of course, Zoom.
The link between the quartet is that they all have films programmed at one or more of the early autumn festivals.
Nicky Bentham of Neon Films, whose previous credits include Moon and The Silent Storm, kicks things off with Roger Michell's The Duke, which has its world premiere today (September 4) in Venice out of competition. The Pathe, Ingenious and Screen Yorkshire-backed production stars Jim Broadbent and Helen Mirren in the true story of a Newcastle taxi driver who stole Goya's portrait of the Duke of Wellington from London's National Gallery.
David Parfitt, the Oscar- and Bafta-winning producer of Shakespeare In Love whose recent credits include Red Joan, had a brilliant start to 2020 when Florian Zeller's adaptation of his own stageplay The Father emerged from Sundance with a halo of awards buzz. Starring Anthony Hopkins and Olivia Colman, the drama about an older man questioning his reality was produced under Parfitt's Trademark Films banner (alongside France's FCommeFilm, Ciné-@ and Les Films du Cru) and is one of the 50 films selected to play at this year's slimmed-down Toronto.
Also playing at Toronto is Wildfire, the latest feature from Charles Steel of Cowboy Films, whose other credits include The Last King Of Scotland, How I Live Now and the Top Boy TV series for Netflix. Cathy Brady's feature debut stars Nora-Jane Noone and Nike McGuigan as two sisters growing up on the fractious Irish border. Steel's co-producers were Carlo Cresto-Dina and David Collins, and the film was backed by BFI, Film4, Screen Ireland and Northern Ireland Screen.
Capping off a busy month of September festivals is San Sebastian, where Supernova, produced by Emily Morgan of Quiddity Films (alongside The Bureau's Tristan Goligher), will make its bow in the Spanish festival's main competition. With backing from the BFI and BBC Films, Harry Macqueen's second feature stars Colin Firth and Stanley Tucci as long-term partners, one with early on-set dementia, who travel across England to visit family and friends. Morgan's previous credits include I Am Not A Witch and Make Up.
With Morgan dialling in from Amsterdam, Bentham from Tuscany, Parfitt from his home in south London, and Steel from Top Boy's central London production offices, the four producers reflected on finally having the chance to show their films to a cinema audience, the many challenges of this pandemic year, and their views on the future of UK indie production.
How does it feel knowing your films will now finally screen in front of physical audiences?
Nicky Bentham: I'm excited. It's a feel-good film with lots of natural humour and warmth and so it's been a real challenge for us, having to watch that on links, on small screens, in small groups or individually. I'm excited to show it to an audience. We actually found out the news that we were selected for Telluride first so there's been real highs and lows with this process. To find out that we're selected and then for the festival to be cancelled is obviously disappointing.
David Parfitt: Like Nicky, we had Telluride and that was sad to lose. I know Sony [Pictures Classics], who are releasing for us in the States, are having to change their strategy by the hour, as far as I can see. We were having conversations this morning with Lionsgate [in the UK], and they're very supportive of [taking the film to] Zurich and San Sebastián. But also, we're quite cautious because Toronto is partly online and we're really keen for people to see this on the big screen. We're being quite strict about how you can view it online; we've capped our online screenings at [TIFF] to North America press and hopefully the European press will see it on the screen here.
Emily Morgan: We were in limbo for a long time, and just hoping we would get a physical premiere. When you've made a film which you've only ever thought of as premiering in a cinema, the thought that it wouldn't do that just feels devastating. Especially this, where there's a magnitude of emotions and landscapes in the film, we shot it all in the Lake District, so really thrilled that it will show on a big screen. It still feels like limbo until we're there and it's screening, and then hopefully it's going to kick off a series of festivals over the autumn, which is good for all the distributors who pre-bought the film.
Charles Steel: I love hearing what David said because only this morning, I was scratching my head over how to limit the digital press screenings [at TIFF] for other festivals that will follow outside of North America. I have mixed emotions. Wildfire is a really intense drama; you want people to see it in one experience on the screen. That said, it's been a very tough experience finishing this film, it's been a tough process through post, we lost our sales company [Great Point Media pivoted its sales arm to focus on TV, with Film Constellation now representing the film], we've had a lot of knocks. So it feels, equally, a real ray of sunshine to have somewhere like Toronto give it a chance to start its festival journey.
Are you attending Venice, Zurich and/or San Sebastian and is your talent coming too?
EM: We're still working out what's going to be possible, especially because the actors are shooting and whether the production insurance allows them to travel. But in terms of me, Tristan [Goligher] who I'm co-producing with, and Harry, we'll definitely be going [to San Sebastian]. But then, yeah, it's the quarantine question back in the UK. They aren't announced yet but say we end up in Zurich and then LFF – it's tough to work it all out.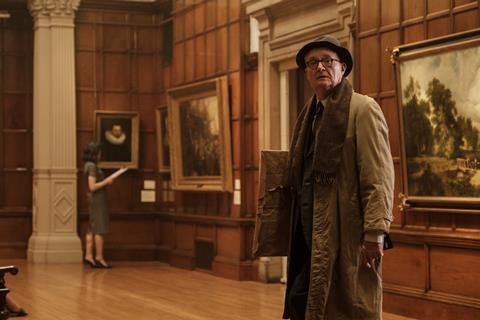 NB: Everyone is leaving their travel plans to the last minute because things are just changing across Europe in terms of numbers and quarantine regulations and flights available, all that sort of stuff. Through the whole lockdown and this whole process, my mantra has been "one day at a time" and we just have to continue in that way. [Bentham confirmed after the conversation Broadbent is attending Venice with Bentham and director Roger Michell but Los Angeles-based Mirren was not able to come.]
DP: Same as everyone, we're feeling our way somewhat. The actors are definitely not travelling because Olivia Colman is working solidly and Hopkins is 83 and doesn't want to risk it. But he's very keen to do stuff online, he loves doing his online stuff. Florian Zeller is French and he'll definitely do the European festivals, and we may or may not join.
CS: We know the European ones are going to be easier to get to for sure, but I don't know yet about what and where we're going to visit. Cathy is in Dublin and Nora-Jane is in LA. We'll see.
When did you complete your features? Did you need to make any pandemic pivots with your post-production schedule?
DP: Actually, we just scraped into Sundance with an unfinished film. The cut was finished but we didn't have proper end credits and we were still waiting for visual effects shots. So I was sort of gently cocky as it all happened, thinking, "This is going to be fine, it's going to be easy." But it's been really hard, actually, and we are still not quite delivered yet. I'm in my study today because I've got two people working on it in the other room. Our post was in Paris, but that was very closed down, and we brought some stuff back to London to Molinare, who were working but only at reduced capacity. We were trying to fit in between other projects at Molinare, who were amazing. But a lot of juggling.
EM: We were supposed to have a DCP sign-off in May, and it happened last week. Poor Harry, it was just so drawn out and so hard for him not being able to be in the same room as people to work on things. Obviously, it was that thing where things could move forward because the sound work, the grading could even happen remotely, but it just was all that crunching through it rather than having that flow that you'd normally expect. Having to do everything remotely was tough. Dick Pope, our DOP, is in his seventies, so he was supposed to be shielding. But we finally got there.
NB: We finished shooting at the end of February so we were two weeks into the edit when lockdown hit, which all felt completely terrifying and like a really insurmountable task, but on reflection it was probably fortunate timing because it was just a very focused period for the editor and Roger. We moved everything to remote-working and everyone adapted very quickly. Then we picture-locked in May just as things were starting to ease a little bit, so it meant that we were able to do some things in person, obviously with restrictions and distancing and certain precautions. Everyone was really galvanised to push through. The ambition was always to be ready in time for the autumn festivals.
How did coronavirus impact other productions you were working on, or your development slate?
DP: We were out to cast on one project that will now push into next year. We've just pushed everything on a year. I looked at it and thought, "Let's just close until Christmas, keep a few things going, and then wake up again in the New Year." One big change is I don't think we'll have a central London office anymore. It seems to have worked fine from home and I'll just pick up office space as and when. I mean, I'll miss it and I love it, especially that pre-prep period where everyone is crowding into a space and the things that you can get going before the funding comes in – I'll miss that. But I don't think that we can keep it going. Half of our business at the moment is theatre which, if anything, is even worse affected than film, with no clear plan of how to go forward.
NB: I was in discussions with an A-list director at the beginning of the year for another project, and that just completely fell over because this director has got other things lined up before my project and now they've all been delayed too by an indefinite period. It's made that process of squaring a circle, which is hard enough in the best of circumstances, even trickier.
CS: We were in prep when lockdown hit. We were two weeks in on a Netflix show [Top Boy]. Lockdown was quite busy just keeping it alive and kicking, and now we opened up again a couple of weeks ago and we're shooting in about six or seven weeks. We've got the production office up and running and we're back on, at this stage anyway.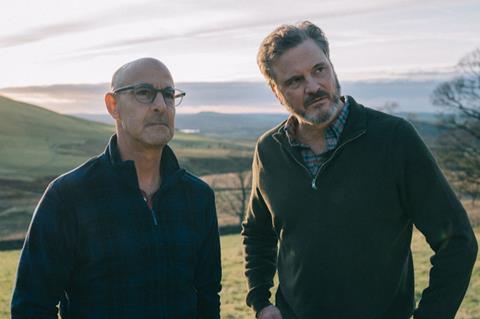 EM: Generally in the Netherlands, everything has just been a bit easier because it was so contained here, whereas with Supernova we were working with [supervising sound editor] Joakim Sundstrom and we were planning to mix in Sweden, so that changed things on the sound side. The project here is a Lemming film that I was a producer-for-hire on last year, I'm also following through post; it's called Do Not Hesitate. I didn't have anything on the brink of shooting but there was an aim to shoot a film in Brazil in October, November, because the financing was coming from there. It's actually a novel set in France that we were relocating to Brazil, and now that Brazil seems so impossible, we're looking at resetting it back in Europe, possibly Greece. We're just exploring other options so that we might stand a chance of shooting it early next year. It's called Swimming Home and it's the first feature of Justin Anderson; I'm co-producing it with Andy Stark.
How else did you spend your time in lockdown?
DP: I did a lot of decorating, a lot of gardening. I built a shower room, so yeah, I'm going back into the building game.
NB: I did lots of good cooking and the thing that I really enjoyed was having weekends as proper weekends. Because there wasn't so much work going on and – I know this sounds really mean – because I didn't have to take my kids to loads of birthday parties or activities and lessons, it meant we just had proper family time at weekends. It was, I guess, what weekends are meant to be for and a good reminder to try and keep that space a bit sacred in future.
EM: Exactly, friends and family – something for once verging on a balanced life! And catching up on a lot of films and TV I'd always intended to watch and never had, which paves the way for me feeling a bit more able to look at going into TV. And going so much deeper into development than I normally would, having so much time to watch all the reference films, or read a draft a good few times before feeding back to a writer. It was tempting to look at taking on a lot more but I just decided to go deeper into the projects I already have on my slate and try to get everything as prepared as it can be for when it becomes possible to shoot again.
CS: I don't have much more to add, the benefits being, on a personal level, time for my son who's seven. Professionally, focusing on the development side. We've started another two or three new projects which we're funding and generating ourselves, and have struck the deals that work for us to do that and that feels a bit different for us. Normally, we try to offload the development costs elsewhere, [to] financiers along the way, and it just felt slightly more empowering to do that, so we'll see how that pays off.
Did all of you watch more television during lockdown than you normally do? What's your lockdown recommendation?
EM: I'd never watched Patrick Melrose before! That was great.
DP: I went back a bit further and we got the entire series of The Wire, which I've never seen. I'm now working my way through The Sopranos, which I'd also never seen. Fantastic stuff.
CS: Once Upon A Time was the best thing I saw recently.
NB: I really enjoyed watching loads of monster movies so for me, it was The Host, Train To Busan, Shin Godzilla.
Do you have an Asian-influenced monster movie on your slate?
NB: There's something turning over in the back of my mind! But I really enjoyed that kind of escapism and loads of great storytelling in those films, so that was definitely an obsession.
What do you think of the production guidelines that were unveiled earlier this year to allow the resumption of shooting in the UK, particularly from an indie producer perspective?
NB: It's important to have something written down to give people confidence of what the pathway back to production and, of course, safe production is going to look like.
DP: We're all pleased that there are some guidelines that we could use were we heading into production, and anything that gets things up and running again has got to be welcomed. But I'm not sure we could have shot The Father under those guidelines with an 82-year-old leading man. I suppose we might have been able to lock everybody into West London film studios and keep them in a bubble, I don't know. So I guess it depends on the type of production. Also, a lot of our budgets are so edgy as it is, how much room have we got to take on the additional costs?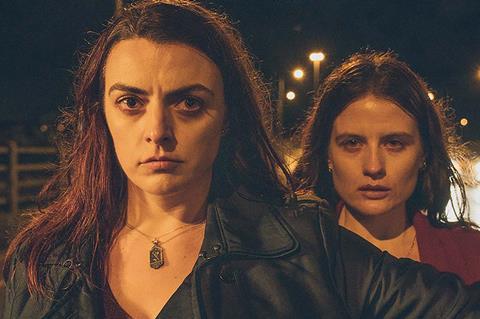 CS: We're dealing with this at the moment. Fantastic there are guidelines and obviously safety is paramount but it is expensive. In terms of television drama, we could be looking at near 10% in terms of longer shooting hours and all of the other factors. It adds a lot of cost. Maybe things will settle as the first few productions get up and running and it'll start to become clearer what's needed, but it's quite daunting at the moment.
EM: The additional cost is a worry, and time. It's also tough that it [throws up] quite a barrier, especially for people with young children – I think the quarantining side of it is really tough. I was just glad not to be first out the gate with a film and I just hope it's going to keep evolving by the time I am shooting.
Do you feel there's enough clarity or reassurance around the insurance proposals for independent productions?
NB: Sadly, there isn't complete clarity on how it's going to work. I can understand why they were quick to announce that, in principle, there is this government-backed scheme – they wanted to get a line in the sand and have a date where policies and claims could be dated from – but, as yet, I don't know anyone that has managed to secure a policy and I think the details around it are still being worked out. I suppose the challenge is that the government has obviously got all industries and all sectors to try to protect and save at this time, and also the nature of our industry and the specificity of the insurance that's required is quite complex. But it's a good first step that they've made that commitment and they are working out the details.
Do you feel that enough is being done to make sure the UK has a strong independent film production sector going forward?
DP: PACT and the BFI and the British Film Commission and Film London have all been working really hard, and I think they've done good work. Obviously, the worry for all of us is what it's doing to freelancers, and that's particularly in theatre. It's absolutely devastating and there really isn't an answer to that yet.
NB: It's difficult to imagine a scenario where the support could ever be enough for the actual damage and the hardship that this is going to inflict. But just agreeing with David, there have been a number of organisations who have been working tirelessly from day one to make sure that there are at least some safety nets and support measures in place. But there's definitely going to be winners, and probably more losers, in this scenario. It's a real worry to think about the talent drain from all the creative industries but, without being able to offer any kind of job security, and for a lot of people that have completely missed out on any kind of financial support, it's very difficult. If we do manage to get back to the height of production that we were seeing last year, there was already a talent shortage, it was already difficult to get crews. So it's going to be very tough going forward, I think.
When do you hope to be back on set and what do you anticipate might be the first project back for you?
EM: I might be doing a short for BBC Films as a lead-up to a feature film with Joy Gharoro-Akpojotor, and that could be shot in the winter, so maybe before Christmas. I haven't done a short for years, but it'll be nice to do something which is just a few days trial run. We'll shoot that in the UK with a small crew.
NB: I'm developing another film with Roger Michell and I've also got a project that I'm doing with [UK production company] The Other Producer and James Brown. That's the true story of Evelyn Glennie, the deaf percussionist, and we've just attached Hope Dickson Leach as the director on that. We'll have to see when one of those two can go. I'm also shooting a documentary that's a story around the Black Lives Matter protests that I'm doing with Debs Paterson and Misan Harriman, the photographer who shot this month's Marcus Rashford Vogue cover. We've started a little bit of filming on that.
CS: For us, the first is likely to be a movie set in America with a well-known British director. We've got the cast but it's about schedules. We were looking at a late spring start but I don't know. We're financed and we can go, it's just about finding that window with that particular cast.
DP: We've got some projects that could go next year, cast dependent mainly. I would hope we would be up and running by next summer but let's see. One thing I was going to ask everyone as well is, how are you all doing on release dates? Are things moving about?
NB: We're looking now at spring, maybe March. We were meant to be releasing [The Duke] in the UK in November, but obviously being targeted at an older demographic, it feels like we want to wait until they're really coming out again in force. So, for the time being, we just have to put it on hold and hope for the best for spring.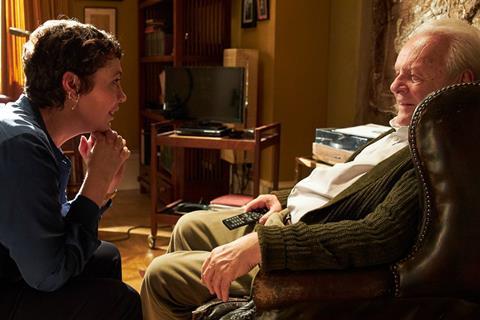 Is that the same with The Father, David?
DP: At the moment, Sony have diaried Thanksgiving weekend for the US. We're betting that's going to move. They thought early on that it could bow September-ish, but they decided that the US election was an issue for them in terms of buying media and they wanted to let that get out the way before they opened. But our guess is that that's probably going to shift. In the UK, Lionsgate have got pencilled January 8, but again, like Nicky, I think we'll probably move into March.
Is award season a factor for the film? It got great reviews out of Sundance.
DP: I don't think it's the prime focus, that's far too dangerous. We would obviously want to qualify, and we'll wait and see as everything gets announced, but it's really about finding our audience at the right time. We're also aiming at an older audience who may be a little more cautious about coming out.
EM: We had a film come out at the end of July: Make Up by Claire Oakley. It was an iFeatures, first feature, and it went really well, overall. Not in terms of cinemas obviously, but Curzon had already dated it end of July, even before the lockdown, and they just went ahead and it timed quite well with the cinemas opening again. So there's been a bit of a turnout, but what's been really nice has been the Curzon home cinema numbers, that's done well, they've given the platform such a push as well over these months that it's done okay.