The Horror Rising Star-nominated director discusses no-budget film-making ahead of the FrightFest premiere of her second feature.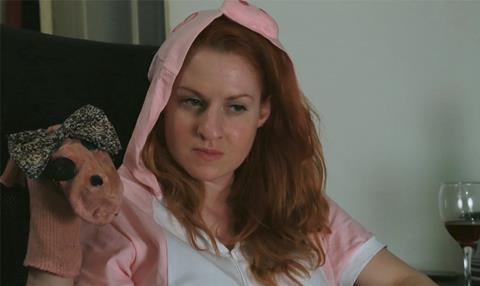 Kate Shenton's second feature as a director, the meta horror-comedy Egomaniac, premieres at this year's FrightFest (Aug 25-29) on Aug 28.
Her debut film was documentary On Tender Hooks, which played at the London genre event in 2013.
She is also nominated for the inaugural Screen International Horror Rising Star award, which will be presented during this year's festival.
Screen caught up with the young director to discuss basing Egomaniac on her real life experiences in the film industry.
"It was the film at FrightFest that everyone was too scared to see," recalls Shenton on her 2013 feature doc On Tender Hooks, which was a hit at the festival that year.
Having made a series of short films that screened at over 60 festivals, most of which had a horror-comedy theme (her debut short Bon Appetit screened at FrightFest in 2010) the young director stumbled upon the documentary's subject matter when a close friend told her about a collective of people who got together to partake in human suspension, the act of piercing hooks through your flesh and hanging in mid-air.
"It was never really about the hooks, it was about the people," she recalls, explaining that the community was what drew her to the project. Nevertheless, the film's graphic scenes tend to produce a visceral reaction from audiences. In the film, Shenton actually tries the suspension for herself, an experience she says she now understands the appeal of but wouldn't be in a rush to try again.
Following On Tender Hooks, Shenton set her sights on making her debut narrative feature. After spending two years trying to finance a zombie horror romantic comedy, she realised that despite the litany of meetings, she was no closer to getting her film made than she had been at the beginning of the process. "Egomaniac is inspired by that period in time – the surreal conversations I had and the surreal situations I found myself in. The more surreal the film gets, the closer to the bone it is," she teases.
The director borrowed and begged to get Egomaniac made, shooting in 10 days on no-budget and casting her friends and industry contacts, including The Human Centipede II's Laurence R. Harvey. "It was a slight amount of insanity but a tremendous amount of fun," she says of the production.
The plot follows a film-maker (played by Nic Lamont) who is determined to make a zombie romcom, but people in the industry continually tell her that she must insert a talking dog into the narrative to make it more commercial. After she agrees to add the talking dog, her producers push her more and more to further comprises, to the point when she begins to lose her sanity, with bloody consequences.
The director says that while the film is "completely fictionalised" it is inspired by her experiences in the industry. "It's about an alter ego version of myself, it's me if I'd gone in a different direction," she jokes. Shenton adds that it's "up to the audience to interpret what is fact and what is fiction" but she reveals that she "was actually once asked to write a talking dog film".
The film is "a celebration of no budget film-making – just going out there, picking up a camera, doing it and telling your story," she says, but looking forward she hopes to work with more serious budgets on future projects, while still retaining an admiration for the "Robert Rodriguez attitude of just making it with whatever you've got".
Her next project may signal a sea change in her craft. She has signed up genre production outfit Breakneck Films to Bloody Burrito, which is set to be her third feature. Sheton has written the script, which follows two dysfunctional restaurant employees who find love and decide to spice up their mundane lives by killing irritating customers and hiding them in the Burrito's.
"It's definitely quite exciting having more of a budget to play around with," she says. However, she expects she will "always have a no-budget film-maker's head on".