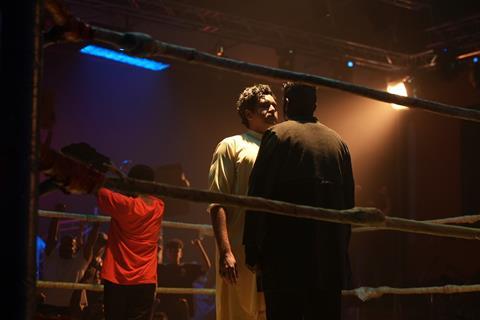 One of the hottest tickets at this year's Red Sea Film Festival was to a party held in Jeddah's old quarter by production company Telfaz 11.
Local filmmakers mixed with international guests along a section of the Al-Balad gold market converted into a party venue, complete with DJ sets.
The party appeared representative of the social change that seems to be sweeping Saudi Arabia – it was attended by a vibrant, mixed crowd, with no notable restrictions apart from the lack of alcohol.
The party also represented a kind of coming of age for Telfaz11, a pioneering Saudi production company that has emerged as one of the biggest players in the local industry. The company has three feature films playing at the festival – Saudi's Oscar pick Raven Song, action comedy Sattar and digital spin-off AlKhallat+ - as well as short film Koora.
Telfaz11 also has an eight -picture deal with Netflix. It is working with France's Easy Riders Films to produce films with international scope from Saudi emerging talents. Saudi's top exhibitor, Muvi, took a stake in Telfaz11 last year.
Digital origins
Telfaz11 started life in 2010 producing YouTube videos from Saudi's underground stand-up comedy scene. The videos went viral, generating millions of views from young Saudis before the country had even begun opening up its entertainment sector.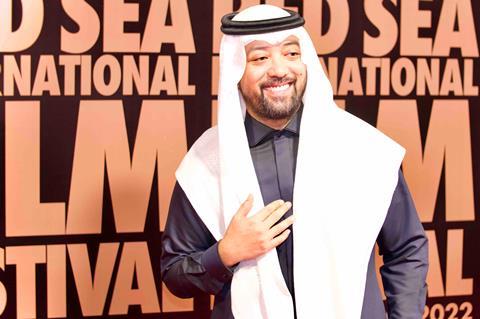 "The reason why our content blew up is at that time is that there wasn't any content that spoke to Saudi youth," says Telfaz11 co-founder and CEO Alaa Fadan, who launched the company with Ali Al Kalthami and Ibrahim Al Khairallah. It was a time when the region's satellite and network broadcasters catered for a broad, pan-Arab audience.
The team at Telfaz11 learned fast on the job, and quickly started to grow beyond making digital originals. The company launched a creative services division, producing content for brands that wanted to reach younger audiences.
Film focus
And then, as cinemas started to open up in Saudi from 2018, it launched a division focused on feature film and high-end TV, Telfaz11 Studios. Soon after they were approached by Netflix. The streamer was keen to expand in the region, and through word of mouth were pointed in the direction of Telfaz11. "They approached us here," recalls Fadan. "They started asking around. It's what I like about Netflix, they are very particular about who they want to work with."
The first collaboration with Netflix was 2020's Six Windows In The Desert, an anthology of six short films by Saudi filmmakers that Telfaz11 packaged together. It was a hit, with Telfaz11's online fans helping to drive word of mouth success for the anthology.
Telfaz11's eight-picture deal with Netflix followed in 2020. AlKhallat+, the first film to be released from the deal arrives on the platform on January 19, 2023. Billed as a dark comedy, it is a spin-off of the AlKhallat digital series which amassed over 1.5 billion views in a 22-episode run.
Telfaz11 is also in post on two more films for Netflix, including The Matchmaker, a pyschological thriller with a supernatural slant that filmed against the rocky desert landscape of the world heritage site of AlUla.
An emerging market
Fadan says that producing in Saudi is a learning experience. "It's not only new to us, it's new to everybody, from the governing bodies like GCAM (the General Commission for Audiovisual Media), the Ministry of Culture, the Saudi Film Commission, through to producers and everybody who supports production."
The sudden demand for films to be produced in Saudi has also thrown up challenges, from a lack of trained talent to work on productions through to rapid cost-inflation. A film that might have cost $800,000 to $1million to produce 18 months ago will now cost at least $2.5 million to make, says Fadan. He stresses the positives too. There are many more opportunities for filmmakers. As well as financial support from the Saudi Film Commission and the Cultural Development Fund, private investors are feeling more confident about investing in the film industry.
Fadan says Telfaz11 has produced six feature films this year, out of a total of 10-12 local feature films made in Saudi in 2022. That number is set to rise in 2023. He thinks that Telfaz11 alone will make 10 or 11 feature films next year. These will be a mixture of films. Telfaz11 has a locally-orientated slate, which produces films such as Sattar, which are aimed firmly at local audiences. It also has an international slate that focuses on Saudi films with universal appeal. Telfaz11's partnership with France's Easy Rider is designed to create films that might play at international festivals.
The ambition, says Fadan, is not simply to win prestige for having films that play at international festivals. "We want to explore opening up new markets. The Saudi market is good, but we always want to see how we can go further and to make Saudi content travel."