Event cinema was hailed as potentially transformative for the exhibition industry — and then dismissed as a dwindling niche. But the sector is learning from missteps, redefining itself and engaging new audiences, as the US and UK market leaders tell Screen.
Five years ago, the exhibition sector was at the height of its excitement about event cinema — especially in the UK, where total box office for the category nearly doubled from 2013 to 2014, cracking $37.4m (£30m). This was also the year when an event cinema presentation — Billy Elliot The Musical Live - topped the UK weekend box office for the first time, and from a single live Sunday-evening showing. Who knew where the category might go?
Excitement cooled in the years that followed, with event cinema delivering just 2.1% of total UK box office in 2016, down from 2.6% in 2015 and 2.9% in 2014. Steady audiences were showing up in cinemas to watch theatre, opera, ballet and popular Dutch classical music performer Andre Rieu — often taking advantage of spare capacity during less-busy midweek periods — but there seemed little evidence the category was going to be transformative for exhibition, and rock and pop concerts in particular were proving a tough nut to crack.
Today, it is a nuanced picture, but also a more optimistic one — and that is not just due to the contribution of a certain Korean boy band. Last November, Burn The Stage: The Movie, a celebration of K-pop sensations BTS, smashed event-cinema records with an estimated $20m global gross. And despite challenges in accurate data collection in many markets, the leading distributors in both the UK and US believe they are participating in a growth industry.
"Music has been huge for the industry, and for our company in particular," says Alice De Rosa, director of distribution at the London-headquartered Trafalgar Releasing when asked to identify a current hot trend for event cinema. Trafalgar either directly distributed or licensed Burn The Stage worldwide except in South Korea and Japan (in the UK, it also distributed BTS follow-up BTS World Tour: Love Yourself In Seoul in January). The company also scored a notable success with Coldplay: A Head Full Of Dreams (estimated at $3.5m globally), despite the film's move to Amazon Prime within days of showing in cinemas.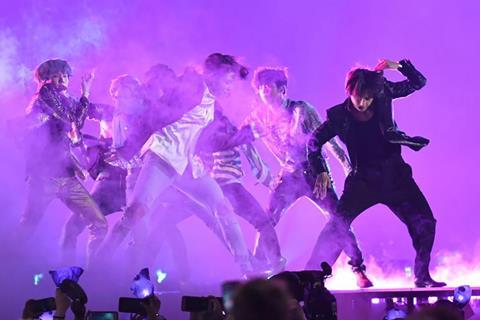 None of these qualify as live events in the sense they are not streamed live, and are instead distributed to cinemas via a digital cinema package (DCP). This is another major shift since the first flourishing of event cinema, when the live simulcast was presumed to be a key part of the appeal for audiences. Event cinema distributors are rethinking those assumptions, and not just because of the significant cost savings for themselves.
"At one point 'live' was defining event cinema," says De Rosa. "Whereas for us, it's a live moment being brought to cinemas, whether it's via satellite or DCP. I don't think audiences are making any value judgment at all."
Grainne Peat, who heads up London-based global trade body the Event Cinema Association (ECA), agrees with that assessment. "From when it first started, the allure was always live — having that experience of watching it in the cinema, but knowing that it's happening at the same time in a West End theatre in London. Over the last few years, it's evolved."
For certain events, though, a live stream remains a valuable feature, and Peat points to the example of Take That Greatest Hits, beamed live from Cardiff Principality Stadium on Saturday June 8. It is the pop trio's final UK performance of their tour, celebrating the band's 30th anniversary. "It is a case of be there, be in the moment," says Peat.
Although Trafalgar remains tight-lipped on revenue splits with exhibitors, De Rosa reveals: "We see local nuances. Australia is a little bit different to Germany. Some markets will value live delivery more than DCP delivery, which is actually a nonsense. It's something that we chip away at."
Local nuances are indeed evident: in Germany, the all-time event cinema top 10 is populated entirely by Met Opera presentations, which are beamed live from the Saturday matinee in New York. In France, three Comedie Francaise productions appear in the country's all-time top 10. In Italy, music is strong, with the all-time top 10 including concerts and films featuring One Direction, The Beatles, Roger Waters and local acts Violetta and Ligabue.
The local factor
Not every music concert has to be for a large global audience in order to be financially viable. Trafalgar expanded its North America operation in April 2018, appointing Kymberli Frueh as senior vice president of programming and acquisitions, having previously performed the same function at US event cinema market leader Fathom Events. Working with a team of six at Trafalgar North America, Frueh was tasked with acquiring content for the US market that would have an ability to travel to varying degrees.
For example, Enlarged To Show Detail 3, a documentary film celebrating Omaha, Nebraska-based band 311 (pronounced 'three-eleven') was released in US cinemas by Trafalgar on March 11. That event did not need to travel to achieve profitability, but the film and album listening party for Billboard chart-topping R&B artist Khalid (see case study, below) connected with audiences in foreign markets to add to a successful US release. Similarly, music documentary Between Me And My Mind, focusing on US veteran rock band Phish and its lead singer Trey Anastasio, will reach select audiences beyond the US.
"[The band's] audience is very clearly US-centric, it's where the demand is," says De Rosa. "But there are pockets of Phish fans globally, where the economics in any one market wouldn't really make sense for any distributor to take it on. We can capitalise on the efficiencies of what we're doing in the US, and also explore whether there is opportunity anywhere else."
In the music category, event cinema distributors are learning from past mistakes. "The challenge previously was that it was a piece of content captured from the musician, and then the rights were sold to somebody else, and by the time it reached cinemas the musician was already one step away. They weren't intrinsically involved, and so you lost the ability to really speak to their fans and their audiences," says
Trafalgar North America head of marketing Jamie Woglom, also a former Fathom employee. "Now, we have seen a shift where it's very artist-driven and artist-led."
Sceptics question the degree to which documentary features such as Between Me And My Mind truly qualify as event cinema, and the same can be asked of recent anniversary re-releases of archive titles such as The Beatles: Yellow Submarine (Picturehouse Entertainment/ Abramorama) and Monty Python's Life Of Brian (Trafalgar). For these re-releases, attendees on the day were rewarded with special collectible packs — but it is not necessarily freebies that make an event.
"Event cinema is about servicing a fandom via a limited release," argues De Rosa. "This whole industry is about bringing like-minded people together, in a moment, to celebrate."
Viewed through this prism, any piece of content can be an event in cinema, as long as it is presented in a limited timeframe — ideally on a single day — and brings fans together. The upside for the distributor is that cinema chains tend to suspend their theatrical windowing policy when it comes to events, meaning that content can transfer to other platforms within the traditional window. Recent examples include Peter Jackson's First World War documentary They Shall Not Grow Old, which swiftly segued to BBC TV, and the aforementioned Coldplay concert film.
And for event cinema distributors, high seat occupancy is not merely commercially desirable — it is an intrinsic part of the fan experience. "You make sure you're not only five people in an auditorium watching a concert — that's not fun," comments Ray Nutt, who took over as CEO of Fathom Events in July 2017. "We're trying to maximise the utilisation of theatres, not only from a business standpoint, but from a consumer experience standpoint as well."
North America market
Considering that North America is acknowledged as the economic powerhouse of the global film industry, it may seem anomalous that a European country is recognised as event cinema's vanguard, with the category achieving just over 3% of the UK's total box office in 2018. What's more surprising is that the comparable figure does not exist for North America due to inefficiencies in data collection.
But the signs are that event cinema is growing Stateside. Fathom, which is overwhelmingly the market leader in North America, saw its market share of total US box office grow from 0.51% in Q1 2018 to 0.94% in Q1 2019. The company is co-owned by the three biggest US exhibitors (AMC, Regal and Cinemark), and distributes content to those three chains along with 97 affiliates. Headquartered in Denver, Colorado, it has more than 50 employees and is looking to expand internationally as well as domestically.
Fathom continues to succeed with solid brands such as New York's Met Opera and Turner Classic Movies, achieving 23 $1m-plus US box-office hits in 2018. Broadway productions and sporting events are potential growth areas, but both come with challenges. Many Broadway producers remain concerned about cannibalisation of audiences, and they have a regional tour model that works well for them. Sporting events such as the Super Bowl and World Series baseball remain out of reach. "The rights issues are very, very tough to get over," says Nutt, adding their typical timings at the weekend are when cinemas are least welcoming to event content. Boxing is the sport where Fathom has made most headway.
The company is battling concerns from Broadway shows with data that suggests the promotion of a theatre event in cinemas can boost its regional tour rather than undermine it — an argument that has already borne fruit for Cirque Du Soleil. "What we do is considered inconsistent with what producers plan on doing with their product down the road," says Nutt, "but we've proven time and time again that it's complementary.
"We've found a way for it to work," he continues. "We've found a comfortable place where everybody's making some money, everybody's happy and, most importantly, customers are entertained."
It is notable, however, that Trafalgar's release of An American In Paris was captured in London — despite originating as a Broadway show — and Fathom's upcoming presentation of stage musical Kinky Boots was likewise filmed in London. "The economics of Broadway, the capture there is really challenging," comments De Rosa.
For Trafalgar, the risks and opportunities vary. "Where we join is different on every project," says De Rosa. "Sometimes we're all in, and we can finance and take rights all the way through the journey. Sometimes we're in at the end. Sometimes in the middle on a sharing model."
For big entities like Fathom and Trafalgar, global expansion is key — but it says a lot about the inefficiencies of current data collection that both companies claim to be the biggest event cinema player worldwide. Neither knows what its global market share is, or, indeed, how big that total market is. Challenges include the fact that no event cinema box office is reported in Spain because of a lack of co-operation from the main cinema chains there. Even where data gatherer Comscore is reporting accurately, there are discrepancies between what content is and isn't reported as event cinema.
Praising the format
Fathom and Trafalgar are singing from the same hymn sheet on this point. "I don't think the trade group ECA has really gotten to a point yet where they are able to give information out of Comscore about event cinema," says Nutt. "It's incredibly frustrating," agrees De Rosa. "[Comscore] are tracking, but the levels of sophistication in different markets are startlingly different."
Aware of these frustrations, the ECA is working with Comscore to bring greater consistency to box office reporting, and will present fresh international data at CineEurope this June — where, for the first time, event cinema will benefit from an official presentation slot on the main stage, equal with the studio presentations. The ECA will include the data in a printed report, and will present a roundtable discussion about how the industry might better collect box-office numbers in the future.
Whatever the ECA and Comscore come up with will surely be valued by today's event cinema players. "Our international division is still learning," says Nutt. "I won't call it hit and miss, but you really have to shoot with the rifle, and you cannot shoot with the shotgun when it comes to international distribution."
UK All-time Event Cinema Top 10
| Event title (distributor) | Release date | Box office gross ($) |
| --- | --- | --- |
| Hamlet (NT Live/Trafalgar) | 2015 | $4.22m |
| War Horse (NT Live/Trafalgar) | 2014 | $4.21m |
| Frankenstein (NT Live) | 2011 | $3.07m |
| The Audience (NT Live/Trafalgar) | 2013 | $2.85m |
| Billy Elliot The Musical Live (Universal) | 2014 | $2.73m |
| Miss Saigon: 25th Anniversary Performance (Universal) | 2016 | $2.61m |
| Branagh Theatre Live: The Winter's Tale (Trafalgar) | 2015 | $2.46m |
| Andre Rieu's 2019 New Year Concert From Sydney (Piece of Magic) | 2019 | $2.43m |
| The King And I: From The London Palladium (Trafalgar) | 2018 | $2.38m |
| Doctor Who: The Day Of The Doctor (BBC/Trafalgar) | 2013 | $2.31m |
Source: Comscore. Excludes Secret Cinema
CASE STUDY: Free spirit
Artist passion was vital to success for Trafalgar's release of Khalid's Free Spirit.
Trafalgar Releasing took a step into the unknown when it was approached by Sony Music last December, and asked to develop an event around Free Spirit, a film commissioned by US R&B artist Khalid to accompany the release of his same-titled 2019 album. Working with the label and artist, Trafalgar developed the idea of presenting the film together with a listening party — one where fans would get to hear the album before anybody else.
Although the distributor had heard mention of these occasionally being done in a cinema with a dark screen — "it's been bubbling around as a potential idea," says Trafalgar CEO Marc Allenby — they had no information on actual examples, and certainly nothing at this scale. One precedent, arguably, was Trafalgar's September 2016 release of the Andrew Dominik film about Nick Cave, One More Time With Feeling, which offered fans the first opportunity to hear his new album Skeleton Tree.
"It was a challenge to articulate and explain to exhibition," concedes Allenby, who adds that as a music artist Khalid "probably wasn't in the majority of sweet spots" when it comes to the taste of US film bookers. "[However], we could demonstrate a lot of interest with compelling social media stats."
There remained a big question concerning the album listening component of the event. "The big concern for exhibition when we pitched it was, what is the visual experience?" says Trafalgar North America head of marketing Jamie Woglom. Khalid was captured introducing and contextualising each track, and visuals were created for each song that did not have an existing promo video. These drew largely on footage from the film itself, in which Khalid and a group of friends quit the city for a desert road trip — an adventure in tune with the album's title.
For Trafalgar, the event demonstrates the importance of artist involvement on music projects. "Khalid was very adamant he wanted this movie to be in theatres, so then you have labels and everyone scurrying to make their artist happy, and the artist is really invested, and the artist can reach the fans," says Trafalgar director of distribution Alice De Rosa.
The event grossed $284,000 from a single showing in 382 cinemas in North America on a Wednesday evening in early April — achieving a healthy site average for an individual showtime in midweek. Released selectively in foreign markets, global gross is just shy of $400,000.
"I think it's got huge potential," comments Allenby, who also cautions: "Khalid fans do listen to albums in their totality from track 1 to track 12. That's not necessarily true of all artists. For me it was a proof of concept, and one that could be finessed in the future. It showed there are ways to create different on-screen experiences that benefit both the cinema industry and the music industry."