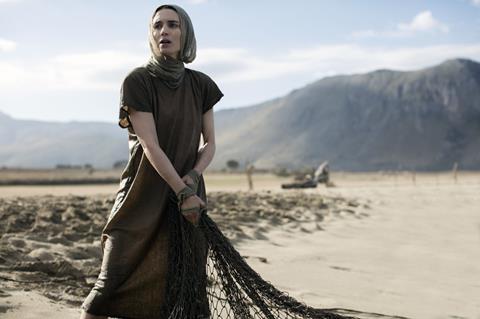 Garth Davis has never been afraid to face difficult conditions. "I have a reputation for dragging my crew into really tough spots," he smiles. "Which means a lot of four-wheel drives and nervous producers."
Having shot his feature debut Lion in Kolkata and Tasmania, the Brisbane-born director's latest film — a humanist, feminist take on the New Testament, told from the perspective of Mary Magdalene (Rooney Mara) and shot in southern Italy and Sicily — required his cast to go hiking intrepidly in rugged mountains, while wearing first-century-appropriate footwear and clothing: "You come to my shoots, you're going to be doing a lot of walking…"
The challenge of tough location conditions is one Davis cheerily embraces, not least due to its aesthetic benefit. "I love reminding audiences that we're living creatures within a planet," he says. "We're part of nature."
Weinstein fallout
But, less than a year after production on Mary Magdalene wrapped in December 2016, Davis faced a very different kind of challenge on some far trickier territory.
On October 5, 2017, The New York Times detailed numerous allegations of sexual harassment against Harvey Weinstein. Over the following weeks, the continuing allegations fanned out into the industry-shaking #MeToo movement while the producer now decried as an abusive monster saw his career justifiably disintegrate. His studio, The Weinstein Company (TWC), has since filed for bankruptcy. And on its slate of movies set for release in the US sits Mary Magdalene.
"Right now my producers [Iain Canning and Emile Sherman of See-Saw Films, and Liz Watts] are working very hard to find a way to release the movie over there," Davis says when Screen meets the director in London the day after his film, set for an Easter release internationally, premiered at the National Portrait Gallery. "So you'll have to watch this space. But I know they're working night and day on it at the moment."
It's an unfortunate situation, and not only because it's left the film without US distribution. Starring Rooney Mara in the title role and Joaquin Phoenix as Jesus, Mary Magdalene is a concerted effort by its makers to set the record straight about Mary, who in the late sixth century was officially demoted by Pope Gregory I from the position of apostle to harlot – a misrepresentation that's tainted her image ever since.
As co-writer Philippa Goslett says, "What happened to Mary Magdalene and her identity over the centuries was a travesty. Here was an opportunity to give a voice for someone who had been silenced for so long."
In light of recent events, the notion of this patriarchal-dogma-defying story being connected to a man like Harvey Weinstein is a troubling one for Davis. "It's awful," he admits. "Our film celebrates everything that is the antithesis of what's happened. It's definitely something you can't be associated with. So my main focus is just to celebrate Mary and get her story out into the world. That's my absolute mission."
According to Davis, Weinstein had no creative involvement in the film. As with Lion, Mary Magdalene was produced by Canning and Sherman's See-Saw, with TWC handling US distribution on many of the UK-Australian outfit's productions dating back to The King's Speech.
"See-Saw are my creative people, essentially," Davis says. "It wasn't like I was working with Harvey directly, like maybe other filmmakers have, so we have a level of detachment. But I hope people realise that just because you're doing a project with a company like that, it's not a reflection on you and the people who were working on the film. I'm sure people are intelligent enough to know that. Though it's not something I feel comfortable about."
It also, he insists, has nothing to do with the fact that Mary Magdalene has been noticeably absent from the festival circuit — at least until its screening at the Audi Dublin International Film Festival, which happened the day after Screen and Davis speak. That was more to do with the fact that they simply weren't ready soon enough.
"The film has only just been finished, and we finished it at a very awkward time," Davis says. "The issue I had is that I'd gone straight from Lion into this. That was also one of the reasons why we had a relationship with the Weinsteins on Mary, because it allowed us to manage the two projects as well. I had to stop editing for a while to go and do the Oscars [Lion received six Academy nominations]. So there were a lot of delays because of Lion."
Upcoming projects
After making two films back-to-back, Davis says he's looking forward to "taking a breather". Though true-life Somali kidnap drama A House In The Sky has been touted as his next project, he says "we're still talking about that," and there's "nothing concrete at this point."
Davis remains open-minded as to whether his next step takes him further into the cinematic realm, or back to TV drama like Jane Campion and Gerard Lee's Top Of The Lake, for which he directed four episodes in 2013. "It's just got to be something I connect with. But I do love a challenging film, one that has a world to recreate and an atmosphere and is something that looks at the human condition. I'm open to anything if the material's exciting."