Francis Lee, winner of the best director prize in Sundance's World Cinema Dramatic Competition, talks to Wendy Mitchell about God's Own Country, screening in Berlin's Panorama.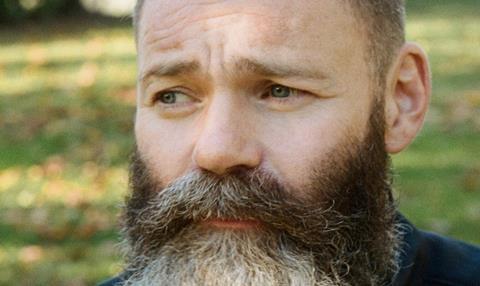 Francis Lee's debut feature God's Own Country does not fit any stereotypes. It is a Yorkshire-set drama that eschews beautiful landscape shots — and is a gay love story set in the world of farming.
"When I wrote this script, I wasn't seeing stories on screen that reflected where I came from; that's not just as a gay man, but also as someone from a working-class background," says Lee. "When you see working-class stories, it's usually urban — estates, drugs, teen pregnancies. I didn't think I'd seen a proper ­working-class depiction of a rural area."
Lee himself is not the usual stereotype of a debutant filmmaker. He is now 47 years old and grew up on his family's Yorkshire sheep farm before moving to London to be an actor for more than 20 years. He had success in TV and films — even appearing in Mike Leigh's Topsy-Turvy — but always had an eye on being a storyteller. When he hit 40, he quit acting and worked in a scrapyard to pay for three self-financed short films: The Farmer's Wife, Bradford Halifax London and The Last Smallholder.
Writing his first feature after gaining life experience had its benefits. "One ­advantage for starting a bit older is I had stories in my head for years," he says. "One thought was, 'What would my life have been if I never left Yorkshire?' The landscape and people were never out of my head."
The story that coalesced for God's Own Country is about Johnny, played by Josh O'Connor in a breakthrough role. He is a young man working on his family's struggling farm who starts an intense relationship with a Romanian labourer, Gheorge, played by Alec Secareanu. "It is not autobiographical," Lee explains. "This situation didn't happen to me, but we all know what it feels like to fall in love for the first time, how difficult and scary that can be."
Keeping it real
Lee is a writer-director with a stickler for authenticity. There is a scene where Gheorge shows Johnny a remarkable trick for having a sheep adopt an abandoned lamb, which showcased Lee's intimate knowledge of life on a real farm. "I have to get it absolutely right in terms of the world and the place," he says.
God's Own Country is produced by two first-time feature producers: Manon Ardisson for Magic Bear Productions and Jack Tarling for Shudder Films. It was supported by the BFI Film Fund and developed — although not eventually produced — as part of Creative England's iFeatures scheme. Financing also came from Met Film Post and Paul Webster's PW Pictures. The executive producers are Diarmid Scrimshaw and Anna Duffield for Inflammable Films, and Protagonist Pictures came on board as the international sales agent.
Ahead of the 30-day shoot, Lee prepared with his actors by imagining the characters beyond the script. "We talked about who they are, what they've done in their lives, this huge biography of a character. And they could be as proficient at the jobs as their characters," he says, pointing to Mike Leigh as obvious inspiration for this way of working.
O'Connor and Secareanu were committed to learning the physical side of farming, and had a strong chemistry despite their differing acting styles. "Josh is like a sponge, open and brave in being vulnerable, with his emotions and physically," Lee says. "Alec is cerebral, he thinks everything through and is very focused. He could nail everything in one take."
Working with DoP Joshua James Richards, whose credits include Songs My Brothers Taught Me, Lee was aiming for an intimate look to the film, not shots of gorgeous rolling Yorkshire dales.
"I wanted it to feel immersive, that we're inside this guy's head," Lee explains. "Films about Yorkshire have massive shots of the land, but growing up I never looked up; it was cold, my hands were in my pockets. The only landscape I wanted was when Johnny is shown it for the first time, if you like, through Gheorge's eyes."
Lee is now working on two new scripts. The first is also set partly in Yorkshire and is about "the end of relationships", but, he clarifies, it is not too much of a downer. "However bad the end of a relationship can be, there is always something else to come. You can learn from something ending. I will never write a film without hope in it."