With the Golden Globes nominations being announced on December 6, Screen looks at whether the HFPA's awards really are a reliable Oscar bellwether, and why the oft-criticised musical/comedy category could be primed for a strong year.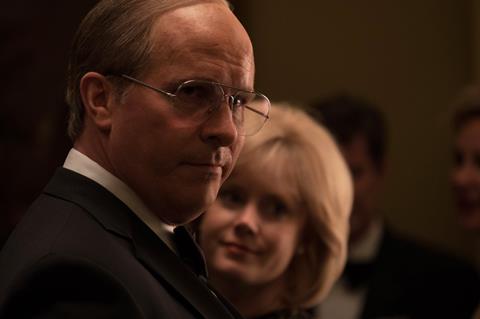 The annual Golden Globes awards, presented by the Hollywood Foreign Press Association, have long positioned themselves as an important bellwether for Oscar, deriving significant impact from being the first major televised event in the awards calendar — with nominations this year announced on December 6, ahead of the ceremony on January 6.
More sceptical voices have long pointed out the Globes nominates 10 lead actors and 10 lead actresses each year, thus effectively doubling its chances of choosing names that later emerge as Oscar nominees. Many Globe nominees in these lead acting categories do go on to snag Oscar nods, but at least half do not. Others point to some rather underwhelming performances and films that have filled up the slots in the comedy or musical category over the years — last year including Helen Mirren for the little-loved The Leisure Seeker, for example, and Lily Collins the year before in Warren Beatty's box-office dud Rules Don't Apply.
For years, studios that could not be confident of snagging a nomination in the drama category have tested genre definitions by steering their film into the comedy or musical list. Last year, Focus Features' decision to do just that with Get Out elicited howls of protest. "I didn't expect the backlash," producer Jason Blum told Screen International back in January. "We might have done things differently if we knew then what we know now." (Get Out lost in the category to Lady Bird, while its lead Daniel Kaluuya lost the actor prize to The Disaster Artist's James Franco.)
Eyebrows were similarly raised in 2016 when 20th Century Fox ran Ridley Scott's The Martian in comedy or musical — winning in its categories for picture and actor Matt Damon. Judd Apatow, whose comedy Trainwreck lost to The Martian at the Globes, was one of many to question this categorisation, stating that dramatic movies with humorous content should not be able to "pick whatever category" they wanted to be in. He continued the theme at the Critics' Choice awards a couple of weeks later. "I've got Matt Damon staring at me right now," he said from the podium. "We only have one award, Matt, that's all we get. I'm like the nerd on the schoolyard and you stole my milk money." In response, the HFPA revised its rules, stating that "dramas with comedic overtones should be entered as dramas". Nevertheless, two years later Get Out was accepted as a comedy.
For the 2019 awards, the notion that submitting a title for the comedy or musical prize is the softer option deserves a serious rethink. Consider the leading actress category, in which many pundits believe the three front-runners to be Lady Gaga for A Star Is Born, Olivia Colman for The Favourite and Melissa McCarthy for Can You Ever Forgive Me?. In the past, A Star Is Born would have submitted in the comedy or musical section — that is where the likes of music biopics Ray and Walk The Line competed, snagging lead acting wins for Jamie Foxx, Joaquin Phoenix and Reese Witherspoon. Neither The Favourite nor Can You Ever Forgive Me? would likewise look out of place in comedy or musical — but all interested parties would surely be keen to avoid such a collision, especially since the likes of Mary Poppins Returns and Crazy Rich Asians are also competing for nominations in musical or comedy.
In fact, the Globes have tightened up their rules since the days of Ray and Walk The Line, making it clear that unless performed music is integral to driving the story forward — as was the case in 2018 with The Greatest Showman — the film cannot be entered as a musical. Both A Star Is Born and Freddie Mercury biopic Bohemian Rhapsody submitted this year as dramas.
Fox Searchlight has submitted The Favourite as a comedy — placing Colman, who plays English monarch Queen Anne, as the favourite to win the actress category. Perhaps surprisingly given the humorous banter between McCarthy and co-star Richard E Grant, Searchlight submitted Can You Ever Forgive Me? as a drama. This way, the boutique studio's two top contenders compete in different categories, opening up the possibility of Globes actress wins for both Colman and McCarthy. While Colman will likely face competition in her category from Emily Blunt for Mary Poppins Returns, McCarthy has been handed the tougher draw, since she will face not just Gaga in drama, but also the likes of Glenn Close for The Wife — making a serious run at Oscar this year, having been nominated six times before and never won. Other favoured possibilities for a Globe nomination in this category are Viola Davis for Widows, Nicole Kidman for Destroyer and Julia Roberts for Ben Is Back.
It has been noted that Globes voters have often heard the siren call of the A-list megastar — after all, it is by interviewing the top talent that these Hollywood foreign journalists make their living, and the Globes owes its ratings success thanks to the high quotient of film and TV stars that attend the ceremony. Roberts is an eight-time Globes nominee and three-time winner. One of those nominations was for Tony Gilroy's spy caper Duplicity — a film that otherwise did not much trouble the ballots of awards voters.
Other A-listers picked seemingly to brighten the ceremony include Johnny Depp and Angelina Jolie, both nominated in 2011 for Florian Henckel von Donnersmarck's The Tourist. That year's awards rather ingloriously included both The Tourist and old-lags action comedy RED in the musical or comedy best picture category, alongside Alice In Wonderland (arguably one of Tim Burton's lesser creative achievements) and the rather preposterous Cher/Christina Aguilera vehicle Burlesque. Blushes were spared when Lisa Cholodenko's justly admired The Kids Are All Right won the category.
The actor races
As late as mid-November, this year's actor category was still being dominated by the leading males of a pair of fall festival titles —Bradley Cooper for A Star Is Born and Viggo Mortensen for Green Book — with a late surge from Rami Malek for Bohemian Rhapsody pushing the relative youngster into the top three among awards handicappers. Then Adam McKay's Vice — The Big Short director's film about George W Bush's vice-president Dick Cheney — started showing to press and industry audiences, generating major buzz for the lead performance from a physically transformed Christian Bale.
Like The Big Short, Plan B and Annapurna Pictures' Vice has been submitted to the Globes as a comedy — but early reactions reveal that the film is significantly less comedic than his takedown of the 2008 financial crisis. In the comedy or musical category, Bale would likely face competition from Mortensen, but most of the other leading actor contenders this year are in dramas, including Hugh Jackman for The Front Runner, Ryan Gosling for First Man, Ethan Hawke for First Reformed and John David Washington for BlacKkKlansman — momentum on the latter name, however, hitting a speed bump this month when the actor missed out on an Independent Spirit nomination.
Lucas Hedges, who is in contention for both Boy Erased and Ben Is Back, may compete against himself and split his vote. In comedy, a spot on the actor roster could easily fall to Stan & Ollie's Steve Coogan, who picked up one of the film's seven nominations at the British Independent Film Awards.
The route to December 6's Globes nominations announcement will pass early markers of variable significance such as the National Board of Review's top 10 list (on November 27) and the New York Film Critics Circle's annual picks (November 29). Whatever comes to pass with the 2019 Globes, it seems likely that this time some real attention will be paid to the comedy or musical category, and not just — as has often been the case — in drama.
It has been exactly seven years since a film won the best picture Globe for comedy or musical and then snagged the best picture Oscar — The Artist in 2012. Birdman was a Globe-nominated (but not winning) comedy that went on to snag the best picture Oscar in 2015. The makers and backers of such leading Academy Awards contenders as The Favourite, Green Book and Vice will be hoping that Oscar voters are now ready to get that comedic itch again.
Additional reporting by Mark Salisbury.