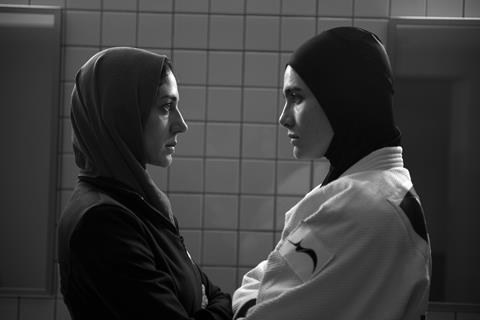 World premiering in Venice's Horizon's section, political sports thriller Tatami is the first feature film to be co-directed by Israeli and Iranian directors – Guy Nattiv and Zar Amir.
LA-based Nattiv won the 2019 Academy Award for best live-action short for Skin and directed recent release Golda starring Helen Mirren. His 2012 film The Flood won the Generations prize at the Berlinale. He co-wrote Tatami with Elham Erfani.
Paris-based Amir is an Iranian-French actress, producer, director and casting director who won the best actress award at Cannes last year for her performance in Holy Spider. As well as co-directing Tatami, she co-stars and cast the film.
Tatami is set during the Judo World Championship where Leila, an Iranian Judoka (played by Arienne Mandi), and her coach Maryam (Amir) face life-changing decisions. Midway through the championships, they receive an ultimatum from the Islamic Republic ordering Leila to fake an injury and lose, or she will be branded a traitor of the state. World sales are handled by WestEnd Films.
What are the origins of this project?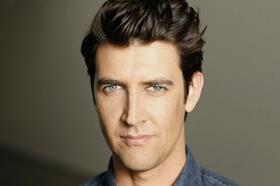 Guy Nattiv: It all started before the pandemic. I was inspired by all the female athletes from Iran who started to rebel and then defect from their country and decided to take their own freedom.
I didn't want to tell this story alone. As an Israeli American, I wanted a female voice together with me. Elham Erfani wrote the script with me. After the pandemic, I saw Holy Spider and my jaw just dropped. I knew that I wanted to work with Zar, not only as an actress. I offered her the role of Maryam, but also as a co-director because I knew that she wanted to direct her first movie about her life. I thought it will be very interesting for her to just jump in and try it with me and that it would be a great combination.
Zar Amir: Directing was always my first passion. I started making short movies when I was young back in Iran and then I started to act. Everything happened very naturally. I passed the casting for the character of Maryam for Tatami, and then Cannes happened and Holy Spider came out. Guy got in contact and he offered me Maryam. Then I had many concerns about how to approach it in terms of authenticity from the point of view of the Iranian parts.
Guy is very generous. He could have done it on his own, just with some Iranian consultants. But he was open to my ideas about how to interpret this character and how to look at this story. He had the same approach to writing with Elham Erfani, his co-writer. All of a sudden he just came out with this offer of co-directing the movie together.
What do you each bring to the project as co-directors?
Nattiv: Zar brought the Iranian authenticity. I don't speak Farsi. She directed the actors in Farsi. She cast the movie as well. So, she brought a lot of layers. As a team, I was more in charge of the camera movements and I directed her when she was acting and I was her eye. If she was in the scene, she came to the monitor to watch it with me. It was a beautiful process.
Amir: It worked in a very natural way. [Before the shoot] Guy focused on the artistic and technical side. I was more focused on acting and script and all those authenticity issues related to Iranian characters and society. Once we were on the set, we shared everything. We were looking at everything together, we had lots of discussion after each take. We were on the same page for the acting, the artistic approach, and the political aspect of the project. It was a unique collaboration.
It's the first collaboration between an Iranian and an Israeli as directors. Given the strong political differences between the two countries, why did you push ahead with working together.
Amir: When Guy offered me this collaboration, of course I took time to think about it. It was not just like, "Wow, I have to do it." I needed time to be clear in my mind about the risk I would be taking. But I trust Guy and in the end, I told myself… just to live with hatred doesn't make sense. Who can imagine an Iranian and an Israeli can work together? For everyone, we are the most opposed societies. So doing this was for me an action of hope, daring and beauty.
Nattiv: Zar and I are fearless people in a way… We both felt that we're doing something our governments prevent us from doing. Israelis and Iranians are forbidden to meet or to collaborate. It's something that we tried to prove to the world – that it's not only doable, we should collaborate.
Was it a risk to make this film?
Amir: For all of us Iranians, everything we do inside and outside of Iran is a risk. Even for athletes, just going to a competition is a risk. All their life, they prepare themselves [to win a medal] at a competition. Then there is always an Israeli somewhere who can become your opponent.
But when you see how everything is going in Iran, these brave women, and men supporting women, the whole question about hijab… for me, it's a real revolution about women. It's time to change, it's time to change this mentality. I'm very lucky to be outside. It has taken me time to find my way. But finally, I can tell these untold stories. But my colleagues in Iran, they can be put in prison, banned from working and from travelling just for telling half of this truth.
Why did you decide to film in Georgia?
Nattiv: We knew that this project was very sensitive in terms of Iranians and Israelis meeting and doing something together – so we just decided to do it very under the radar, we didn't announce it. We met in a midpoint in a way. Georgia is two hours away from Tel Aviv and two hours away from Tehran. And it looks a little bit like Tehran. We kept it secret – we called it the Judo Project and didn't say what it was about.
How did you finance the film?
Nattiv: It was [mostly financed by] private business people. People in the States and some British money. Celine Rattray, who produced Skin, came on board and she bought her people. It was private equity. We didn't want to do it with any [public] fund or anything like that.
Shooting in Georgia was bliss because you get so much production value with less money. We shot in this gigantic stadium that we got for two weeks for ourselves. And the Georgian crew were amazing. There's not a lot of countries that can double Iran.
How did you find co-directing and starring in the film, Zar?
Amir: I was lucky enough to have Guy as a second eye and my co-director. So I wasn't that worried. I'm going to do my own feature film as a solo director, and I'm planning to act in it, and this was good practice for me. It's very hard. I'm a perfectionist, I'm never happy with myself. I don't get why I won [the best actress prize] at Cannes. So it was good to have Guy, someone who watched me and someone who said, "You're fine there. Don't worry."
The fact that you are both working together on this movie is bound to make a splash.
Nattiv: It's a good thing to make a splash. And especially a splash with a great statement like this. I think it's a continuance of this female revolution [in Iran]. Remember the rock climber Elnaz Rekabi who competed without her hijab knowing she could face death back home, and Kimia Alizadeh who was the golden child in Iranian fencing during the Rio Olympics and decided to defect with her husband because of government threats. It's a continuance of this message.
And it's the first-year anniversary since Mahsa Amini [died in police custody after being arrested for wearing her hijab 'improperly', sparking protests in Iran]. For a lot of Iranian people, especially like Zar who are leading this movement outside of Iran, it is to say, "We are still fighting for this cause."
Tatami world premieres on September 2 in the Horizons section at Venice.