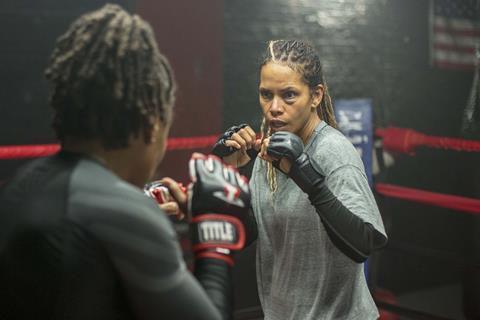 With her directorial debut Bruised having just been acquired by Netflix in a $19m deal, Halle Berry took time out this weekend to reflect on her 30-year career, and on changing attitudes toward race and gender in Hollywood, during an 'In Conversation' event at TIFF.
Berry remains the only African American to have won a best actress Oscar, a fact that dismays and upsets her. "I really thought that might mean that very soon after that night, other women of colour, black women, would stand beside me. Now, it has been 20 years and no-one has," she said.
Every time Oscar season come around, Berry gets very reflective: "Arguably there are other woman who could have deserved to be there."
Marc Forster's 2001 drama Monster's Ball, for which she won, was regarded at the time as a risk for Berry, one that could have ended her career, but she took it on the basis of the material. "I am most drawn to characters who are fractured and broken, who are fighting to survive," Berry said of her role as the suffering, grief-stricken Leticia, whose husband is faced with execution.
Berry also reflected on the "unfair expectations" that followed her Monster's Ball win, that she would continue to rack up nominations and awards (it remains her only Oscar nomination to date). "I've tried really hard not to let that award define me and to stay hungry – to be brave, fearless, make my own choices and to play characters that spoke to me even if others disagreed."
Asked about the "dearth" of material for black women, Berry struck an optimistic note. "I do feel like it is changing. Twenty years ago, we were in a much different place," she said of her struggle to find roles that inspired her. "I know that things are changing and I am really proud to be part of the evolution."
Breaking out of her shell
Bruised, her directorial debut in which she also stars, is set in the world of mixed martial arts. The script by Michelle Rosenfarb was originally written for a "25-year-old white Irish-Catholic girl" but Berry set out to convince the producers the film could work with a middle-aged black woman like herself in the main role – and, eventually, that she could direct it as well.
"It was a classic fight film. Throughout history, people love to root for the underdog. I want to see the human spirit soar."
During the discussion, Berry reminisced about the start of her career in the mid-1980s, when she was the first African-American entrant in the Miss World competition before moving into acting. "I was looking for a voice," Berry explained on why she made the leap.
Following a few early "token" TV roles for which she was cast on the basis of her looks, Berry knew that if she wanted to be taken seriously, she needed to find a role that would allow her "to shed this physical self".
That break came playing a crack addict in Spike Lee's Jungle Fever, giving her the opportunity to break free from the stereotyping that had defined the early part of her career.
"I have always known that I am more than the shell I walk around in," Berry said. "I knew that I was full of substance and stories to tell. [Jungle Fever] allowed me to be seen as more than just a pretty face, more than a model turned actress."
"I knew I was part of pushing the envelope forward," Berry added of that early phase in her career, when she was making films such as Boomerang (1992) and B.A.P.S. (1997) which dealt with black American experience. "What I have been able to do throughout my career is to acknowledge the opportunity in the moment."
She said she was "blown away" by the Netflix deal on Bruised and paid tribute to TIFF and artistic director Cameron Bailey. "I am so grateful because when Cameron first saw the movie, he reached out right away and invited us to show it at the festival. It was that buzz which got people interested and then led to Netflix."