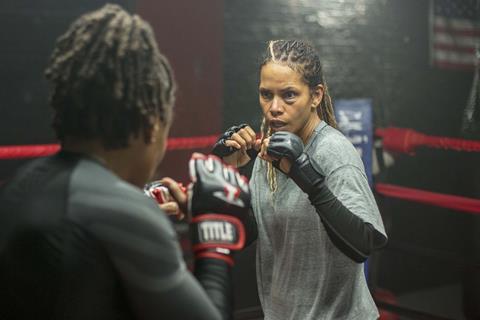 Netflix is understood to be closing on a $19m deal for worldwide rights to Halle Berry's feature directorial debut and TIFF selection Bruised, while early interest is building on Idris Elba drama Concrete Cowboy after the LA drive-in screening last night.

Bruised, which screens as a work in progress to a Toronto audience at a drive-in and online tomorrow (September 12), stars Berry as a washed-up MMA fighter trying to get her career back on track and regain custody of her son.
Screen understands Netflix will debut the film on its platform in 2021. Endeavor Content represents worldwide rights.
The sales agent is fielding interest on Concrete Cowboy after it screened as part ofa drive-in double bill on Thursday night with Shadow In The Cloud starring Chloe Grace Moretz.
Decision-makers at distribution companies who were not at Thursday's drive-in are receiving links to Concrete Cowboy today and offers are expected to come in over the weekend.
Penguin Bloom starring Naomi Watts screens as a drive-in tonight and Endeavor Content handles sales.
At time of writing interest was understood to be building on several titles from Venice that also play in TIFF – Pieces Of A Woman featuring a buzzy performance from Vanessa Kirby as a grieving mother; Christos Nikou's pandemic drama Apples, which is part of the TIFF Industry Selects roster and has scored a number of international deals through Alpha Violet; and Chaitanya Tamhane's The Disciple.
Rosamund Pike drama I Care A Lot is also being followed closely and the STXinternational sales title premieres as a TIFF drive-in for local audiences tomorrow.