Bombshell nearly blew apart when the film lost its chief backer two weeks before principal photography. The Fox News true tale's producers tell Screen how victory was snatched from the jaws of defeat.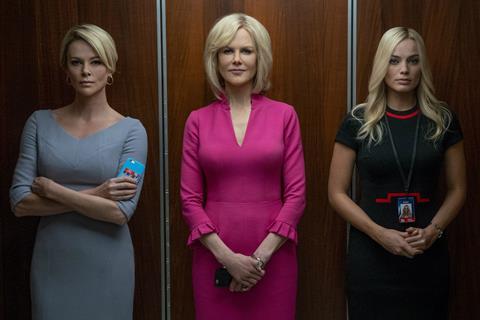 It was early October 2018, two weeks before the cameras were about to roll on Bombshell, when the phone call came in. Director Jay Roach and screenwriter Charles Randolph were in the final stretch of pre-production on the #MeToo drama. "It was nuts," recalls Randolph.
Word spread like wildfire: Megan Ellison's Annapurna was pulling out as the film's backer. "We were in a scouting van doing a tech scout when you find out your studio wants to go away," says Randolph, an Oscar winner for co-writing The Big Short. "And you're with people from the studio in that van who have no idea what's going on in their own institution."
Charlize Theron, who produced the $35m Bombshell and plays Fox News journalist Megyn Kelly, was in her office when she got the news and gritted her teeth. Like the entire crew and cast — an all-star roster that included Nicole Kidman, Margot Robbie and John Lithgow — she had devoted too much time and energy to the project to let it go down without a fight.
Theron began rolling calls. "I don't think any of us really saw it coming," says the Oscar-winning actress. "Especially not two weeks before production with the cast that we had, with the department heads that we had. The film was ready to go, at a budget that was half the price of Vice, so it was a huge shock."
Annapurna had financed Vice and would release the Dick Cheney drama in December 2018. It went on to win the make-up and hairstyling Oscar but lost around $15m, extending a period of financial woe at Ellison's company dating back to the time they entered the distribution game with Detroit in July 2017. As the start date on Bombshell's Los Angeles shoot approached, Ellison decided to pull out as financier and North American distributor (through United Artists Releasing, a joint venture with MGM).
Theron did not know the whys and wherefores at the time, but she knew there was no time to waste. She called her friend and collaborator on Tully, Aaron L Gilbert at Vancouver-headquartered Bron Studios, whose joint venture Bron Creative formed with Creative Wealth Media would go on to partner with Warner Bros as co-financier on global smash Joker.
"She called me right away and then it happened really quickly," recalls Gilbert, Bron's chairman and CEO. "It had to happen really quickly to keep the ship afloat." Bron had already signed a deal to co-finance Bombshell with Annapurna at Theron's behest, but that money was not through the door yet. Now Gilbert was agreeing for his company to step up and become the film's full financier.
Theron is the first to admit the production "got very lucky with Bron coming in and saving the day". The story of the Bombshell production has a happy ending, but before it was reached Gilbert and his cohorts at Bron knew they had to scale a legal and logistical mountain. As Theron notes, everybody knew this was shaping up to be a special project, but "nobody wants to close a deal on this level with this many real people and [commitments] in two weeks. This is usually a process that takes months."
Ripped from the headlines
It had already taken more than two years to get to this point. Randolph began outlining his story in 2016, shortly after Fox News chief Roger Ailes departed the network in July that year in the wake of a sexual harassment lawsuit from Gretchen Carlson (Kidman) and similar claims a couple of weeks later by Kelly. Randolph could not have predicted this would be the precursor to the escalation of #MeToo into a full-blown movement a year later that continues to expose Hollywood, but he had a nose for a good story.
"When the Fox story hit, it [exposed] a fascinating world because the characters all had unique internal conflicts around this issue," says Randolph. "Megyn was the perfect example of the bystander problem, where someone had succeeded in dealing with their harassment and moved forward. And then someone else raises their hand and she has to go back and help other women, which she doesn't really want to do because she's got her stuff together but makes the choice to do so. And Gretchen was an interesting whistleblower case because she was standing up for other women in the institution but they all turned on her and no-one was willing to stand beside her."
In September 2016, Randolph pitched to Annapurna, which agreed to finance, produce and distribute. He began writing the script in earnest that December after reading books by both women. Research included interviewing people who had worked at Fox but were prevented by non-disclosure agreements from speaking publicly about their experiences.
As for talent, Theron's name had come up in conversation because of her resemblance to Kelly. Chelsea Barnard, Annapurna's then president of film — who would leave the company in October 2018 but remain a producer on the project — told Theron about the script over lunch. Barnard wanted the South Africa-born actress to produce and harboured a secret desire that she might also star. Theron was interested but, gripped with "quintessential actor insecurity", initially hesitated at the idea of playing Kelly.
Theron's production company Denver & Delilah had been exploring a TV project with Roach, and Theron showed him the script. He agreed to direct and persuaded Theron to star, telling her Bombshell was not going to be a Megyn Kelly biopic and that her character was part of a wider story. "That's part of the process I needed to go through," Theron recalls. "I don't know if I could have gotten there by myself."
Roach had made several socially conscious films and TV movies based on current affairs (Game Change, Trumbo, The Recount) and was fascinated by the screenplay. "It felt like an unpredictable, surprising way to tell a story about women taking on powerful men in a very unlikely place." He dove into research with Randolph and Theron, eventually speaking to around 20 women who had worked at Fox or knew the network well.
Everything was rolling along until Ellison, the daughter of billionaire Oracle founder Larry Ellison, pulled Annapurna out of the project. And so, with barely two weeks to go before the start of production on Bombshell, Gilbert, his Bron team and associates at Endeavor Content had to figure out how to condense a months-long process into two weeks.
Rights and wrongs
"It was tough," Gilbert recalls, who had to go through the proper channels before his finance partner Jason Cloth at Toronto-based Creative Wealth Media could release funds to bankroll the production. That would take time, so Gilbert took the extraordinary decision to cash-flow the feature through his production company Bron Studios before the paperwork was in place. "We took a big leap and we believed in it so heavily and in everybody involved, but there were some scary moments there until we had all the rights in order."
Annapurna wanted the film to get made and was co-operative in passing everything over to Bron. Nonetheless, this was a herculean task to accomplish in such a short amount of time. "There were some interesting conversations behind the scenes with our team members," says Gilbert, erupting in laughter. "Ultimately I have a team that believes in me and shared my love of [Bombshell].
"I had to fly down a few of my team members from Vancouver and we had to dig in. There were five, six, seven long days of dealing with the gravity of passing over a not-tiny movie from one company to another, and taking control over everything from the underlying rights to dealing with all the paperwork — insurance, union deals, guild deals and the logistics involved with being a signatory here or not being a signatory there."
Bron Studios cash-flowed Bombshell for roughly seven weeks. "We wanted the story to be told," says Bron Studios chief strategy officer Ashley Levinson. "We rolled up our sleeves and did everything possible to make sure it wouldn't be jeopardised." Eventually Creative Wealth Media was able to come on board and lighten the load, and after Endeavor Content licensed worldwide rights to Lionsgate, that studio's involvement eased the financial burden too.
Gilbert praises not only his team but the partners at Lionsgate for their dedication, robust international sales and a strong marketing push in the run-up to the film's release — December 13 in the US (grossing $312,000 from four sites on its opening weekend) before expanding wide, and January 17 in the UK. The film earned three Oscar nominations earlier this month; best actress for Theron, best supporting actress for Robbie and hair and make-up.
"There is an element of a gut-check here and for me the gut-check was that I believed in the material, script, filmmaker and cast and had worked with some of these people before. That's why we moved forward and I'm pleased we did," he adds.
"When I think about it now, it's pretty incredible we kept going and didn't push an hour and kept on schedule," recalls Theron, who produced alongside Roach, Randolph, Gilbert and several others. The shoot went well. There were tough, emotional scenes for the actors, including Robbie as fictitious ingénue Kayla Pospisil, and Lithgow as Ailes, but Roach made sure it was a safe set.
"You think there would be delicacy and hesitancy but because you're doing this stuff that forces everyone to feel these emotions pretty quickly and pretty immediately, it creates a real bond," says Randolph, who set out to depict complicated people in a complicated situation. He hopes the film will encourage male viewers to consider how damaging and life-changing sexual harassment can be in the workplace.
In the end, Randolph recalls the male crew shaking their heads in empathy as scenes played out: "It was the best set experience I've had because we were among people who were feeling something they didn't think they could feel."
Kelly has since seen the film and described it on Instagram as "an incredibly emotional experience for me", adding she would share more thoughts at a later date.
For Theron, collaborating with not only her female co-stars and fellow producers but so many prominent men on Bombshell is the distillation of what an equality movement should be all about. "There's a misconception that men don't want [gender parity] as much as women do. I know for a fact that Jay Roach wants equal rights for women just as much as I do. I say all of that in understanding the real problem we're having is that there's not enough opportunity going around. That's the thing that really needs to change for women."